Maple Leafs deal Winnik to Capitals
The Toronto Maple Leafs traded Daniel Winnik and a fifth-round pick (2016) to the Washington Capitals for Brooks Laich, Connor Carrick and a second-round pick (2016).
The Canadian Press with TSN.ca Files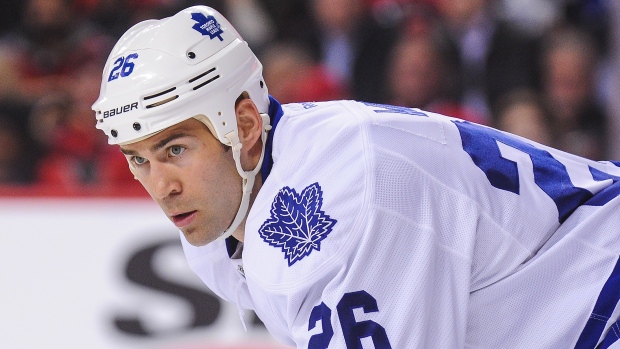 TORONTO - The Toronto Maple Leafs continue to build for the future by unloading their present-day assets.
The club announced Sunday night they have acquired Washington's second-round pick in the 2016 NHL Draft, prospect defenceman Connor Carrick and forward Brooks Laich from the Capitals in exchange for forward Daniel Winnik and Anaheim's fifth-round pick in the upcoming draft.
There is no salary retained by either team in the trade.
This is the second straight season Toronto has traded Winnik as the NHL trade deadline nears. Last season the Leafs moved him to Pittsburgh before re-signing him in the off-season.
"I want to thank (the) Maple Leafs once again for allowing me to play for my hometown team. (I) wish them all the best in the future," Winnik tweeted from his verified Twitter account.
"Very excited to be joining (Washington) and love the possibilities we can acheive as a team. See you guys soon."
Carrick has split this season between Washington and its American Hockey League affiliate, the Hershey Bears, and was named a 2016 AHL all star.
The 21-year-old had 10 goals and 16 assists in 47 games with Hershey. He was originally selected by Washington in the fifth round (137th overall) in 2012.
Laich has had his career derailed by injuries. He has just a goal and six assists in 60 games this season and is in the midst of a 48-game goal drought. He cleared waivers Sunday.
By trading Laich and the 21-year-old Carrick for Winnik, the Capitals opened up US$2.2 million in cap space they could use before the deadline. Winnik and Laich are each signed for next season, as well.
The 32-year-old Laich has played in 743 career NHL games, recording 133 goals and 191 assists for 324 points. He was originally selected by Ottawa in the sixth round (193rd overall) of the 2001 NHL Entry Draft.
Winnik, 30, has 62 goals and 136 assists in 625 NHL games with Arizona, Colorado, San Jose, Anaheim, Pittsburgh and Toronto. He produced four goals and 14 points in 56 games with the Maple Leafs this season.
Capitals general manager Brian MacLellan called Winnik a "versatile player who plays with grit and can be used in all situations."
Toronto has made four trades in the past week and five in the month of February. The NHL trade deadline is 3 p.m. ET on Monday.