Leafs ride Andersen, secondary scoring to win over Caps
Paying a visit to the defending Stanley Cup champions in Washington, the Maple Leafs overcame another early deficit to drop the Capitals 4-2 on Saturday. It was the fourth straight victory for the Leafs, who swept their opening road trip of the season that began last Sunday in Chicago. Toronto moves to 5-1-0 on the season.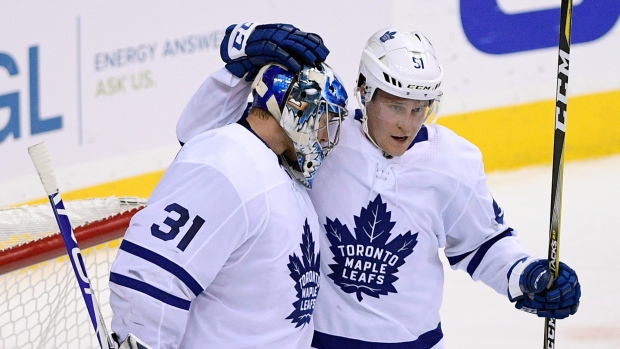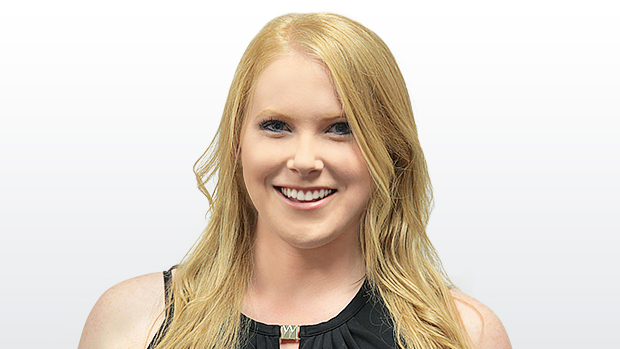 Paying a visit to the defending Stanley Cup champions in Washington, the Maple Leafs overcame another early deficit to drop the Capitals 4-2 on Saturday. It was the fourth straight victory for the Leafs, who swept their opening road trip of the season that began last Sunday in Chicago. Toronto moves to 5-1-0 on the season.
---
Takeaways
Secondary stars
Even as the Leafs lit up one opponent after another through the first 10 days of the season, a nagging question about their offence remained - when Toronto's stars were inevitably silenced up front, who would step up and score? Through five games, 21 of the Leafs' league-leading 25 goals-for had come from just four players (Auston Matthews, John Tavares, Morgan Rielly and Mitch Marner). And when the Capitals were able to neutralize the Leafs' top talents for much of the game, the onus fell on secondary skaters to make a mark.
Kasperi Kapanen was the first, deflecting a point blast from Ron Hainsey between Braden Holtby's legs to tie the game early in the second period. Then in the second frame, a great read by Jake Gardiner set up Par Lindholm's first NHL goal with a pass from the right circle directly to a charging Lindholm, in position to tap in the puck. It was nearly midway through the third period before the Leafs grabbed their first lead of the game, and it was off another first goal of the season, this time from Josh Leivo on the power play. It had been almost a year, dating back to Nov. 24, 2017 in Carolina, that Leivo last registered a goal.
Matthews did eventually get his 10th goal of the season, pocketing an easy tap-in score with less than two minutes remaining in the third period. In doing so, Matthews became the 15th player in NHL history to score at least 10 goals in his team's first six games and just the fifth since 1943-44. His hot start has him currently leading the NHL in points with 14. Since the Leafs won't be surprising any teams with the skill of their top-six forwards, it was an encouraging sign that they were able to showcase a more balanced attack without relying entirely on the usual suspects for offence, or to even stay afloat. ​
Testing the waters
Through their entire eight-game preseason schedule and the first five tilts of the regular season, the Leafs had not faced a team that made the playoffs last spring until the defending Stanley Cup champions in Washington. After starting the year 4-1-0, it was a true opportunity for Toronto to measure itself against a consistently good opponent, one with elite players to rival the Leafs offensively and on special teams.
At first, it looked like Toronto was in for a long night in Washington. For the second straight game, and fifth time in their first six games, the Leafs gave up the first goal of the night, this time to Chandler Stephenson just 18 seconds into the first period. It wasn't long before turnovers at both ends lead to a frenzy of odd-man rushes that finally prompted Mike Babcock to lecture his team on the need to "calm down."
The Leafs were able to eventually heed their coach's advice, and began to take over in the final eight minutes of that opening frame. But more importantly, Toronto dominated Washington in the third period (61 per cent puck possession, 14-8 in shots) by tightening up through the neutral zone and minimizing the turnovers that supported odd-man attacks. It was the kind of grind-it-out performance the Leafs can grow from, as proof of how well they can apply in-game adjustments and keep firing.
Andersen on point
Frederik Andersen needed a night like Saturday. The Leafs' starter has only lost one game this season, but hadn't cracked a .900 save percentage since Toronto's regular season opener last Wednesday. He'd been inconsistent between the pipes, a problem masked by his team's high-powered offence. In Washington, Andersen was the one holding the Leafs in it for a change. Unfazed by Stephenson's quick goal in the first period, Andersen stayed cool as Toronto turned over half a dozen pucks behind his net after that and knocked aside every Capitals' shot at even strength from there. The only other blemish on his showing was Evgeny Kuznetsov's no-look power play goal from a tough angle, a shot most goaltenders would have been hard-pressed to stop. Andersen was required to stand on his head at times, particularly in the second period when Toronto was mostly chasing the play while being outshot 9-5. Even then, it wasn't necessarily highlight-reel saves Andersen made that stood out, but how he looked in his element again in a simple game rather than overplaying pucks and getting trapped out of position. Historically Andersen has played well against the Capitals (he's 3-1-1 all-time vs. Washington) and Saturday only added to his resume with the first great win of his season facing a good team. He finished the game with 27 saves and a .926 save percentage.
So-so special teams
Toronto entered Saturday's game tied for the best power play in the NHL (50 per cent), with the 8th-best road penalty kill. It was taking the Leafs an average of just 46 seconds to score a power play goal over their first five games, a stretch where they scored seven times with the extra man. Saturday marked the first time this season the Leafs' power play was scoreless. Unlike other clubs, Washington was assertive on the penalty kill, forcing Toronto's vaunted first group of skaters out of their comfort zones and into quick passes instead of shots. The Leafs' second attempt was better than the first in that they generated more scoring chances, but good boxing out by the Capitals held Toronto at bay - until Leivo picked up his first of the season on the Leafs' third power play attempt in the third period. That was the first time all season Toronto's second power play group has registered a goal, and marked the sixth straight game Toronto has tallied a power play score.
On their own kills, the Leafs started well (save for giving up an ill-advised two-on-one to Lars Eller and Devante Smith-Pelley) but were victimized by an incredible show of scoring ability from Kuznetsov. With John Tavares in the box for tripping instead of acting as the Leafs' "crowbar" shorthanded, Toronto lost the opening draw and Kuznetsov needed only 22 seconds to bury his fourth goal of the season. Late in the third when Washington came calling again on the man advantage, Toronto shut the door to help preserve the win. Both sides ended the night 2-for-3 on kill.
Ozzy's on his way
It hasn't exactly been a storybook start to Igor Ozhiganov's NHL career. But after being a healthy scratch in two of the Leafs' first five games, the Kontinental Hockey League product put together a standout performance on Toronto's blue line against Washington. While in the past Ozhiganov has looked petrified handling the puck in his own end, the 25-year-old played aggressively but smartly Saturday on both ends. To date, Ozhiganov hasn't offered much of a glimpse into his offensive side, but in Washington he was pinching well and got more involved with the play down low on a couple chances. Coming over from the KHL, Ozhiganov's shot was a major selling point of his, and he finally illustrated its full power, stepping into a booming release that regrettably resulted with a puck hitting Dmitrij Jaskin in the knee cap and forcing him briefly from the game. The most important element of Ozhiganov's night, though, was the confidence he carried himself with. His partner Travis Dermott having had a solid start to the season himself certainly helps Ozhiganov too, but his reads and timing were vastly better than anything he's shown so far, and if he continues to grow it will be hard on Mike Babcock to replace him in the lineup again with Martin Marincin. Ozhiganov finished with two shots on goal in 14:13 TOI.
Blue & White Trending
Tracking Leafs' trends all season long
Morgan Rielly has earned at least one point (and 13 total) in each of the Leafs' first six games this season, establishing the longest-ever point streak to open a season by a defenceman in franchise history.
Match Game
How the Leafs matched up against the Capitals
Ovechkin-Kuznetsov-Stephenson vs Marleau-Matthews-Kapanen
Vrana-Backstrom-Oshie vs. Hyman-Tavares-Marner
Burakovsky-Eller-Connolly vs. Lindholm-Kadri-Brown
Jaskin-Dowd-Smith-Pelley vs. Leivo-Gauthier-Johnsson
Next game
Toronto returns home to face the Los Angeles Kings on Monday.​