Matthews extends goal streak as Leafs beat Capitals
Auston Matthews scored a goal in his sixth consecutive game to start the season, Frederick Andersen made 25 saves and the Toronto Maple Leafs beat the Washington Capitals 4-2 on Saturday night.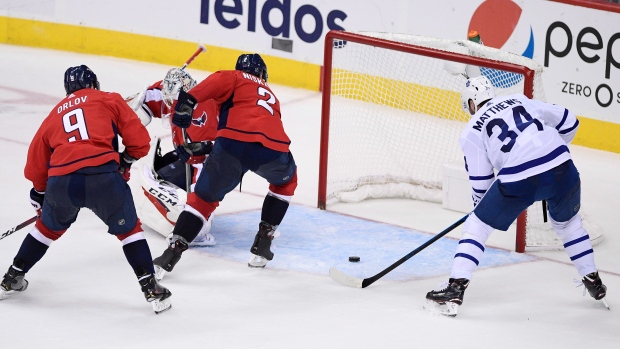 WASHINGTON — Auston Matthews' scoring has helped carry the Toronto Maple Leafs early this season.
The Leafs' defence and depth were the difference Saturday against Washington.
Fourth-liner Josh Leivo scored the go-ahead goal early in the third period, Frederick Andersen made 25 saves and the Maple Leafs beat the Capitals 4-2.
Moments after Andersen made several solid saves to preserve the lead, Matthews scored an insurance goal with 1:39 to play, his NHL-leading 10th of the season.
Kasperi Kapanen had a goal and an assist and third-line winger Par Lindholm also scored for Toronto, which has won four straight to complete a perfect four-game road trip. Jake Gardiner had two assists.
"Obviously, it's great that our big guys got off to a real good start because I think having them feeling good is so important," Toronto coach Mike Babcock said. "I've been saying that part of the reason we're going to have success is because we have real good depth."
Matthews, who added an assist, has scored a goal in all six games this season and has multiple points in each. He also has four assists and joined Sweeny Schriner (1944-45) as the only Maple Leafs to score a goal and have multiple points in the first six games of the season.
Toronto tied the game late in the second and controlled play for much of the final 20 minutes.
"I think Freddie kept us in the game with some big saves," Matthews said. "I think the third period we just played in their end for the most part. Had them hemmed in and made some plays."
Evgeny Kuznetsov scored his fourth goal of the season for Washington and added an assist. Chandler Stephenson also scored and Alex Ovechkin had two assists.
Washington unleashed a sustained flurry late in the third period but couldn't get the equalizer.
We had a lot of quality opportunities," Capitals coach Todd Reirden said. "You know 3-4 minutes to go there we make a real good push and (Andersen) makes a number of saves and the puck stays out of the net. They were pushing at the end there and they end up being able to convert on a bit of a bounce that went their way."
Braden Holtby made 24 saves for Washington.
It took Washington just 18 seconds to take a 1-0 lead. Kuznetsov carried in 2-on-1 with Stephenson and Andersen made the initial save on Kuznetsov, but Stephenson poked home the rebound for his first goal of the season.
Toronto had several chances to tie in the first. Holtby made big saves on Zach Hyman and Kapanen, both alone in front, and the Maple Leafs hit the post twice.
The Maple Leafs tied it at 3:30 of the second period when Kapanen deflected Ron Hainsey's shot from the left point through a crowd and past Holtby.
Just 69 seconds later, Kuznetsov fired a tough-angle shot over Andersen's shoulder from the bottom of the right circle for a power-play goal.
Lindholm tied it when he redirected Gardiner's pass by Holtby with 67 seconds left in the period for his first career goal.
"I really liked our first two periods," Reirden said, "keeping a dangerous hockey team to some limited chances."
NOTES: This was the first of three straight home games for Washington. ... Holtby fell to 57-19-9 on Saturday nights. . D Justin Holl, D Martin Marincin and C Tyler Ennis were the Toronto scratches. Washington sat C Jayson Megna, D Madison Bowey and LW Nathan Walker.
UP NEXT
Toronto: Returns home and plays the Los Angeles Kings on Monday.
Washington: Hosts the New York Rangers on Tuesday.