Lightning G Bishop continues to sit in limbo
Tampa Bay Lightning goaltender Ben Bishop is waiting in limbo to see when, or if, the team will trade him ahead of June's expansion draft. However, as TSN Hockey Insider Pierre LeBrun writes, he's at peace with his lot.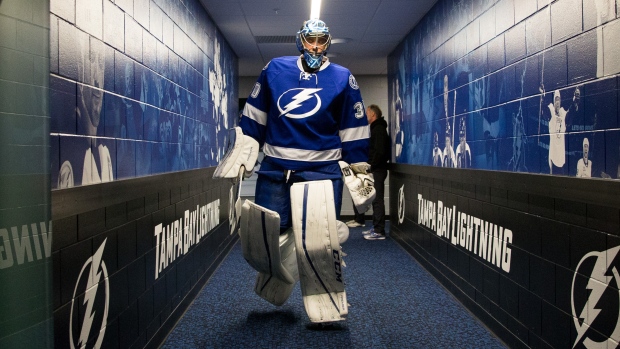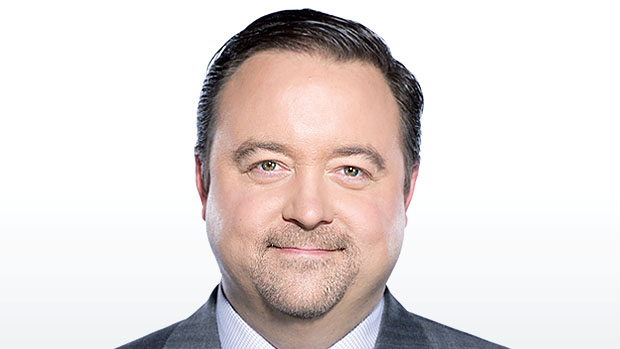 TORONTO -- As the local Toronto media assembled around Steven Stamkos on Monday to bookend, once and for all, his offseason decision not to come and play for his hometown Maple Leafs, the real question mark for this season sat a few stalls down.
Oh, it doesn't carry nearly as much of the fireworks, nor will it fuel nearly as much of the drama of a year ago when the face of the franchise took until the 11th hour to decide that he was staying put in Tampa Bay, but it is nevertheless a major decision that remains to be made for this Lightning organization. The difference this time around is that it's not about a player making up his mind as much as it Ben Bishop waiting to find out from the Lightning what his future entails.
The 29-year-old netminder got a clue at the NHL draft last June when a potential trade with the Calgary Flames fell through because he couldn't come to terms on a contract extension with the Flames (a stipulation his camp made, given that he had a no-move clause). Instead, the Flames traded for Brian Elliott and Bishop, who is in the final year of his deal (at $5.95 million), remained with the Lightning. It's a bit awkward, perhaps, but it's part of the business.
"It's one of those things that could have happened but it fell through," Bishop said Monday, shrugging, when asked about the Calgary (near)-trade. "Being around long enough, you realize that sometimes there are going to be business decisions made. And if they don't work, they don't work, and there's nothing you can really do about it. You can't sit there and sulk or worry about it. You have to just go out there and keep playing. I'm pretty fortunate to have a job with Tampa. It's a great team and a great place to play. So I'm pretty happy about everything going on.''
There's no question that the team showed its hand ahead of next June's expansion draft before the new Las Vegas team enters the league, when clubs will only be able to protect one goalie -- not only in the attempted trade with Calgary but also when it signed 22-year-old Andrei Vasilevskiy to a three-year, $10.5-million contract extension this past offseason.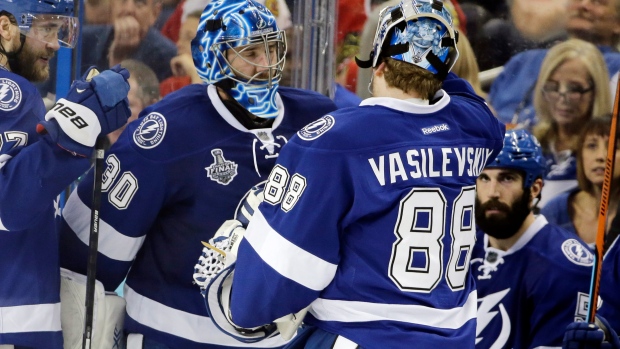 So what now?
Lightning GM Steve Yzerman has the following options regarding Bishop, who will be a pending unrestricted free agent next summer:
1) If a team makes a good enough offer ahead of the March 1 trade deadline, take the asset(s) it nets.
2) Keep Bishop for the rest of the season for another, all-hands-on-deck run at the Stanley Cup. I he walks away for nothing in free agency, so be it. The cap space the Lightning would earn next July would still be valuable considering that Tyler Johnson, Ondrej Palat and Jonathan Drouin all will need new deals.
3) If Bishop plays out of his mind en route to a Conn Smythe Trophy and Stanley Cup championship, maybe the Lightning will try sign him after all.
Yzerman met with Bishop in September. While Bishop on Monday said the content of that conversation will remain private, I suspect the message from Yzerman was that the Lightning still value very much what Bishop brings to the table and that while the GM can't give him any definite answers on how this is all going to play out, the only thing the veteran goalie can do is play his guts out and let the chips fall where they may. Which is exactly what Bishop intends to do.
"As far as I'm concerned, every door is still open," Bishop said. "You have a great year, and you never know what can happen. I'm not really thinking it's going to happen just that way (getting traded). It could happen a couple of different ways.''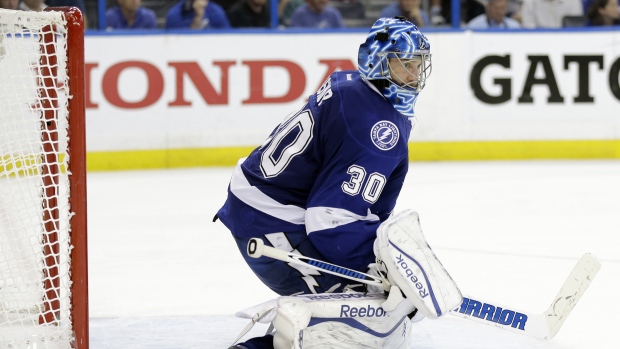 In the meantime, the Lightning will benefit from having both goalies for one more year -- particularly this season, which features a compressed schedule because of September's World Cup of Hockey and the new five-day "bye'' week each team will get in the second half. Just like the Pittsburgh Penguins see value in keeping both Marc-Andre Fleury and Matt Murray for one more season before they have to make a decision about them ahead of the expansion draft, having two No. 1 goalies during stretches when teams must play three games in four nights and/or five games in eight days will be a luxury. While other NHL teams will be forced to play true backup netminders more because of the compressed schedule, the Penguins and Lightning can roll out a No. 1 goalie every night.
"You look what happened in L.A., [with] Jonathan Quick getting hurt," Lightning head coach Jon Cooper said Monday. "Freak things like that happen. You need to have depth at all positions. I don't know if there's a more important position in sports, aside from the quarterback in football, than the goaltending position. So to have depth in that area like we do, you cherish it as long as you can.''
Now it's up to the coach to figure out how to dole out those starts to two guys who want the net. Cooper was quoted recently suggesting something of a 50-30 games split between Bishop and the younger Vasilevsky.
"The one thing is, you got to get Vasilevsky more games (than last season). It's what's best for our team and what's best for him,'' said Cooper. "But you have to keep Bish engaged too, because he's a two-time Vezina finalist the last three years and he's a big reason we are where we are today. So there's a balance. But if you really think about it, you start getting into the crux of the season, you're playing 3-4 games a week, guys are getting in. I just want to find a way to have both guys play every week. It's my job to find a way to get them in, and that's what's going to happen.''
The best part of it all is that the two goalies have a terrific relationship by all accounts, the veteran serving as a mentor to the youngster.
"He's a young kid, he's still kind of learning the ways," said Bishop. "I'm happy to help him. I think he's going to be a star in this league."
His pupil clearly appreciates Bishop's guidance. "I'm just watching him almost every day, practice days, game days," said Vasilevskiy. "I just watch how he prepares before games, and how he recovers after the game. He's just so professional.''
The future for both of them? That's for another day.
"I don't think about it," said Vasilevskiy. "We're just doing our jobs. We're just helping our team get points and win a Stanley Cup. We're good friends. We don't think about what might happen.''