Lightning penalty kill off to a blistering start
Jon Cooper's new-look penalty kill is playing a huge part in Tampa Bay's strong defensive start to the season, Travis Yost writes.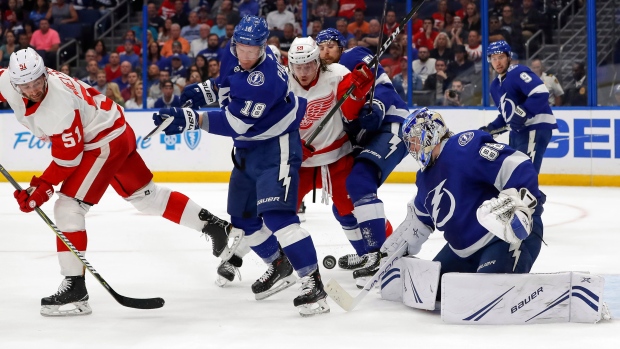 We are only two weeks into the National Hockey League regular season, but some of the division races are already starting to take form.
One of the more compelling races will feature the Tampa Bay Lightning and Toronto Maple Leafs in the Atlantic. Tampa Bay and Toronto have opened up the season on blistering paces – the Lightning on pace for 123 points after first six games of the season and the Maple Leafs on pace for 109 points after their first nine.
What's particularly interesting is that we expected these two teams to be mirror images of one another but that hasn't been the case. Both teams are scoring at will (averaging 3.7 and 3.6 goals per game, respectively), but the Lightning have also been impressive on the defensive side. Tampa Bay is giving up just 2.5 goals per game, while Toronto is conceding 3.3.
(The Maple Leafs are playing at a much higher pace, so some of this is to be expected. But Saturday night's game against St. Louis was a prime example of what Toronto fans are worried about – the team showed holes defensively, continuously coughed the puck up in the defensive third and didn't get much relief by way of goaltender Frederik Andersen.)
It's hard not to notice the role Jon Cooper's new-look penalty kill is playing in Tampa Bay's goal suppression. The Lightning had one of the league's worst penalty kills in 2017-18, killing off about 76 per cent of power plays (T-27th). This year, they opened up a perfect 25-for-25 before conceding their first goal Sunday night against Chicago. Year to date the Lightning are 28-for-29, for a 97 per cent success rate.
No doubt there's a little bit of randomness that is favourable to the Lightning here, but opening up the season with 25 straight kills is both ridiculous and nearly impossible. If you took an average penalty-killing unit and simulated 25 kill situations 10,000 times, you can see just how rare it is. The below distribution shows the likelihood of such an event occurring: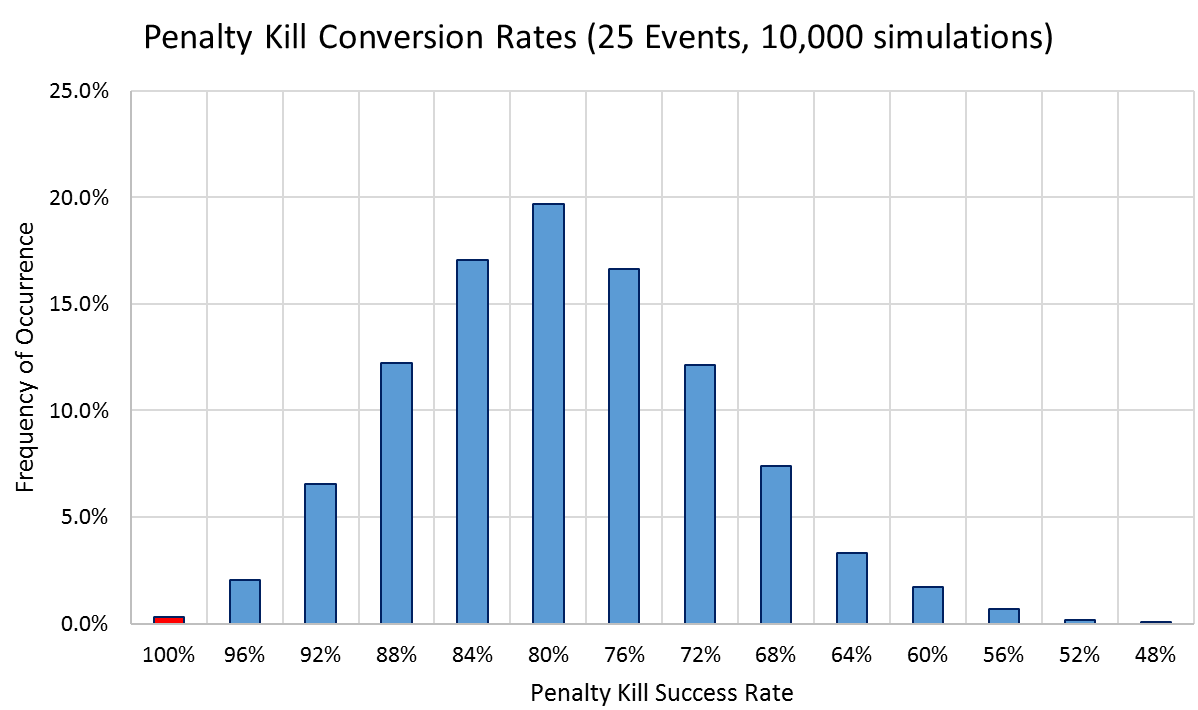 An average penalty kill has about a 0.3 per cent chance of ever stopping 25 consecutive power plays. So, it's a pretty rare occurrence– one that might happen a couple of times a season.
So how does a seemingly average penalty-killing unit yield these kinds of results with little off-season roster overhaul? Let's first take a look at what Cooper is doing from a deployment perspective. It's certainly possible that his usage changed, and that his new usage is yielding better results.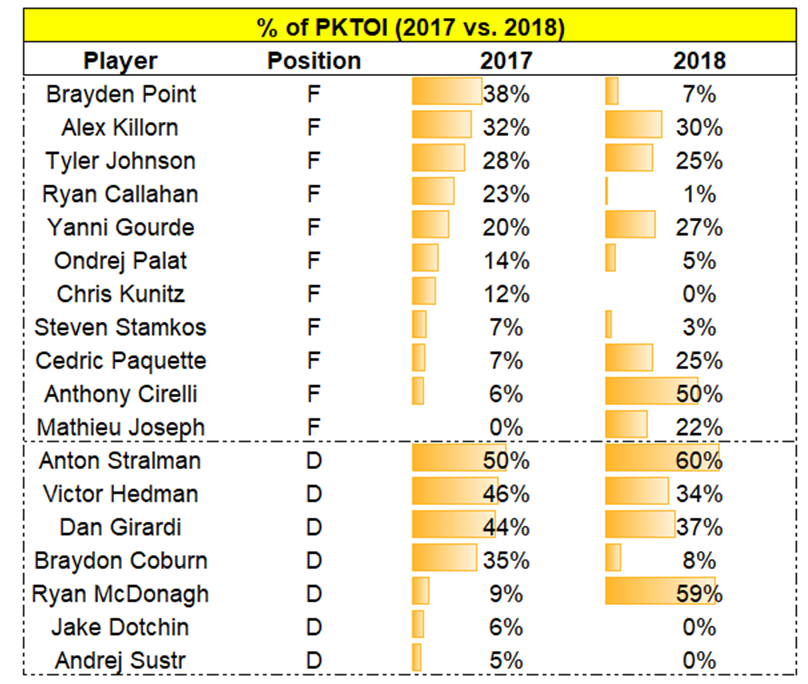 It's a fascinating change of pace, especially within the forwards. Last year, Cooper spread most of his ice time across four forwards in Brayden Point, Alex Killorn, Tyler Johnson, and Ryan Callahan. This year, Point has been pulled off of the penalty kill and Callahan has only been able to play a couple of games. Those two changes have meant a lot more ice time for Anthony Cirelli (who has played a whopping 50 per cent of Lightning penalty-kill minutes), Mathieu Joseph and Cedric Paquette.
Defensively the changes are a bit more predictable. Ryan McDonagh has been tapped on the shoulder 59 per cent of the time – a penalty-killing option the Lightning didn't have but for the stretch run during 2017-18. Combining McDonagh with Anton Stralman, an effective penalty-killing fixture for years, has allowed for Cooper to lessen the burden on Victor Hedman, Braydon Coburn and Dan Girardi.
So usage has definitely changed and the team is getting results. But should we be impressed by Tampa Bay's penalty-killing numbers, or are they a bit of a mirage?
One measure that speaks to the effectiveness of the Tampa Bay penalty-kill unit is the percentage of truly dangerous shots they are giving up while down a man. No unit here wants to give up a ton of volume – most elite penalty kills are notorious for bottling up play in the neutral zone, shutting down controlled entries at the blueline and limiting teams to one-and-done opportunities when they do gain the offensive third.
Tampa Bay is an interesting team this season in that they're giving up a lot of shots (about 118 attempts per 60 minutes, which is near the bottom of the league), but most of those appear to come from of the perimeter.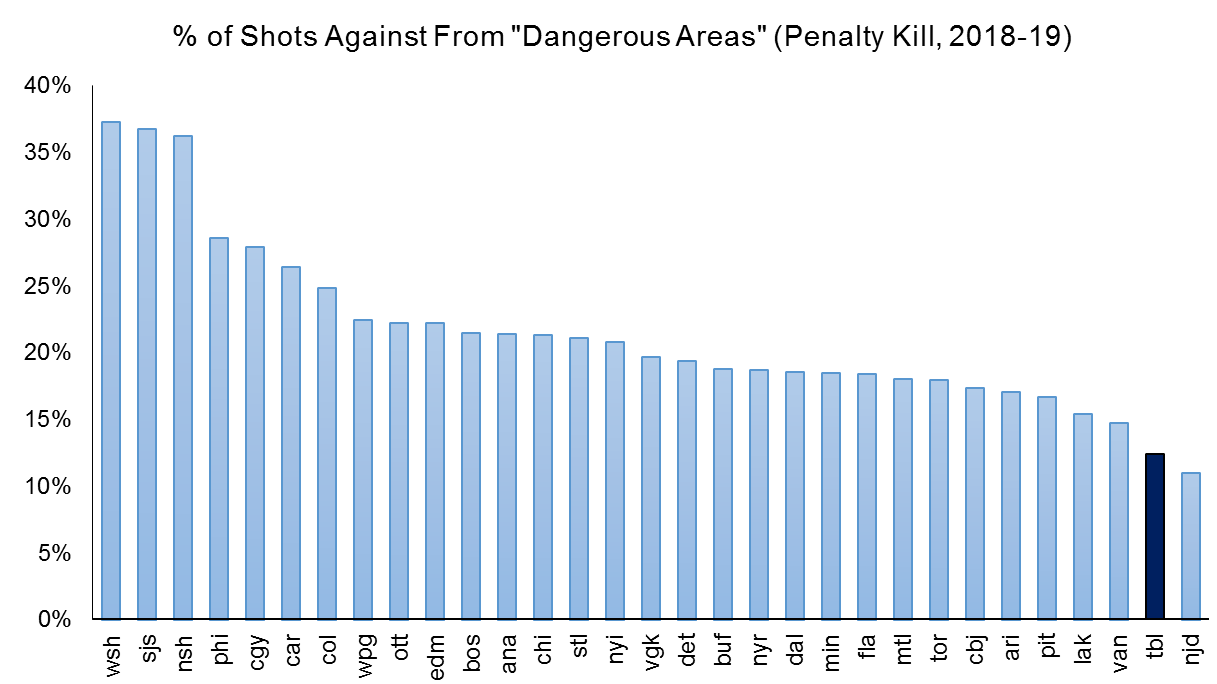 About one in every 10 shot attempts comes from a "dangerous area" using Natural Stat Trick's logic – you can think of this as the area of ice in front of the net-mouth where shooting percentages consistently sit at about 10 per cent or greater. This indicates that while the Lightning are giving up a higher volume of shots while down a man, they have done well to keep those to the perimeter and have been able to effectively collapse the play in front of goalies Andrei Vasilevskiy and Louis Domingue.
You can see this borne out in other measures. Guess which team is holding their opponents to the furthest shooting distances while down a man?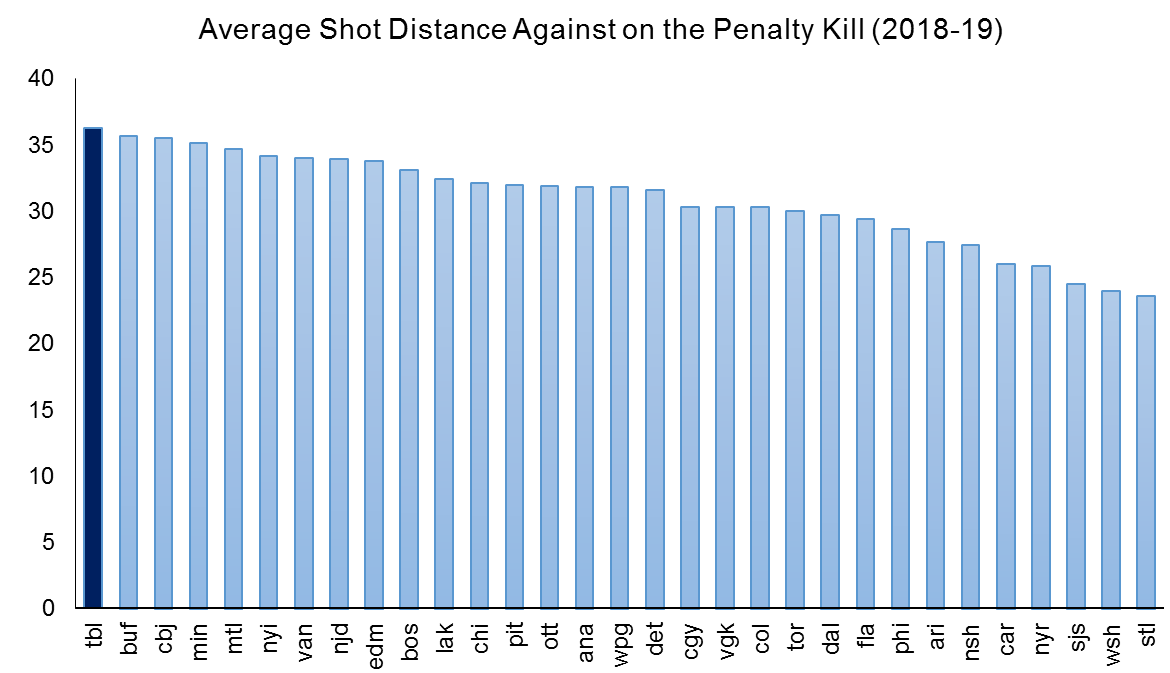 If even some of this is real – if Tampa Bay has a reliable penalty kill, to go along with an elite power play and terrifying 5-on-5 play – they solidify their spot as the favourite to emerge from the Eastern Conference. That's bad news not only for Toronto chasing them within the division, but other teams in the East that are hoping for a similar push come March and April.
Credit to Cooper and the Bolts front office if this holds. The best penalty kill is the one that's never on the ice. But in the absence of not taking penalties, having a four-man group that can kill off opportunities with regularity is the next best thing.