Lions name Hervey as GM; Buono to coach
The B.C. Lions announced Thursday that Ed Hervey has been named general manager as the club and Wally Buono will remain as head coach for the 2018 season.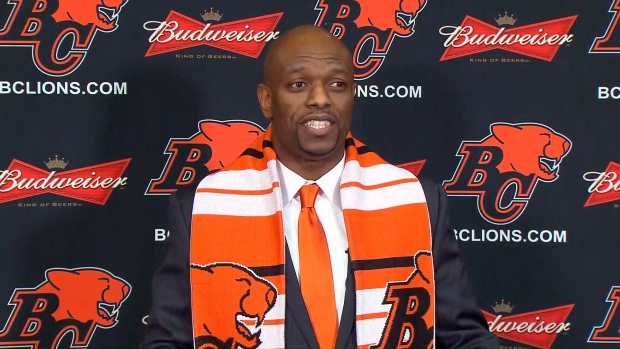 VANCOUVER — The B.C. Lions hope a major front-office change can turn around the CFL club's sagging fortunes.
The Lions announced Thursday that former Edmonton Eskimos executive Ed Hervey will take over as the club's general manager from Wally Buono, who has held the post since 2003. Buono will coach a final season in 2018 to help with the transition and will continue as vice-president of football operations.
The announcement comes after disappointing season that saw the Lions finish last in the CFL West Division at 7-11 with Buono in a dual coach/GM role. But Hervey said Buono's continued involvement with the team was a selling point when considering the GM job.
"I don't think I would have made the commitment to come here if he wasn't committed to being the head coach," Hervey said at his introductory press conference. "Number two, with Wally as vice-president he gives me someone to work with (and) bounce things off of. I'm still a young general manager, and his wealth of knowledge and experience ... who better to have around?"
Hervey was general manager of the Edmonton Eskimos for three seasons from 2013 to 2016, building a Grey Cup-winning team in 2015. But he was criticized in Edmonton for restricting media access to Eskimos players, and when he was fired on April 7, 2017, Edmonton president Len Rhodes cited a "philosophy in the way we do business" as part of the reason.
Hervey denied obstructing media access while with Edmonton.
"The locker room has always been the coach's decision and will always be the coach's decision, and will be supported by the organization," Hervey said.
Buono is the CFL's all-time leader with 273 coaching wins and had served as the Lions GM since 2003.
After an encouraging 5-2 start in 2017, injuries and inconsistent play plagued the Lions the rest of the way as they spiralled to a 2-9 finish and missed the CFL playoffs for the first time since 1996.
"My time with the Lions has been memorable to say the least, but right now my sole focus is working with Ed to build a championship team in 2018," Buono said in a statement. "This past season was tremendously frustrating for all of us, but today's announcement is the kind of change I believe our organization needs, our fans want to see and something we can build on moving forward."