Lupul scores in OT as Leafs top Senators in split-squad game
Joffrey Lupul scored 55 seconds in to overtime as the Toronto Maple Leafs defeated the Ottawa Senators 4-3 on Monday night in a split-squad pre-season game.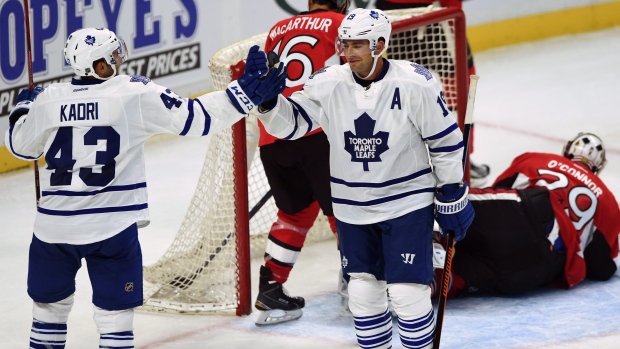 OTTAWA - Joffrey Lupul is already a big fan of the new three-on-three format for overtime.
Lupul scored 55 seconds in to overtime to give the Toronto Maple Leafs a 4-3 victory over the Ottawa Senators on Monday night in a split-squad pre-season game. The Leafs swept the night as they also defeated the Senators 4-1 in Toronto.
Lupul benefited from a bad giveaway by Erik Karlsson at centre ice as the Leafs took possession and went on to score the winner.
"(Overtime) was fun (Monday)," said Lupul. "If you're on the other side of that it's probably not so fun, but there's going to be a lot of chances and it's going to be fun for fans to watch players' skill come out on the odd man rushes.
"It's going to be exciting for fans."
While Karlsson was unhappy with the result he realizes the open ice will create more opportunities and more chances for mistakes.
"This is how it's going to go on three-on-three," admitted Karlsson. "If the puck bounces different we're going to have a two-on-zero going the other way. No surprise there. It's fun and it's definitely going to end more games in overtime than in shootout."
Senators coach Dave Cameron wasn't really phased by the loss considering this was the Senators first pre-season game.
"It's that sloppy hockey you have to go through early in the year until you get to the good hockey," said Cameron. "I liked the effort, I thought it was an honest effort and it's sloppy."
Lupul scored twice for the Leafs, with Dion Phaneuf and T.J. Brennan adding goals. James Reimer allowed three goals on 32 shots.
Shane Prince, Bobby Ryan and Erik Karlsson scored for the Senators. Craig Anderson allowed two goals on 20 shots, while rookie Matt O'Connor looked solid as he allowed two goals on 17 shots.
The Senators had the more veteran-laden lineup, but their youngsters were equally impressive benefiting from playing with more experienced linemates.
O'Connor came in with the game tied 2-2, but then Karlsson scored a power-play goal midway through the second and the young goalie made a couple of impressive saves, but the Leafs tied it early in the third on Lupul's first goal.
O'Connor had little chance on the goal with traffic all around.
"It was a lot of fun getting out there and the home crowd was loud and I felt very welcomed," said O'Connor, who was making his NHL debut. "It was a great experience. I'll probably remember it for the rest of my life."
Comeback was the theme of the night for the Leafs, who trailed 2-0 before tying it on a late first-period goal by Phaneuf and Brennan's goal early in the second.
"We won so you always like that as a coach," said Leafs assistant coach Jim Hiller. "The thing we were most impressed with, or happy with was our third period. It was our best period."
Ottawa opened the scoring at the eight-minute mark of the first as Karlsson made a great pass to Prince through the slot and buried it. Ryan then made it 2-0 as he beat Reimer with a low wrister to the far side.
Notes: Mark Stone, Curtis Lazar, Jean-Gabriel Pageau, Chris Wideman and Marc Methot were all inactive for the Senators.