Malkin, Crosby power Pens past Canucks; sweep Canadian road trip
Evgeni Malkin scored twice and registered an assist, leading his Pittsburgh Penguins to a 5-0 victory over the Vancouver Canucks on Saturday.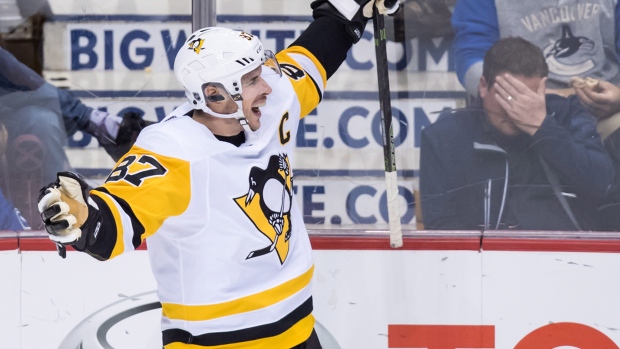 VANCOUVER — The Vancouver Canucks had two of their most promising young players back in the lineup Saturday, but that didn't appear to matter against the veteran star power of the Pittsburgh Penguins.
Evgeni Malkin had two goals and an assist, leading his Penguins (6-1-2) to a 5-0 rout of the Canucks (6-6-0), who saw Brock Boeser and Elias Pettersson make their returns from injury.
Sidney Crosby also scored twice and Phil Kessel found the back of the net once.
The Penguins are simply a really good team, Canucks head coach Travis Green said.
"They've got some world-class players that can score if you give them the chance," he said.
The Canucks started off strong, holding the Penguins to a scoreless first period, but Vancouver couldn't seem to solve Pittsburgh netminder Casey DeSmith, who stopped all 29 shots he faced Saturday for his second NHL shutout.
"I thought we came out fast and spent a lot of time in their zone," Green said.
"But at the end of the day, you've got to find a way to put a puck in the back of the net."
The 27-year-old backup said he wanted another crack at the Canucks after dropping the last decision between the two teams on Oct. 16.
That game saw Boeser beat DeSmith 34 seconds into overtime.
"I don't like losing and the way we lost, I felt the overtime goal I could have had, so that has kind of been on my mind since the last time and that was actually the last game I played," said DeSmith, who called the Penguins' victory a "textbook road win."
"It just so happened my next game was against these guys and that worked out well."
The victory completes a clean sweep for the Penguins on their four-stop Canadian road trip. The club also grabbed victories in Toronto, Edmonton and Calgary.
One bright spot for the Canucks in Saturday's loss was the return of the team's two marquee young forwards. Boeser had missed two games with a groin injury, while Pettersson had been sidelined with a concussion after he was hit by Florida defenceman Mike Matheson on Oct. 13.
Boeser has put up six points in nine games and Pettersson has registered five goals and three assists in his first five NHL outings.
The pair skated together on a line with Nikolay Goldobin for much of Saturday's game, and the trio combed for six shots but failed to find the back of the net.
The match marked the first time Pettersson played the Penguins and the 19-year-old rookie said lining up against the likes of Crosby and Malkin was fun.
"I've grown up watching them and see them in the Stanley Cup and all that, and just how good of players they are. So it's fun to meet them," he said.
Vancouver goalie Jacob Markstrom turned away 30-of-35 shots in the loss, keeping his squad in the game with several clutch saves, including in the first period when he sprawled to make a left-skate save off a rocket from Malkin.
But Markstrom wasn't happy with his performance.
"No, 5-0 on the board you can't be happy," he said. "It's a 60 minute game. You've got to play good all 60."
Malkin's goals came just 59 seconds apart in the final frame.
The Russian centre also assisted on Kessel's goal, and said he has good chemistry with the right winger.
"When Phil play good, I am playing good. When he is feeling it, I feel it too. When he is lazy I am like I can't do it myself," Malkin said.
Saturday's game was the first in a four-game homestand for the Canucks. They'll be back at Rogers Arena on Monday to take on the Minnesota Wild.
---
NOTES
Saturday's matchup marked Phil Kessel's 255th consecutive game for Pittsburgh, surpassing Evgeni Malkin for the franchise record. ... Malkin now has 15 points — four goals and 11 assists — in his last seven games. ... Sidney Crosby has five goals and three assists for the Penguins during a four-game streak.