Manziel solid in preseason debut as Ticats fall to Argonauts
Johnny Manziel completed 9-of-12 passes in his first appearance with the Hamilton Tiger-Cats but it was the Toronto Argonauts who cruised to the easy 36-18 victory at Tim Hortons Field in the preseason opener for both teams.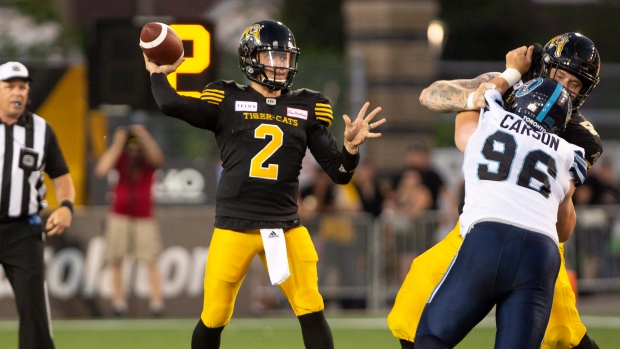 HAMILTON — Johnny Football was content with his first action as a Hamilton Tiger-Cat.
Johnny Manziel was 9-of-12 passing for 80 yards in Hamilton's 36-18 exhibition loss to the Toronto Argonauts at Tim Hortons Field on Friday night. It was not only Manziel's initial taste of Canadian football but his first game action in over two years.
"I felt like I was able to get in there and handle the situation well, get some completions and get the guys some balls," Manziel said. "I really wasn't nervous going into it, I was just kind of going out and letting the ball rip.
"Right now we're still in pre-season so we'll get a little bit more tailor-made for the team and defence and what they do and scheme against them. I think that'll help us moving forward."
Manziel, 25, faced a Toronto defence that was minus most of its starters and Hamilton coach June Jones was very conservative in his play-calling. The six-foot, 210-pound Manziel, who signed with the Ticats two weeks ago, directed five drives (22 plays) and was especially effective throwing on the run.
But Manziel's biggest complaint was receiving a 22-yard intentional ground penalty in the second half.
"That's the worst call of the century," Manziel said. "My whole life I've been taught to throw it right at the stick that's marking the down.
"I thought I got it there, he (official) told me I was about a yard short. That's the first time I've heard of that, that's new to me."
So too was running to the locker-room at halftime and being told there still was a final play to run despite the clock having run out.
"I'm still learning some things up here," he said. "There's going to be some of those growing pains."
But Hamilton, which played most of its starters, surrendered seven first-half turnovers (two interceptions, three fumbles, two on downs).
"Obviously you can't turn the ball over like that and ever have a chance to win a game," Jones said. "But he (Manziel) did some good things.
"He's got a good game presence about him. He knew what was going on . . . he wasn't rattled, he wasn't flustered. Obviously he scrambled around and made a couple of plays. I think he's going to get better and better every time he plays."
The former Heisman Trophy winner entered the game late in the first half and played much of the third quarter. Manziel was solid on his final possession, engineering a 12-play, 62-yard drive that took 7:27 off the clock but did receive the intentional grounding penalty.
Manziel threw for 80 yards and ran twice for 10 yards. But Hamilton's biggest play was Frankie Williams' 73-yard punt return TD to end the third, cutting Toronto's lead to 33-13.
Manziel saw his first action since being released by the NFL's Cleveland Browns on Mar. 11, 2016. The Browns took the '12 Heisman Trophy winner in the first round, No. 22 overall, in the 2014 NFL draft.
Manziel played in 14 games but was 2-6 in eight career starts. He completed 147-of-258 passes (57 per cent) with the Browns for 1,675 yards with seven TDs and seven interceptions while rushing 46 times for 259 yards (5.6 yards per carry) and one touchdown.
Manziel came into the contest with 3:38 remaining in the opening half and Hamilton on its 19-yard line trailing 13-6. His first pass was a nine-yard completion to Jalen Saunders, then Manziel hit Felix Faubert-Lussier on consecutive strikes before being sacked by Jonathan Dowling on third and two, giving Toronto the ball at the Ticats 49-yard line.
McLeod Bethel-Thompson took advantage, hitting Brandon Burks on a 27-yard touchdown pass at 14:09 to put Toronto ahead 20-6.
On Manziel's second possession, he was the victim of a bad snap that resulted in an incompletion. On second down, he threw a completion to Rashad Lawrence, but Toronto recovered Lawrence's fumble, setting up Bethel-Thompson's one-yard TD run at 14:49 for a 26-6 advantage.
Manziel remained under centre on Hamilton's next possession. After a Mercer Timmis run, Manziel ended the half with an eight-yard scamper. He was 4-of-5 passing for 35 yards.
Manziel opened the third with an incompletion before connecting with Harvey Binford on a six-yard completion.
"It (actual game) was different than what we've seen against our defence in practice," Manziel said. "I felt I missed one or two things here but that's expected with a new offence and the first time in the pre-season."
Given Manziel's celebrity, it's not surprising he was chirped by some Argos players. But Manziel said he'll never take that lying down.
"Listen, I'm not here to be pushed over," he said. "You can come at me because my name is in the papers, because my name is on TV . . . but I'm not backing down from anybody.
"We're playing Toronto, obviously there's a long-standing rivalry here. They're Grey Cup champs, they jumped on us early. They had every right to talk . . . but this isn't the last time I'll be sitting here after a game against them so we'll welcome them with open arms once the season comes."
Manziel will have to wait a while before the Ticats play the Argonauts again. The two won't meet in the regular season until Sept. 3 at the Labour Day Classic.
Bethel-Thompson had a solid first half, completing 9-of-11 passes for 122 yards and two TDs while running for another to stake Toronto to its 20-point half-time lead.
Chandler Worthy and James Franklin had Toronto's other touchdowns. Ronnie Pfeffer kicked three converts while Swayze Waters booted three field goals.
Brandon Banks scored Hamilton's other touchdown while Lirim Hajrullahu booted a field goal and convert. The other points came on a safety.
Incumbent Jeremiah Masoli started for Hamilton and finished 8-of-13 passing for 115 yards with a TD and two interceptions. Masoli's nine-yard touchdown pass to Banks at 6:42 of the second cut Toronto's lead to 13-6.
Toronto surged to a 13-0 lead on Waters field goals of 42 and 33 yards — the latter set up by Trumaine Johnson's 50-yard interception return — and Bethel-Thompson's three-yard TD strike to Worthy.