Maple Leafs acquire Muzzin from Kings
Former L.A. King Jake Muzzin says he's "very excited" to join the Leafs and skate on their top blueline pairing with Morgan Rielly in a trade that bolsters Toronto's defensive corps in the short term while the team gives up two prospects and a 2019 first-round pick in return, Kristen Shilton writes.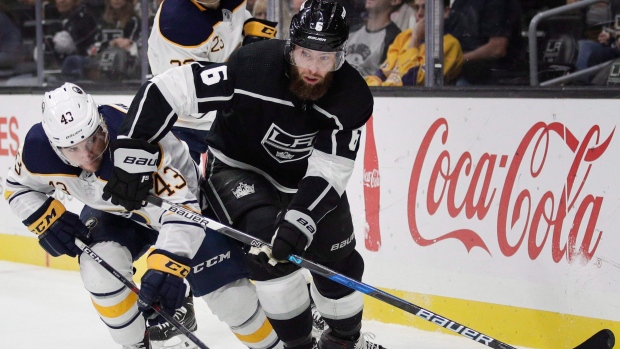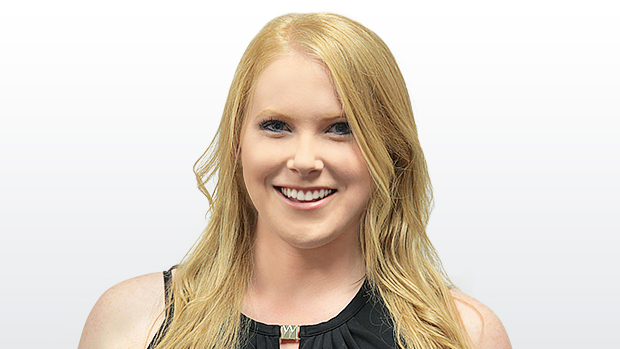 TORONTO – The NHL's trade season is officially open, and the Maple Leafs made their first blockbuster move on Monday night, acquiring defenceman Jake Muzzin from the Los Angeles Kings in exchange for forward prospect Carl Grundstrom, the rights to unsigned defensive prospect Sean Durzi and Toronto's first-round pick in 2019.
Muzzin has played his entire eight-year career with the Kings, and won a Stanley Cup there in 2014. While the 29-year-old admittedly heard rumblings of a potential trade, the deal coming down a full month before the Feb. 25 trade cut-off still caught him off-guard.
"I was a little shocked to get the phone call," Muzzin revealed on a media conference call Monday night. "I'm very excited to join Toronto, I was thinking about just playing them [with L.A.], how we got beat [twice], and I was like 'damn,' so now to be a part of that team, I'm real excited for the opportunity."
TSN Hockey Insider Darren Dreger reported Monday that Muzzin, a left-shot with experience and comfortability playing either side, will skate on the Leafs' top pairing with Morgan Rielly, while Ron Hainsey moves down to the team's third pairing as a veteran resource for 22-year-old Travis Dermott.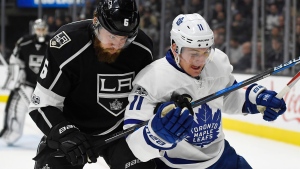 During the call on Monday, Leafs general manager Kyle Dubas wouldn't expressly confirm where Muzzin will play, but was confident in how well his skill set will fit with the rest of Toronto's backend.
"We have a very good group there [defensively], and to add Jake into the group there…and bolster that group is certainly something we're happy about," Dubas said. "Defensively, we thought it was a great fit for us, and knowing his character and what he's about, we thought it would be a great fit for our locker room as well. We're excited."
Also satisfying for the Leafs was being able to shore up their weakest area without disrupting the current roster. And in return, they have a player in Muzzin who was the Kings' best defender all season, boasting enough versatility to play throughout the backend while balancing good mobility advancing the puck with a strong defensive game in his own end.
Despite Dubas' staunch defence of the Leafs' blueline going back to training camp, Toronto has struggled on its breakouts and repeated defensive errors have cost them against the league's upper-echelon of teams.
There are promising defensive prospects in Toronto's farm system, but no one ready to make the jump, making a trade the team's best way to upgrade that unit.
To that end, Dubas started talks with Kings' vice-president Rob Blake about dealing for Muzzin around Christmas, and conversation picked up in earnest again before L.A. went on its bye week earlier this month.
Toronto is currently on its own league-mandated break, set to return with a practice on Thursday and game Friday against the Red Wings in Detroit. Once the team has reconvened, Dubas said head coach Mike Babcock and his staff will talk with the entire group of blueliners and "find the best fit to have everyone play to their best potential."
That's where having the deal consummated so soon will help the Leafs most, by offering plenty of time for Muzzin to get up to speed wherever he plays.
"The longer you can have the player for, the better," Dubas said. "And I think especially coming back from the break, it makes it a little bit easier than if we were just immersed into a full schedule. He's got two-plus months here to settle in and help our team, and it was important for us to try to help Jake assimilate into our program."
It will be a night-and-day difference for Muzzin compared to what he left in L.A., at least as far as the standings go. As of Monday, the Leafs sit third in the Eastern Conference, while the Kings are second-last in the NHL.
Individually speaking, Muzzin has continued to perform, though, amassing 21 points in 50 games while averaging 21:32 time on ice this year. Now he has a chance to chase down another long playoff run, to match that one he went on during his first full NHL campaign in 2013-14 that culminated with his name going on the Cup.
Muzzin can see the potential Toronto has for a postseason push, and can appreciate what it would mean to the fanbase, too. A native of Woodstock, Ont., Muzzin grew up as a Maple Leaf fan, and in 2016 he got a taste of the city playing for Babcock's Team Canada at the World Cup of Hockey hosted by Toronto.
"It's kind of funny how life works," Muzzin mused. "Here we are and I'm coming back to play for the team I rooted for growing up. Being in Toronto for (World Cup) was exciting; I definitely got a glimpse of what everything is about in Toronto in the media and the city. I'm excited to come and put on the Leafs jersey and play. That's why we play, is to get the playoff and have a chance to win the Stanley Cup…I'm excited to have another chance and get an opportunity to get there and have another crack at it."
Dubas has made no secret of the fact the Leafs are trying to contend now, as best they can, and for as long as they can. That's partly why he was keen to avoid rental deals at the deadline, and did so with Muzzin. The blueliner has one year still remaining on his five-year contract, at a cap-friendly $4 million, potentially making him part of two spring-time runs for Toronto.
What Dubas wasn't prepared to say, though, is that Muzzin's acquisition was tied at all to Jake Gardiner's status as a pending unrestricted free agent this fall. Knowing Dubas has to fit new contracts for Auston Matthews and Mitch Marner under the cap for next season still, Gardiner's asking price on an extension may be too rich for the Leafs.
Whether it is or it isn't, Dubas insisted that wasn't a factor in Toronto's latest deal.
[Muzzin's] still in his prime and we're happy to know he's going to be here for at least the next year and a half," Dubas explained. "That was certainly appealing. As it pertains to the future for anyone on our roster, the focus here was just to find a key player who can bolster our lineup now and we'll see how it all plays out with the rest."
With the shakeup, rookie Igor Ozhiganov projects to be the odd-man out on the blueline, joining Martin Marincin and Justin Holl as extra defenders. With winger Tyler Ennis on injured reserve nursing a broken ankle, the Leafs can carry all three of their defencemen now, but once Ennis is back, they will have to either send Ozhiganov to the American Hockey League's Toronto Marlies or waive one of either Marincin or Holl.
In return for Muzzin, the Leafs parted ways with two prospects, neither of whom have seen any NHL time to date. Gritty left winger Grundstrom was a second-round pick, 57th overall, by the Leafs in 2016, and is in the midst of his first full AHL season with the Marlies, where he's accumulated 29 points in 42 games.
Right-shot defenceman Durzi was a second-round selection, 52nd overall, by the Leafs in 2018. The 20-year-old has played the entirety of this season in the Ontario Hockey League, producing 28 points in 26 games between the Owen Sound Attack and Guelph Storm.