Marchand signs eight-year, $49 million extension with Bruins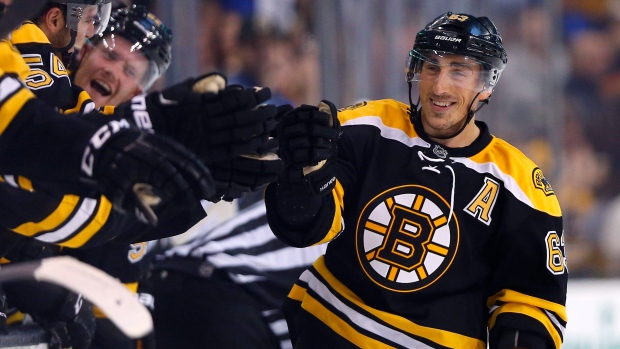 Brad Marchand has signed an eight-year, $49 million contract extension with the Boston Bruins.
The deal holds an average annual value of $6.125 million and keeps the winger with the Bruins through the 2024-2025 season. Marchand also has a full no-movement clause for the first five years and a modified no-trade clause the rest of the way, according to TSN Hockey Insider Bob McKenzie.
Marchand was in the last year of a four-year, $18 million deal with the Bruins.
"This is an extremely exciting day for me and my family," Marchand said in a release. "I would like to thank the Jacobs family, Cam Neely, Don Sweeney, Claude Julien, the coaching staff, my teammates and our fans for their continued support and belief in me. I have been a Bruin since the start of my pro career and there is no place I would rather play.
"I look forward to doing everything I can to help our team achieve success and bring the Stanley Cup back to Boston."
The 28-year-old winger is coming off a career season, registering 37 goals and 60 points in 77 games for the Bruins.
Marchand's recent strong play led to an assignment on Team Canada's top line at the World Cup of Hockey alongside teammate Patrice Bergeron and Pittsburgh Penguins star Sidney Crosby. Marchand sits behind only Crosby in points at the tournament with three goals and two assists.
The former third-rounder has 153 goals and 288 points in 454 career games, all with the Bruins. He has topped the 20-goal mark in each of the past five 82-game seasons.