Marner: 'Heat of the moment stuff happens' in the NHL
Presented by: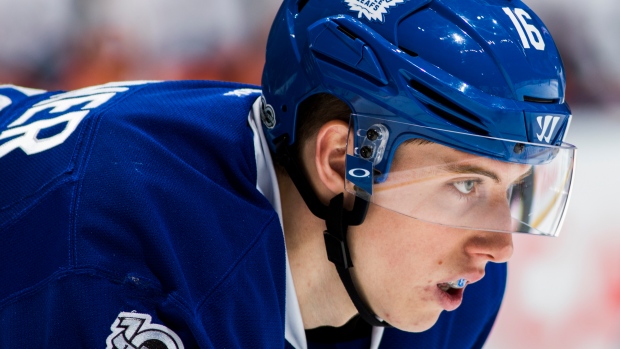 Toronto Maple Leafs centre Mitch Marner has an interesting take on Wednesday's spearing incident involving his teammate Matt Martin and Calgary Flames forward Matthew Tkachuk.
"I'm pretty good buddies with both of them [Martin and Tkachuk]," Marner said Thursday in an interview with TSN.ca. "I'm sure he didn't intend to hurt Marty, but at the same time it's probably an incident that right away he knew it wasn't the best idea."
Tkachuk received a one-game suspension without pay from the NHL for unsportsmanlike conduct after he speared Martin from the bench during Wednesday's game which the Leafs won 2-1 in a shootout.
"He plays the game very hard, he gets under people's skin a lot," said the Leafs sophomore forward who played on the same line as Tkachuk for one season with the OHL's London Knights. "At the same time, he's got a lot of skills and that's another way he gets under the skin – (he) makes you do something stupid.
Tkachuk was seen on camera taking a jab at Martin after the Toronto winger reportedly hit Flames winger Troy Brouwer near the Calgary bench.
"Heat of the moment stuff happens – you look back at it and you wish it didn't happen."
Marner and Tkachuk led the Knights to a 2016 Memorial Cup victory, finishing with 116 and 107 points respectively during the 2015-16 season.
The 20-year-old Marner knows what it's like being put on a line with a star teammate. At times this season, he has been paired up with Auston Matthews and relished the experience.
"We like playing together," said Marner. "Obviously, he's got a lot of skill and can do a lot of things with the puck."
In their rookie 2016-17 season, Marner and Matthews helped lead the Leafs back to the playoffs for the first time since 2013.
"At the end of the day, it's the coach's decision."
Toronto head coach Mike Babcock continues to juggle the Leafs lineup more than a third of the way into the season. Marner has been shuffled between the first and fourth lines this season, but has had limited playing time with Matthews.
Stays true to the Double Blue
"I think anyone you play with on our team has got a lot of skills. I think we're happy playing wherever we are," said Marner, who grew up in the Toronto area and is a big fan of the CFL's Toronto Argonauts.
Prior to Wednesday's game at the Air Canada Centre, the 2017 Grey Cup champion Argonauts were honoured by the Leafs and Marner, a strong supporter of the Double Blue, was simply elated.
"I was with the Argos quite a bit this summer," the former first-round draft pick (fourth overall, 2015) said. "Those guys left an impact on me.
"James Wilder was I guy talked to quite a bit, Lemonator's [Shawn Lemon] was another one."
Marner drew inspiration from his hometown football team winning the CFL championship.
"The year they had was spectacular," Marner said. "It was pretty nice yesterday (Wednesday) seeing them at the game."
He hopes the Leafs can build off the success the Argonauts had in 2017, as well as the great run his team had during his rookie season. Marner scored 19 goals and added 42 assists in 77 games last season and Toronto made the playoffs, losing their first-round series to the Washington Capitals in six games.
"Last year was very exciting for the city and our team," he said. But, obviously, this year we want to upgrade a couple steps, and get a couple more rounds into the playoffs."
Connected to the community
Marner, who has two goals and 14 assists in 29 games so far this season, grew up watching Toronto captain Mats Sundin and dreamed of wearing the Maple Leaf sweater one day.
"Growing up as a kid I always joked around about putting the Maple Leafs jersey on and acting like it was a real NHL game."
Being able to play in the community where he grew up, Marner is now trying to give back through the Chevrolet Good Deeds Cup, which is designed for local peewee hockey clubs.
"You take a video of your team doing a good deed and send it to chevrolethockey.com," Marner said. "The top three teams get a prize of money to give to charities of their choice."
Marner, who starred as a member of the Vaughan Kings when he played peewee, feels passionate about giving back to his community.
"It's very important to be a member of the community and to leave a memory to your community of what you did."
"Even if you're an NHL hockey player, and you're only remembered for what kind of athlete you are, obviously you didn't do enough in that community and didn't affect enough people."