Maroon to have hearing for Doughty hit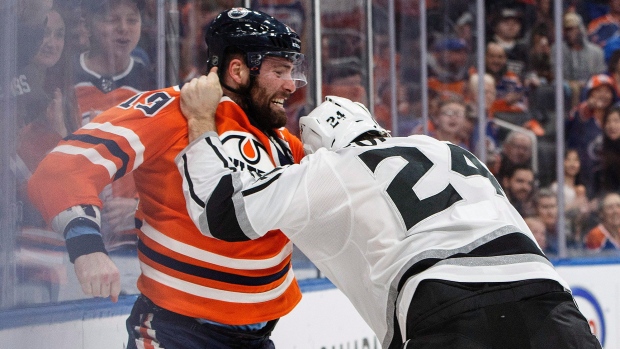 Edmonton Oilers forward Patrick Maroon will have a hearing Wednesday for interference on Los Angeles Kings defenceman Drew Doughty during Tuesday night's game.
Maroon was given a match penalty for his second period hit on Doughty, in which he made direct contact with the defenceman's head, during the Oilers' 5-0 loss.
Doughty was without the puck behind his team's net when he was hit by Maroon. He left the game but did return in the third period.
The Kings scored three goals on the ensuing five-minute power play to take a 4-0 lead, with Maroon's hit serving as motivation.
"When stuff like that happens, your team just comes together, scoring three goals on the power play to really shove it up their butts was awesome," Doughty said.
"I'm feeling alright now. I didn't see it at all. He got me right in the head. I didn't have the puck, that's why I was so shocked by it. But I've known Maroon for a long time, he's just trying to finish a hit. I don't know that he meant to try and hurt me. I forgive him."
Maroon said there was no intent to injure on the play.
"I'm glad he came back and finished the game," Maroon said. "Honestly, I'm a big forward, just going in to do my job on the forecheck. My elbow didn't come up, it's just unfortunate that my body hit him in the head.
"I play the game hard. I'm just mad they gave me a match (penalty) and it hurt us."