'I'm home.' Ujiri speaks for first time since re-signing
With a new title as vice-chairman and president of the Toronto Raptors, Masai Ujiri is making a clear course for his young team.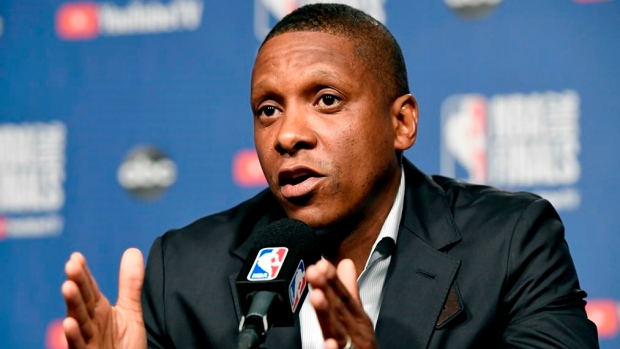 With a new title as vice-chairman and president of the Toronto Raptors, Masai Ujiri is making a clear course for his young team.
"We're going to develop these players and we're going to find a way to win (another) championship here," he told reporters on Wednesday in his first off-season availability since re-signing with the team. ":We're not going to sit here and cry that players don't want to come here.
"That's not what we're about. I think we've gotten past that."
The Raptors failed to make the playoffs this season after finishing with a 27-45 record while playing the whole year in Tampa Bay due to the ongoing COVID-19 pandemic. It was their first time out of the postseason since Ujiri's first year with the club.
Part of the team's road to recovery this coming season will be the Raptors returning to play in Toronto at Scotiabank Arena after a year-and-a-half.
"The NBA schedule is coming out in a few days," he said. "And I know that schedule says Toronto. It doesn't say anywhere else.
"We have not looked elsewhere. We are not going to look elsewhere. Our goal is to play at home...playing another year away will set us back five years. We're not trying to do that."
Ujiri has been with the Raptors since the 2013-14 season, building a roster that made seven consecutive playoff appearances and won the NBA championship in 2019. Ujiri's Raptors also set the franchise record for wins in a season when they finished 59-23 in the 2017-18 season. He was originally named president and general manager of basketball operations before Bobby Webster was given the general manager title ahead of the 2017-18 season.
Ujiri said at his end-of-season availability that his decision on whether to re-sign with the franchise would come down to conversations with Raptors' ownership, adding the most important thing for him is being able to compete for more championships.
""I want to celebrate properly one day when we win a championship," he told reporters on Wednesday. I'm not taking a shot, but I want to celebrate properly, and it'll happen one day, by the grace of God."
Before getting into the details of his anticipated new contract, and new title, Toronto Raptors executive Masai Ujiri paid tribute to outgoing star point guard Kyle Lowry , heaped praise on the player he called the "greatest Raptor."
Lowry joined Miami this off-season following a sign-and-trade deal with the Heat.
That ended the 35-year-old's wildly successful nine-year run in Toronto that included six all-star appearances and a championship in 2019.
Ujiri said he wishes Lowry all the best in Miami, except when he faces his former team. Asked about whether Lowry will get his jersey retired in Toronto, Ujiri said: "He's going to get everything, and some."