Matthews won't wear 'A' this season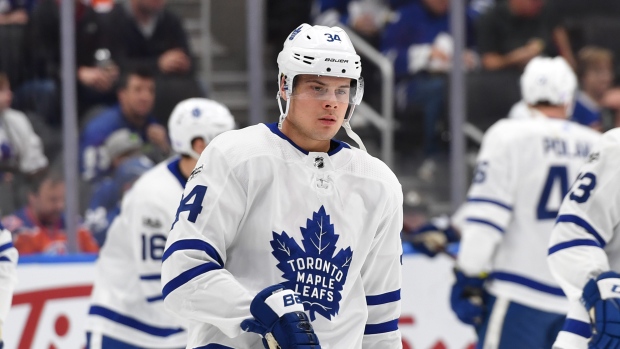 It appears Auston Matthews won't have an 'A' on his sweater this season.
Maple Leafs head coach Mike Babcock told TSN Hockey Insider Darren Dreger on Thursday that the team's leadership group this season will consist of John Tavares, Patrick Marleau and Morgan Rielly, with each of the three wearing an 'A' as alternate captains.
"The guys who will wear letters for us this year are Marleau, Tavares and Rielly," he told Dreger. "When you look at Jake Gardiner, when you look at Nazem Kadri and you look at (Ron) Hainsey, that's another group.
"Then there's the group of 'Matty,' 'Mitchy' and 'Willy,' then there's (Zach) Hyman and (Connor) Brown who do it every single day...our leadership group is very, very good."
Tyler Bozak, Leo Komarov and Rielly served as the team's alternates last season, but both Bozak and Komarov departed as free agents.
Maple Leafs general manager Kyle Dubas said last week the team would open their season without a captain, ending months of speculation that Matthews or Tavares would get the 'C.'
Tavares joined the Maple Leafs on a seven-year, $77 million contract this summer. He served as captain of the New York Islanders from 2013 to 2018.
Marleau, who joined the Leafs as a free agent in 2017, served as captain of the San Jose Sharks from 2004 to 2009.
The Maple Leafs have not had a captain since the team traded Dion Phaneuf in February of 2016.