Post 2 Post: Size does matter - at least with today's NHL goalies
Who says size doesn't matter? With Blackhawks goaltender Scott Darling getting his first taste of National Hockey League action this week, another big goaltender is making his in the NHL. TSN Hockey analyst Jamie McLennan sizes up today's goaltenders against those from 20 years ago.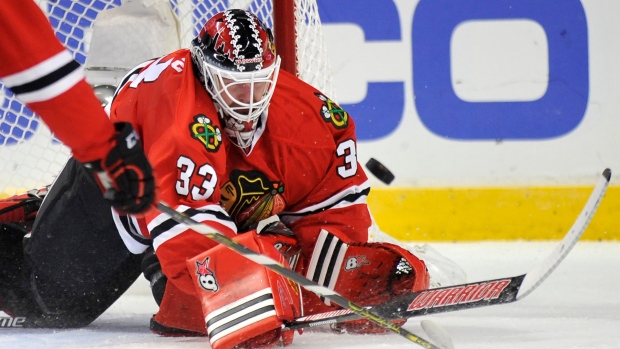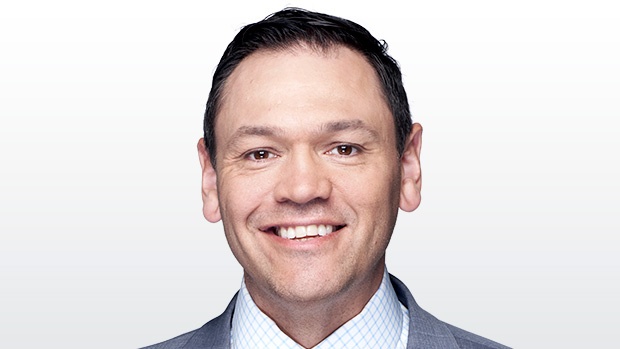 Who says size doesn't matter?

With Chicago Blackhawks goaltender Scott Darling getting his first taste of National Hockey League action this week, the focus wasn't only the feel good story of a journeyman goaltender who finally made it to the bigs with his hometown team - it was another 6-foot-6 goaltender in the NHL.

It's no secret that the league's been trending upwards in the size and strength of players - not to mention an all-time high with skill as well.
That said, goaltenders have gone from that short fat kid who couldn't skate (so they throw him in net) to the athletic monster who is not only lean and agile, but covers a ton of square footage even before he puts the gear on.

The evolution of goaltending has been spectacular. Speaking from experience, there's no doubt the position has evolved skill-wise - to the point where it's the most improved position in the game over the last 20 years. But with that, the size of the goaltenders has also dramatically increased.

Back in 1994, I was just starting out in the league and always considered myself a taller goalie. I was six feet tall and playing a stand-up style like most goaltenders of that generation, so we tended to look taller in the net.

Growing up near Edmonton, I watched and admired Grant Fuhr (5-foot-10) and Andy Moog (5-foot-8). They weren't physical giants, but I thought they were the norm of what a goaltender was built like in that era - smaller, with quick reflexes and in good 'goalie shape' to handle the rigours of a long schedule.

That's quite a contrast to the way goalies are built today in the NHL.

So far in this NHL campaign, there's been 62 goalies who have played at least in one regular season game and leading the size chart is 6-foot-7 Ben Bishop of the Tampa Bay Lightning (the tallest in the history of the game thus far).
But don't forget that there are three other goalies just behind at 6-foot-6 (Devan Dubnyk, Anders Lindback and Scott Darling), another trio just behind them at 6-foot-5 (Pekka Rinne, Darcy Kuemper and Robin Lehner) and six more goalies who are 6-foot-4 (Martin Jones, Reto Berra, Steve Mason, Eddie Lack, Kari Lehtonen and Mike Smith).

In fact, the average size of goalies in the NHL today is just over 6-foot-2, with the shortest goalie in the league listed at 5-foot-10 (Jhonas Enroth).

Of the 62 goaltenders who have seen NHL action this season, only 19 of them are under 6-foot-2 and only four are under six feet (Dustin Tokarski, Jaroslav Halak, Anton Khudobin and Enroth).

Amazingly, there are 40 goalies who are 6-foot-2 and taller - staggering numbers compared to 20 years ago when the league average of the Top 60 goalies was barely 5-foot-11.

The two tallest goalies in the league were 6-foot-4 (Sean Burke and Darren Puppa) and bringing up the small side were two - that's right, two - goalies who were 5-foot-7 (Tommy Soderstrom and Freddie Braithwaite). Also, there were three at 5-foot-8 (Arturs Irbe, John Vanbiesbrouck and Moog) and five at 5-foot-9 (Mike Vernon, Glenn Healy, Chris Terreri, Jeff Reese and Wendell Young).

With the average height around 5-foot-11 back in the day, the scary things is that there were 34 of 60 goalies that were under six feet. And some greats on that list included Curtis Joseph (5-foot-11), Bill Ranford (5-foot-11), Ed Belfour (5-foot-11), Mike Richter (5-foot-11), Vernon (5-foot-9) and Fuhr (5-foot-10). That's more than half the league!

There were only four others - as well as myself - who were six feet: Dominik Hasek, Kirk McLean, Wade Flaherty and Andrei Trefilov. A total of 19 goalies stood between 6-foot-1 and 6-foot-3.

With the way the game's trended upwards in skill and talent level, it will be interesting to see where goaltending is 20 years from now.

Maybe the key will be to find a goalie who's only four feet tall and six feet wide (a-la-Charles Wang's rumoured theory), but that legendary story will be saved for another time.
SIZING THEM UP
6-foot-7 (1)
Ben Bishop, Tampa Bay Lightning
6-foot-6 (3)
Scott Darling, Chicago Blackhawks
Devan Dubnyk, Arizona Coyotes
Anders Lindback, Dallas Stars

6-foot-5 (3)
Darcy Kuemper, Minnesota Wild
Robin Lehner, Ottawa Senators
Pekka Rinne, Nashville Predators
6-foot-4 (6)
Reto Berra, Colorado Avalanche
Martin Jones, Los Angeles Kings
Eddie Lack, Vancouver Canucks
Kari Lehtonen, Dallas Stars
Steve Mason, Philadelphia Flyers
Mike Smith, Arizona Coyotes
6-foot-3 (9)
Frederik Andersen, Anaheim Ducks
John Gibson, Anaheim Ducks
Michael Hutchinson, Winnipeg Jets
Chad Johnson, New York Islanders
Roberto Luongo, Florida Panthers
Curtis McElhinney, Columbus Blue Jackets
Ondrej Pavelec, Winnipeg Jets
Carey Price, Montreal Canadiens
Cam Talbot, New York Rangers
6-foot-2 (21)
Jake Allen, St. Louis Blues
Craig Anderson, Ottawa Senators
Niklas Backstrom, Minnesota Wild
Sergei Bobrovsky, Columbus Blue Jackets
Scott Clemmensen, New Jersey Devils
Corey Crawford, Chicago Blackhawks
Brian Elliott, St. Louis Blues
Ray Emery, Philadelphia Flyers
Marc-Andre Fleury, Pittsburgh Penguins
Jonas Gustavsson, Detroit Red Wings
Jonas Hiller, Calgary Flames
Braden Holtby, Washington Capitals
Ryan Miller, Vancouver Canucks
Al Montoya, Florida Panthers
Antti Niemi, San Jose Sharks
Karri Ramo, Calgary Flames
Tuukka Rask, Boston Bruins
James Reimer, Toronto Maple Leafs
Cory Schneider, New Jersey Devils
Ben Scrivens, Edmonton Oilers
Semyon Varlamov, Colorado Avalanche
6-foot-1 (9)
Thomas Greiss, Pittsburgh Penguins
Jimmy Howard, Detroit Red Wings
Carter Hutton, Nashville Predators
Henrik Lundqvist, New York Rangers
Michal Neuvirth, Buffalo Sabres
Justin Peters, Washington Capitals
Calvin Pickard, Colorado Avalanche
Jonathan Quick, Los Angeles Kings
Cam Ward, Carolina Hurricanes
6-foot-0 (6)
Jonathan Bernier, Toronto Maple Leafs
Viktor Fasth, Edmonton Oilers
Jamie McLennan, Five NHL teams
Evgeni Nabokov, New York Islanders
Antti Raanta, Chicago Blackhawks
Alex Stalock, San Jose Sharks
Niklas Svedberg, Boston Bruins
5-foot-11 (3)
Jaroslav Halak, New York Islanders
Anton Khudobin, Carolina Hurricanes
Dustin Tokarski, Montreal Canadiens
5-foot-10 (1)
Jhonas Enroth, Buffalo Sabres