First Vegas trade may come next week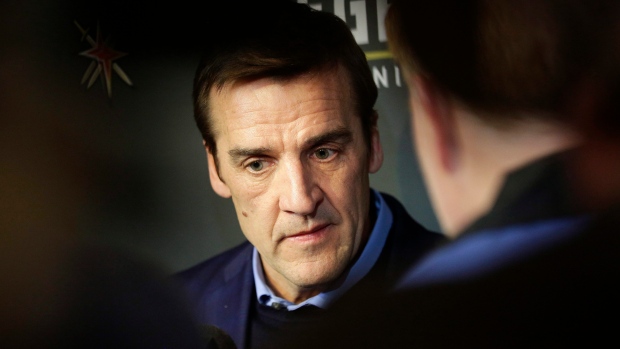 The Vegas Golden Knights currently own the sixth overall pick of the 2017 draft and third overall pick in each of the remaining six rounds. However, Golden Knights general manager George McPhee told TSN Hockey Insider Pierre LeBrun on Monday he expects to own several more picks in the draft by June 23.
"We're expecting to have more (picks)," McPhee said ahead of the scouting combine in Buffalo. "Just in the conversations we've had to date alone, it looks like we'll be able to pick up some picks, and some good ones."
McPhee said he's hoping to start announcing trades next week and expects to start hearing more from teams as the expansion draft begins to loom.
"I'm hoping that we can start doing that next week, this week's pretty busy with the amateur draft. Then, we're going to switch our focus to the expansion draft and we're expecting a lot more conversation and a lot more depth to the conversations. I'm hoping that we can start getting a few deals done because I think it's going to be a lot to ask to do them all within the expansion window."
The 58-year-old, who served as general manager of the Washington Capitals from 1997-2014, said that though the teams wants to competitive early in their existence, the Golden Knights must build from the entry draft and therefore stockpile picks. Based on the rules of the expansion draft, each team can protect seven forwards, three defencemen and a goaltender, or eight skaters and a goaltender. That means Vegas will likely receive a team's eighth best forward, fourth defenceman, backup goaltender or ninth best player. Therefore, their best shot at top end talent will be in the entry draft.
"We want to be a real competitive club. We want to be as good as we can but we also have to be mindful that we'd like to be in a surplus situation here for the next two or three drafts, where we have extra picks. Our best players are going to come through the entry draft. I don't think we're going to get our best players through the expansion draft."
McPhee noted that the team will have to be "really good" at the draft in order to become a successful franchise.
Early free agency
The Golden Knights will be granted an exclusive window ahead of the expansion draft to sign pending free agents, who would count as their selection from that player's previous team. McPhee said that window could allow the Golden Knights to sign a better player than the team would otherwise expose.
"We're hoping we can sign some folks," McPhee said. "It is unique and there are some instances where it would be the best way to go for certain clubs, it's the best player available. But, we'll see how the negotiations go because we don't know until we get into that window whether that player is interested in us and what kind of deal can be struck. We'll see what develops there, but that counts as your claim and we're going to be aggressive there."
LeBrun asked McPhee whether he'd be willing to sign pending unrestricted free agents for teams and then trade them in return for assets, wondering what he had to gain from making such a move. McPhee said that since the team's focus will be acquiring more draft picks he might be willing to make certain deals. Each such deal, however, would leave the Golden Knights with one less pick in the expansion draft, which McPhee said might be for the best. He also said he expects to move players selected in the expansion within days of Vegas acquiring their rights.
"We can't keep 30 players because we can't get six or seven players through waivers if we wanted to, most of them are not waiver exempt. We'll do the best we can and I would say there will probably be a lot of transactions between the day we announce the picks (on June 21) and the entry draft (on June 23), because you know in this business, you have to move players quickly and make your changes quickly because once you get into July 5, there's not a lot of liquidity in the market, people have made their decisions and you don't want to get stuck holding the bag."
The Vegas Golden Knight have signed two players to date, Russian star Vadim Shipachyov and undrafted prospect Reid Duke.