Meet Carey "Boom Boom" Price
The Montreal Canadiens' star goalie is also known for being able to fire a puck with the same velocity as many NHL defencemen, TSN Montreal Bureau Reporter John Lu writes.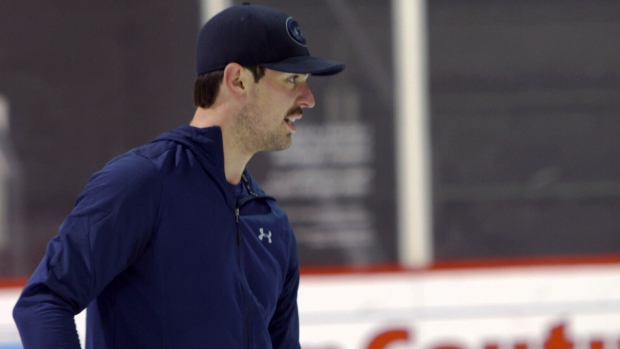 One blast goes bar down. Another snipes a top corner. The next one pings resoundingly off the crossbar.
It's not a defenceman or a forward gliding around the ice at the Canadiens' practice facility in Brossard, firing puck after puck fluidly and powerfully from the point.
It's Carey Price.
"He probably shoots harder than I do," says defenceman Nathan Beaulieu of his teammate who is known more for stopping pucks than shooting them with the same velocity as many NHL defencemen.
Predators' defenceman P.K. Subban can't resist taking a playful jab at his close friend and former teammate when asked to describe Price's slap shot.
"I'd compare it to a muffin. I thought that my baby niece had a harder shot."
On a more serious note, Subban adds, "I'd say it would be a tie between Pricey and Shea Weber. Shea has a muffin too." That's high praise for Price and hijinks from one superstar blueliner to another.
The blueline is where Price's slap shot originated. As a child growing up in Anahim Lake, B.C., Price played defence from novice through atom.
"Just like a lot of kids, I spent a lot of time on the pond in the backyard… [A hard shot] was just something that came naturally to me," he says.
Price doesn't know what speed his shot currently reaches, but he remembers that when he was nine years old a family acquaintance clocked his slap shot at 79 km/h.
"That's pretty hard for a nine-year-old," Price says. "Scored quite a bit [from the point], from what I remember."
Price's favourite childhood stick was a white and blue Canadien with a wood-coloured blade in a Cam Neely curve. The stick no longer exists but Price says he still has the old Habs-coloured gloves he used to use.
Now when Price wraps his Habs-coloured gloves around his weapon of choice, it's a CCM Tacks composite in 90 flex – and yes, it's a Carey Price pattern.
Five seasons ago, when Price and Mike Cammalleri were teammates, the goalie took a liking to the curve in Cammalleri's stick, if not the length.
"I'd have to put a foot-long plug in it," jokes Price, referring to the six-inch height difference between him and the New Jersey Devils sniper.
Price gave CCM a Cammalleri stick to mimic the curve, which Price likes because it is similar to a Joe Sakic blade but with more curve to better cup the puck. CCM made a longer model and stamped it with Price's name.
For much of Price's 10-year Canadiens career, when he plucks his CCM out of the stick rack on non-practice days and hits the ice in his tracksuit, it's like on-ice therapy.
"It's fun to mix things up," he says. "I'd rather go out and work on my skating and work up a sweat as opposed to being in the gym riding the bike."
Even though it looks like carefree fun, there's purpose behind Price's relaxed skate-and-shoot sessions.
For example, when goalies leave the net to play the puck they often have to cross over on the outside edges of their skates, which is different from the usual movements in the crease that rely heavily on inside edges.
The casual solo skates allow Price to work on his outside edges without the impediment of bulky goalie pads.
"One thing that helped my shot a lot was my skating ability," he says. "I always felt like I had a good, solid base. I think that's the key to anybody's shooting ability."
The evidence lies in the bar down, the snipe and the ping.