Mentorship a big part of Tulowitzki's role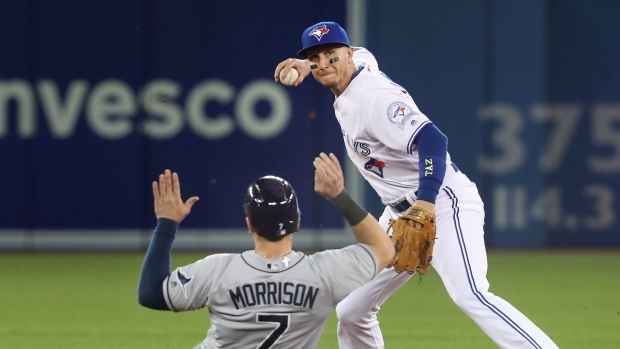 When the Blue Jays acquired Troy Tulowitzki from the Colorado Rockies just before the 2015 MLB Trade Deadline, they were getting more than just a player with the highest career fielding percentage at shortstop in baseball history.
Tulowitzki, who's been in camp for a few days but only addressed the media for the first time on Thursday, talked at length about mentoring his fellow infielders, including, somewhat surprisingly, 2015 AL MVP Josh Donaldson.
"I definitely put a lot of pressure on myself in that area just because I expect so much," said the 32-year-old, entering his 12th big league season. "I challenge those guys on a daily basis to get better. I think JD made huge strides last year and really made himself into an elite defender and I think he wants to get better. Devon (Travis) is someone I'm going to constantly be doing early work with and you're going to see me on the field with him putting in work because he wants to get better, he needs to get better in that area. But with his work ethic, he's going to get better, no doubt."
Tulowitzki also spoke about offering advice to young, star shortstops on other teams like Cleveland's Francisco Lindor and Carlos Correa of the Astros, and even prospects at the same position who may one day take his job.
"It's cool, I love it. All those guys that are infielders coming up...I've never been the guy to sit there and hide knowledge. I want them to have all the knowledge that I have. I'm not scared of it."

BAUTISTA'S BACK
Blue Jays position players aren't required to be in Dunedin until Friday, although it's not unusual to see many of them in camp earlier.
Still, when Jose Bautista walked into the clubhouse at 8:25 Thursday morning, there was a buzz. The bat-flipping right fielder, who signed a one-year deal with the Jays in January after deciding to test the free agent market, was greeted warmly and boisterously by his teammates.
"I think everyone knows what he means to the city, how much he means to the Blue Jays," said Tulowitzki. "He's definitely a leader on this team...he makes us a better ball club...so to see him back is nice."
Bautista spent about 35 minutes taking batting practice with Tulowitzki and a couple of other veterans. He is expected to address the media Friday morning.

EXTRA ARM
The Blue Jays added some pitching depth on Thursday with the signing of towering 6'6" righty Mat Latos to a minor league deal.
"It's good to have another veteran who's been around and had a lot of success," manager John Gibbons said. "He's a good addition."
Latos began the 2016 season with the White Sox and looked like an early Cy Young contender, winning his first four starts with a miniscule 0.74 earned run average in 24.1 innings. But in his next eight starts, his ERA ballooned to 7.25 and he was released in June.
The Nationals signed Latos to a minor league deal and called him up in September, using him mostly out of the bullpen.
The 29-year-old says he was struggling to strengthen his left knee after a 2014 injury that he suffered when he was with the Reds.
"Something I really committed to this off-season was really working above and beyond, to the point where I wanted to throw up on quite a few workouts."