Miller records shutout as Canucks add to Oilers' woes
Ryan Miller made 28 saves to record his 30th career shutout as the Vancouver Canucks remained undefeated on the season, getting past the struggling Edmonton Oilers 2-0 on Friday. Radim Vrbata and Daniel Sedin scored for the Canucks, who improved to 3-0-0 on the season.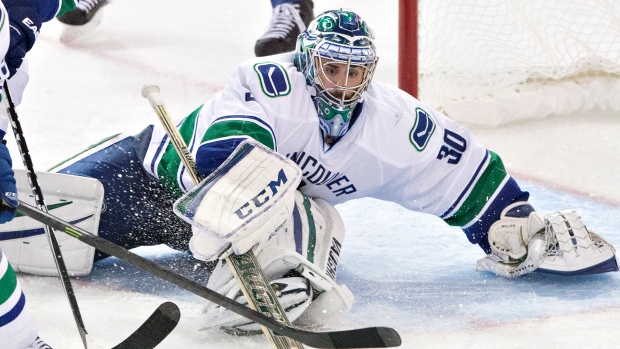 EDMONTON - The last person the struggling Edmonton Oilers needed to see in the opposing net on Friday was Ryan Miller.
The Vancouver goalie made 28 saves to record his 30th career shutout as the Canucks remained undefeated on the season, getting past the Oilers 2-0.
The win improved the 34-year-old's all-time record against the Oilers to 9-0-0.
"It means a lot. You like to get the first one (shutout) out of the way," said Miller, who signed a three-year free agency deal with the Canucks this summer. "It was an important game for us as well, to keep things moving along. We had a long break.
"I think I am a little more composed, starting with my positioning. In my last game I was a little anxious, a little excited. I tried to calm down a little bit tonight."
Radim Vrbata and Daniel Sedin scored for the Canucks, who improved to 3-0-0 on the season.
"I think we were fresh and it helped that we have such a deep lineup and we can roll four lines," Daniel Sedin said. "We spent a lot of time in their end and were able to tire them out."
Daniel Sedin said that Vrbata has been a welcome addition to the top line in the early running as another free agent acquisition.
"I think it has helped," he said. "He shoots a lot and that opens up a lot of things for us. He is a right-handed shot and I think that gives our line and extra edge. He has been good."
The Oilers are still in search of their first victory of the year, dropping to 0-4-1 — their worst start in franchise history.
"The fans were really behind us and that gave us some extra energy and it's just frustrating we weren't able to pull through," said Oilers forward David Perron. "It's just frustrating that we didn't get at least a goal for (Ben Scrivens) and for the effort that the guys put in."
Scrivens, who stopped 28-of-29 shots, said that the game was at least a positive sign in that the Oilers played better that in their two previous outings.
"I thought we played a lot better, but your play is measured in wins and losses," he said. "We have a lot of work left to do. Hopefully, everybody can see that some of the pieces are starting to fall into place. It's only one game, so the same way we tried not to panic after a couple of losses, we're not going to rest on anything, playing one good game. The key is coming out and playing another good game after that. The more we can do that, the idea is that the wins start to fall after that."
There was no scoring in a back-and-forth first period that saw Scrivens face 12 shots in the Edmonton net and Miller make 10 stops. The biggest save in the opening frame went to Scrivens, stopping Henrik Sedin in tight with a quick kick save with two minutes remaining.
Miller had his biggest test to that point of the game two-and-a-half minutes into the second period when he made a big blocker stop on Ryan Nugent-Hopkins, who came in on a short-handed breakaway. Miller then made another huge stop on a backhander in tight by Matt Hendricks a few minutes later.
Scrivens responded midway through the second with a big save on a deflection by Chris Higgins.
Moments later, Vancouver defenceman Dan Hamhuis was rushed off the ice pouring blood after being hit by an inadvertent high stick by Edmonton's Mark Arcobello. Hamhuis returned late in the second wearing a cage.
The Canucks finally broke the scoreless deadlock with four minutes left in the second period as Daniel Sedin made a nice pass through the goal-mouth to a wide-open Vrbata on the other side of the net for his third goal of the season.
"It is about timing and being at the right place at the right time," Vrbata said. "If I do that, I know that they will find me. It was a nice pass."
Vancouver had a couple of glorious opportunities to extend it's lead in the first half of the third, but Scrivens received some help with Taylor Hall and Andrew Ference both clearing pucks moments before a Canuck could put it in an open net.
The Canucks put the game away in the final minute on an empty net goal by Daniel Sedin.
The Canucks return home to host the Tampa Bay Lightning on Saturday. Edmonton next plays the Lightning in the second game of their seven-game homestand on Monday.
Notes — Vancouver and Edmonton met five times in the regular season last year, with the Canucks winning three of the five outings… The Canucks haven't played since defeating the Oilers 6-5 in a shootout last Saturday… Oiler forward Ryan Nugent Hopkins returned to the lineup after missing the last two games following a hit by, and his subsequent first NHL fight against, with Canucks defenceman Dan Hamhuis… The Oilers called defenceman Martin Marincin up from Oklahoma City for the game while also assigning defender Darnell Nurse to junior on Friday… Canucks rookie forward Bo Horvat practiced on Thursday, but was still unable to make his NHL debut with a shoulder injury.