Miller to start for Canucks in Game 5
With their backs against the wall, the Vancouver Canucks will turn to goaltender Ryan Miller in Game 5 as they attempt to stay in their first round series against the Calgary Flames. Miller replaced Eddie Lack at the beginning of the second period of Game 4 and made 15 saves, however the damage was already done as the Flames won the contest 3-1, to move one win away from advancing into the second round.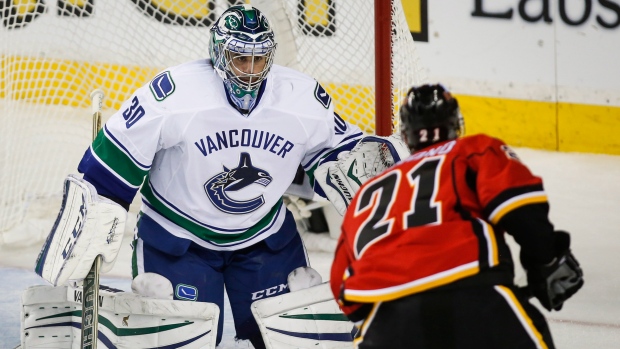 VANCOUVER - The Vancouver Canucks will turn to veteran goalie Ryan Miller for tonight's must-win Game 5 against the Calgary Flames.
Calgary leads the best-of-seven Western Conference quarter-final 3-1 and can close things out with a victory at Rogers Arena.
The 34-year-old Miller has made just one start since injuring his knee in February, but stopped all 15 shots he faced after coming on in relief of Eddie Lack in Tuesday's 3-1 loss in Game 4.
"He's been in big games before, but the biggest thing is how he played in Calgary," said Canucks head coach Willie Desjardins. "I thought he looked really sharp."
Lack has played 25 of Vancouver's last 27 games and helped guide the team to the playoffs in Miller's absence, but allowed three goals on seven shots on Tuesday.
"Eddie's played really great for us. He did a great job down the stretch," said Desjardins. "Miller looked good in Calgary. He was really clean the last two periods. Out of that I think he deserves the chance."
The Canucks will also make at least one change up front, with forward Sven Baertschi slotting into the lineup.
The 22-year-old was acquired from the Flames in a trade earlier this season and was recalled from the American Hockey League prior to Game 4. He had two goals in three regular-season games with Vancouver.
"Whenever you're playing a former team it's going to motivate you," said Desjardins. "He has a lot he wants to prove. He knows the guys in the other room. He just wants to show that maybe they gave up on him a little soon."
The 13th overall pick in the 2011 draft, Baertschi skated on a line with Nick Bonino and Radim Vrbata at practice yesterday.
"It's something special for me," said Baertschi. "Being here during the playoffs is something special for any young player. Playing against your old team is something more special.
"There's no lack of motivation for sure."
Meanwhile, Canucks forward Brad Richardson took the morning skate and will be a game-time decision after sitting out Tuesday. The 30-old-year old missed a large chunk of the season with a nagging foot injury, but played in the first three games of the series.
The Flames are expected to go with the same lineup as Games 3 and 4.
Vancouver Canucks Projected Lines
Forwards
Daniel Sedin-Henrik Sedin-Hansen
Baertschi-Bonino-Vrbata
Kenins-Horvat-Dorsett
Higgins-Matthias-(McMillan)
(Richardson)
Defence
Edler-Tanev
Hamhuis-Weber
Sbisa-Bieksa
Goalies
Miller
Lack
Calgary Flames Projected Lines
Forwards
Gaudreau-Monahan-Hudler
Bennett-Backlund-Colborne
Ferland-Stajan-Jones
Raymond-Jooris-Bollig
Defence
Russell-Wideman
Brodie-Engelland
Wotherspoon-Schlemko
Goalie
Hiller - starting
Ramo