MLB Rumours: Machado trade talks heating up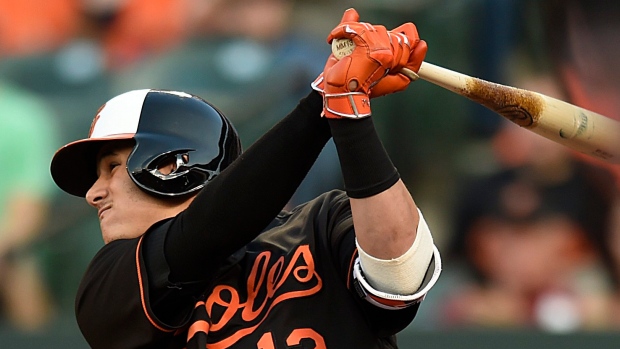 Get the latest rumours of the Major League Baseball Winter Meetings on TSN.ca.
Orioles in sell mode
Manny Machado could be an ex-Baltimore Orioles player by the end of the week.
USA Today MLB columnist Bob Nightengale reported the Orioles are moving aggressively on Machado trade talks and now believe they can move him by the end of the week with the strength of the offers they are getting.
Jon Heyman of FanRag Sports reported the New York Yankees have checked in on Machado trade talks, but there is no expectation O's owner Peter Angelos would ship his star to the division rivals.
Heyman lists the St. Louis Cardinals, Chicago White Sox, San Francisco Giants, Philadelphia Phillies, and Yankees as teams linked to Machado.
Machado is perhaps the league's top trade target. The third baseman is just 25-years-old and is coming off a bit of a down year in which he hit .259 with 33 home runs and 95 RBIs. For his career, the three-time All-Star and two-time Gold Glove winner is batting .279 with 138 home runs and 406 RBIs.
Set to become a free agent after next season, Machado is also reportedly open to a move back to his original position, short stop.
---
Machado may not be the only big name shipped out of Baltimore in the coming days or weeks.
Dan Clark of The Big Leagues Daily in Baltimore reported the O's and Chicago Cubs have reignited talks for Orioles' closer Zach Britton.
Britton struggled through injury last year, finishing with a 2.89 earned run average and 15 saves in 37.1 innings. Two years ago Britton was named an All-Star and finished fourth in Cy Young voting after finishing with a 0.54 ERA and 47 saves in 67 innings.
Britton makes sense for the Cubs with the team expected to lose Wade Davis in free agency.
---
Third base market
Another big name third baseman that could be on the move is Evan Longoria of the Tampa Bay Rays.
Marc Topkin of the Tampa Bay Times reported the Rays are still deeply involved in trade talks and a deal with the St. Louis Cardinals involving closer Alex Colome and possibly Longoria has been a hot topic.
The 28-year-old Colome led the American League in saves last season with 47, to go along with his 3.24 earned run average and 58 strikeouts in 66.2 innings.
Longoria, meanwhile, hit .261 with 20 home runs and 86 RBIs. The 31-year-old is signed through the 2022 season.
---
Double Move?
Earlier this week we shared a note from Jon Heyman that the San Diego Padres are "strongly in the mix" for first baseman Eric Hosmer. Today Bob Nightengale reinforced that notion, but added the Boston Red Sox are lurking.
Michael Silverman of the Boston Herald reported the Red Sox are trying to sign both Hosmer and outfielder JD Martinez.
"A source at the winter meetings said that the Red Sox are engaged in talks with not only free agent outfielder J.D. Martinez but also free agent first baseman Eric Hosmer."
The 27-year-old Hosmer played all 162 games for the Kansas City Royals last year, batting .318 with 25 home runs and 94 RBIs. For his career, Hosmer has batted .284 with 127 home runs and 566 RBIs over seven years. The 2008 third overall pick has four gold gloves, one All-Star selection, and one silver slugger award.
Martinez meanwhile, split last season between the Detroit Tigers and Arizona Diamondbacks. The 30-year-old hit a combined .303 with 45 home runs and 104 RBIs despite missing 43 games.
---
Touching Base
The Toronto Blue Jays are one of two teams that have inquired about Chicago White Sox outfielder Avisail Garcia, according to a report from USA Today's Bob Nightengale.
Along with the San Francisco Giants, the Jays have touched base with the White Sox regarding the 26-year-old outfielder, but no deal is close, according to Nightengale.
Garcia has spent the past four-plus seasons with the White Sox. He was named an All-Star last season and batted .330 with 18 home runs and 80 RBIs.
---
Targeting Second Base
The New York Mets may have a number of needs to fill this off-season, but second base is their clear-cut top priority.
MLB.com's Anthony DiComo reported the Mets aren't warm on any current targets in the outfield and first base market, and that finding a new second baseman is their highest priority.
DiComo added the Mets appear to want to keep Asdrubal Cabrera at third base and acquire a second baseman not currently on their roster.
While Ian Kinsler is no longer an option after his trade to the Los Angeles Angels, other targets at the position Jason Kipnis, Josh Harrison and Jed Lowrie. DiComo added he didn't get the sense the Mets are particularly high on Starlin Castro of the New York Yankees.
---