Habs name St. Louis 32nd head coach in team history
The Montreal Canadiens have named Martin St. Louis as the 32nd head coach in franchise history. St. Louis, 45, was named interim head coach on Feb. 9 following the firing of Dominique Ducharme. Under St. Louis, the team posted a 14-19-4 mark, having been 8-30-7 before his arrival.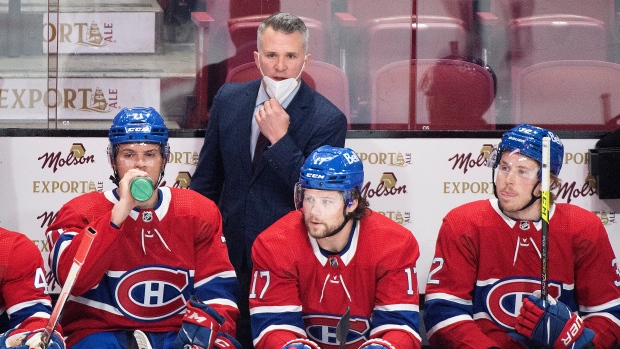 MONTREAL — After weeks of anticipation following the Montreal Canadiens' last-place finish, the interim tag is off and the man behind the bench is finally here to stay.
Martin St. Louis put pen to paper on a three-year contract to become the 32nd head coach in Montreal Canadiens history on Wednesday. The Hockey Hall of Famer revived hope within the Habs' fan base despite one of the worst seasons in franchise history.
The 46-year-old Laval, Que. native, while conscious that there is a lengthy process in front of him, says he relishes the three-year opportunity to work with general manager Kent Hughes and vice president of hockey operations Jeff Gorton to rebuild the team.
"It gives me time and an opportunity to build something," St. Louis said about the length of his contract. "It's not something that's done in a day but I believe that we've been making strides in the last two-three months last season, we won't be starting from scratch. It will be about progressing one step at a time."
Quickly turning the club into a contender is not part of St. Louis's long-term plans. The Canadiens are already a young squad and plan on getting younger after the NHL Draft, where the team notably holds the first-overall pick.
For St. Louis, giving players an opportunity to play and develop is primordial to his tenure and "success will be a side-effect."
"When you're a young team, of course winning is important but will we be able to build something where we will have success year after year?" said St. Louis. "That might take a bit of time to build but if the plan is to always win the next game, you might win more games but I think that's short-term success."
"It's about continuing the process to build an environment where the team will be making the playoffs year after year and the players will achieve their ceilings. If we do that, I think the players will be in an environment where they will be able to win when it counts."
With the top pick potentially joining the team on the ice as soon as next season, St. Louis reflected on his time with the Tampa Bay Lightning. Steven Stamkos joined the Lightning as the first overall pick in 2008 when he was a player. He argued that they weren't a good team back then but Stamkos helped elevate Tampa Bay to become two-time Stanley Cup champions.
"It's a good situation for whoever we pick No. 1," St. Louis said. "He's going to come in and if he's ready to play … then it's going to be a great environment for him."
St. Louis added that the most important task ahead of his three-year stay in Montreal was to "solidify the culture." He looked forward to his first training camp to start laying the groundwork.
"(We) need to evolve in the things that we've already done and it will be day-to-day. I think we have eight games during training camp so we'll continue to build — but the most important thing for me will be to keep building the culture," he said.
One player still in doubt for the upcoming training camp is Carey Price. The goaltender made a comeback late last season after a difficult year dealing with a knee injury and various setbacks.
"If Carey can't play, he can't play. It won't change what we'll be doing at camp, how I will be preparing the team," he said. "It's Kent Hughes' and Jeff Gorton's job to know where Carey is at and if he'll play or not. For me as a coach, I build my camp and I won't stop at who will be there or not."
St. Louis says his team will not have Stanley Cup ambitions but will focus on achieving a series of smaller successes to keep hopes up throughout the campaign.
"I always started the year with a goal to make the playoffs. Is it realistic to have that goal? Yes, but the expectations need to be realistic regarding where we are as an organization, with the personnel that we have and the development we want to do," St. Louis said. "I hold a lot of importance for our preparation, on the training camp side of things, to be able to play the first game. We need to give ourselves short-term goals and then maybe things will get more realistic."
"Will we be taking big steps or small steps? I don't know but my goal is to take steps forward."