Naylor's Kickoff: CFL navigating twists and turns of first COVID-19 season
Dealing with positive COVID-19 tests for fully vaccinated players and coaches is just one more variable thrown into a CFL season that has already been unlike any other, Dave Naylor writes.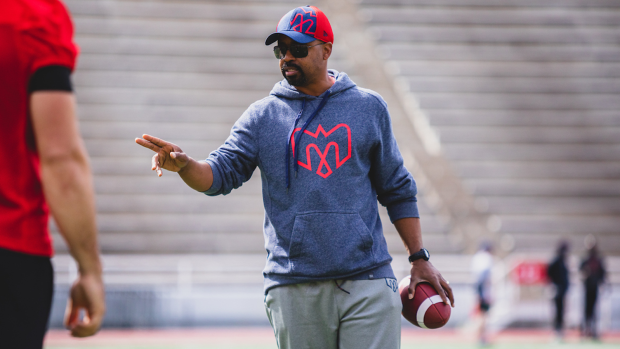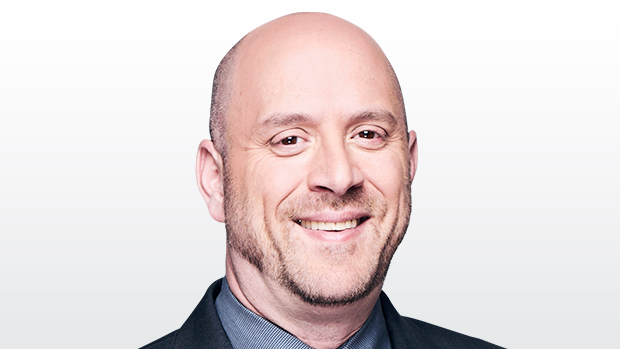 We learned this week that coaching in the Canadian Football League is not immune to the hazards that come with playing during a pandemic.
When the Montreal Alouettes host the BC Lions on Saturday, Als' head coach Khari Jones will be parked in front of his television set at home, the result of testing positive for COVID-19 after a bye week trip home to Vancouver.
Jones is fully vaccinated and was shocked to learn he had tested positive since his only symptom was feeling fatigued, which he attributed to his recent cross-country travel.
After learning he would have to isolate, Jones initially entertained the idea that he might be able to call the game from his living room through the miracles of modern technology. But it turns out the league has a bylaw preventing such creativity and the Als weren't up for the idea anyhow.
Instead, Jones will be involved up to kickoff, at which time he will leave the decision-making to assistant coaches André Bolduc and Mike Lionello while he continues to self-isolate.
It's one more variable thrown into a CFL season has already been unlike any other.
Just ask the Toronto Argonauts, who this week put defensive co-ordinator Glen Young and defensive backs coach Josh Bell on paid leave. They weren't at practice all week and their bios were removed from the team's website.
All of this after Maple Leaf Sports and Entertainment, owners of the Argos, NHL's Maple Leafs, NBA's Raptors and Major League Soccer's Toronto FC, determined that any employee not covered under a collective bargaining agreement (players) would have to be vaccinated by mid-September.
The Argos won't say why Bell and Young are no longer working but the optics leave little to the imagination. And the fact that the team said it's in the market for a defensive "consultant" confirms this isn't a temporary situation.
Which brings us to Chris Jones, the former CFL head coach and defensive co-ordinator who carved a large presence north of the border before bolting for the National Football League's Cleveland Browns in January of 2019.
On Monday, the same day that Young and Bell first failed to show up for work, Jones told a Tennessee newspaper that he had resigned as the head coach of a high school football team in his hometown of South Pittsburg, Tenn., to take a job with a professional team that had called him over the weekend.
So, unless there's another pro team somewhere in desperate need of a defensive coach, Jones will soon be an Argonaut.
The Argos have been in no hurry to make an announcement, given that Jones can't join the team until going through COVID protocols. And besides, Toronto's staff and players probably aren't anxious to answer dozens of Chris Jones questions while in Regina to play the Saskatchewan Roughriders on Friday.
Look for an announcement from the Argos early next week, with Jones present for the practices leading up to their game against Montreal at home on Sept. 24.
This weekend, however, the defence will be in the hands of veteran defensive assistant coach Rich Stubler, who joined the Argos before training camp after the resignation of defensive line coach Mike Davis.
But will Stubler remain in charge? That is the interesting question, but those who know Jones suggest he wouldn't be coming back to the CFL without some guarantee of having control.
Ideally, the Argos would harness the expertise of both Stubler and Jones.
The issue is how the two veteran coaches would blend, both in personality and philosophy.
Stubler is a reserved 72-year-old whose defences have been built on the bend-but-don't-break style of rushing the front four and dropping eight players into coverage.
Jones, meanwhile, is a colourful 54-year-old, whose defences have been built on a high-risk, high-reward philosophy, often throwing everything he can at opposing quarterbacks.
Can the Argos, who sit in first place in the East Division at 3-2, blend those styles to continue what has been a resurgent season on defence?
That's one of the storylines we'll be following through the fall as the CFL continues to navigate the twists and turns of its first COVID-19 season.
Quarterback attrition continues
This week the Edmonton Elks will become the sixth CFL team this season to start a second quarterback, when Taylor Cornelius gets his first experience in live three-down football subbing in for Trevor Harris.
This comes one night after the Hamilton Tiger-Cats become the first team to start three quarterbacks this season, when David Watford steps in with both Dane Evans and Jeremiah Masoli nursing injuries. (Masoli will dress and be available for backup duties.)
All of which continues the trend held over from 2019 where backup quarterbacks have become essential for teams to have success in this league. Only Montreal, Winnipeg and Saskatchewan have started the same quarterback through the first six weeks of the 2021 season.
Edmonton's decision to place Harris on the six-game injured list came as a shock, given that he'd played the entire game last week against Calgary and practised Tuesday, before leaving Wednesday's practice early.
It turns out he'd suffered a hit to his neck against the Stampeders, for which he underwent concussion protocol both at halftime and post-game in Edmonton.
The Elks continued to monitor him, performing a series of neurological tests that Harris continued to pass. He was, however, experiencing headaches and issues with his vision during the evenings when he would go to watch film.
After telling the team he felt the best he had all week on Wednesday morning, pulling himself from that day's practice led the team to shut him down and turn the starting reps over to Cornelius, a 26-year-old rookie from Texas with experience in the XFL.
How long Harris will be gone is impossible to say, given the nature of his injury.
Meanwhile, Cornelius enters the picture as a relative unknown, having started for one season at Oklahoma State in which he threw for nearly 4,000 yards and 32 touchdowns.
Former Argonaut Dakota Prukop will back up Cornelius against the league-leading Winnipeg Blue Bombers Saturday night in Edmonton.
As for Watford, he will make his first start since his 2015 college season after nearly rallying Hamilton to a win at Toronto last Friday with some late-game heroics that ended in a missed extra point.
The 28-year-old, who spent 2016 on the Philadelphia Eagles practice roster, has thrown just 50 passes in his CFL career, limited mostly to short yardage run plays.
The Tiger-Cats cut him in June, then brought him back in mid-August.
Playing for a team that hasn't run the ball particularly well this season, Watford will get his chance to show what he can do throwing the ball against Calgary Friday night in Hamilton.
But getting into a gun-slinging fight with Calgary's Bo Levi Mitchell might make it a tough night.
Kamar's comeback
Calgary's Kamar Jorden was having the best season of his career midway through the 2018 season, near the top the league in receiving after just having set a Stampeders record for receiving yards in a game with 249.
Then, on Labour Day at home against Edmonton, a blocking assignment resulted in his knee being so badly twisted that he severed three ligaments. His season was over. And his career at age 29 suddenly became a question mark.
It was one of those instances in which football is a very cruel game.
Jorden recovered in time to play in Calgary's only 2019 playoff game, 15 months after his injury, snagging two catches in a brief appearance. And after the pandemic resulted in the cancellation of the entire 2020 CFL season, those would be the only catches he would make over nearly three full years.
Six weeks into this season, Jorden has erased any doubts about his health and abilities.
He leads the CFL in receptions, yards receiving, and is tied for the lead in plays over 30 yards. And with 28 catches over Calgary's past three games, the now 32-year-old seems to be gaining momentum, performing at a level on par with where he was before his injury nearly ended his career.
Fisticuffs and other shenanigans
This CFL season has featured enough face washes, jersey-tugs and punches thrown to make the National Hockey League proud.
In fact, the league sent a memo to its nine teams last week imploring them to keep their players under control. That was before Saturday's Winnipeg-Saskatchewan brawl.
Without an identifiable cause, this CFL season has featured an inordinate amount of after-the-whistle activity, week-in and week-out through the season's first six weeks.
The biggest melee involved Saskatchewan and Winnipeg last Saturday, from which two Roughriders were ejected. The bigger story, however, that developed was about who wasn't tossed from the game.
Winnipeg running back Andrew Harris was part of the action in the end zone when he grabbed the facemask of Saskatchewan's Christian Campbell, tearing off his helmet and sending him hurtling towards the ground without his bucket.
The league fined Harris for his involvement. But it explained that while players can be ejected from a game for "excessive roughness" there is no precedent in the CFL for that standard being met by the grabbing of a face mask or ripping off of a helmet.
The Harris instance, and the attention it has received, will undoubtedly lead to off-season conversations about making such actions part of the disqualification standard.
The CFL has traditionally been very conservative when it comes to ejecting players from a game.
That's mostly because in a league where coaches must balance required numbers of Canadian players, a single ejection can have a domino effect on a roster. And like the case of injuries, it can have a dramatic impact on a game, especially in this pandemic-shortened 14-game season.
Some might suggest that high standard for ejection is part of why the players are so unruly after the whistle.
The CFL really only has two tools to try and curb what's been happening this season – more ejections and more fines.
All of which behooves the players to clean up this stuff on their own.