Off-Season Watch: Habs, Jets interested in Ristolainen
According to TSN Hockey Insider Pierre LeBrun, the Winnipeg Jets and Montreal Canadiens are among the teams who have shown interest in Buffalo Sabres defenceman Rasmus Ristolainen.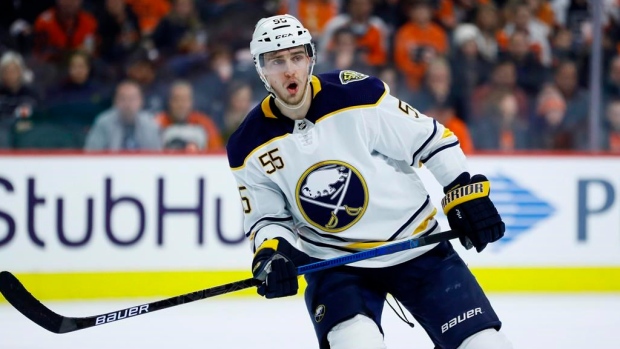 Through the Seattle Expansion Draft and leading up to free agency on July 28, TSN.ca keeps you up to date with all the latest rumours and speculation from around the NHL beat.
---

Habs, Jets Eyeing Ristolainen
The NHL roster freeze will come to an end Thursday at 1pm et and trade action could pick up before the first round of the NHL Draft on Friday night.
According to TSN Hockey Insider Pierre LeBrun, the Winnipeg Jets and Montreal Canadiens are among the teams who have shown interest in Buffalo Sabres defenceman Rasmus Ristolainen.
LeBrun notes the Canadiens don't have Ristolainen at No. 1 on their wish list, but the 26-year-old is a consideration for the team.
"Speaking of defencemen, Rasmus Ristolainen, who is one year away from UFA status, the Buffalo Sabres [are] entertaining trade offers on him, there has been some pretty solid interest of late," LeBrun said on Insider Trading. "Among the several teams that have kicked the tires, Winnipeg Jets and Montreal Canadiens. Now Winnipeg, it's pretty obvious entering this off-season, [are] looking to upgrade their blueline, he's just one of many names I think the Jets have looked at and same for Montreal.
"I think there are a few names ahead in the pecking order than Ristolainen for the Habs, but the one thing Ristolainen would bring to Montreal is the size that they will miss from Shea Weber being out."
Signed through next season at a cap hit of $5.4 million, Ristolainen is coming off a four-goal, 18-point campaign in 49 games this season.
The Turku, Finland native said during his season-ending press availability in May that he told general manager Kevyn Adams that he was open to be traded.
"I'm open for all the ideas," Ristolainen said. "Right now, it's hard. Obviously the season just ended, so, yeah, I'm frustrated and I'm pissed and it sucks. So I told [general manager Kevyn Adams] I'm open for all the scenarios: staying, or if he trades me, I'm fine with that, too."
Selected eighth overall in 2013, Ristolainen has spent his entire career to date in Buffalo, missing the playoffs in all eight of his NHL seasons.

---

Getzlaf Staying Put?
Elliott Teaford of the Orange County Register reports veteran Ryan Getzlaf intends to re-sign with the Anaheim Ducks prior to free agency, remaining with the franchise he's spent 16 years with.
Getzlaf, who was left unprotected in the Seattle Expansion Draft, spent this season playing out the last of an eight-year, $66 million contract signed with the Ducks in 2013.
The 36-year-old posted five goals and 17 points in 48 games this season as the Ducks missed the playoffs for the third consecutive year.
A veteran of 1,101 career games, Getzlaf is the Ducks' all-time leader in games played and assists (703). He has 279 goals and 982 points - six back of Teemu Selanne for the all-time franchise mark - since debuting with the Ducks in the 2005-06 season.

---
No Shortage of Interest in Garland
Arizona Coyotes restricted free agent Conor Garland appears to be attracting plenty of attention from interested teams as his contract talks have yet to pick up.
TSN Hockey Insider Darren Dreger reports that more than a dozen teams are interested in Garland, while the Coyotes are hoping to free salary to keep him.
"They haven't been positive I can say that," Dreger said of Garland's negotiation talks, "there has been delay after delay after delay. Bill Armstrong, the GM for the Coyotes, keeps pushing the talks back to the point that he wants to get through the expansion process. It is contract-related here, obviously. The Arizona Coyotes, as we well know, are trying to unload payroll and there is a good chance that Conor Garland is going to be an expensive ticket, he's got arb rights for the next two years, so something to keep an eye on.
"More than a dozen teams [are] interested in Conor Garland, any team that needs a forward will be calling Bill Armstrong and probably has.
"Meanwhile, maybe Oliver Ekman-Larsson, the veteran defenceman for the Arizona Coyotes, is a trade option as well. There is no doubt that Armstrong and the Coyotes want to unload his salary, he's got $8.25 million owing in cap hit through 2026-27. So, could he be an option if a team loses a real good defenceman in the expansion draft? Feels like a stretch, but it's possible."
Garland, 25, had 12 goals and 39 points in 49 games this season after scoring 22 goals and posting 39 points in 68 games the previous season.
A fifth-round pick in 2015, Garland is coming off a two-year, $1.55 million contract.