OHL's Flint suspensions attempt to restore faith in franchise
Frank Seravalli, TSN Senior Hockey Reporter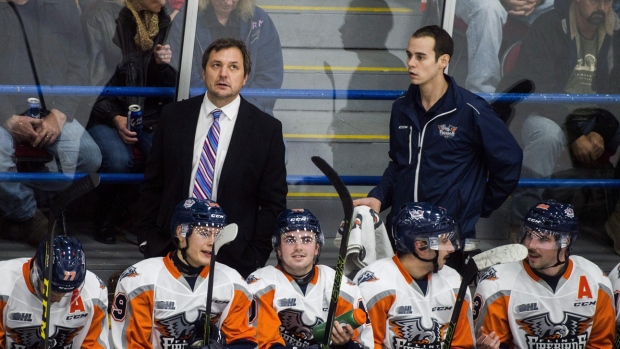 The clock was ticking for OHL commissioner David Branch.
With less than 72 hours remaining before Saturday's Priority Selection, Branch handed down heavy sanctions on rogue Flint Firebirds owner Rolf Nilsen in a last ditch effort to restore faith in the franchise for prospective players.
Without them, there was no guarantee the Firebirds would be able to field a team next season. Flint held eight of the first 45 picks in the Priority Selection, including third and fifth overall.
Nilsen, who fired coaches John Gruden and Dave Karpa twice this season, will not be anywhere near the Firebirds for the foreseeable future.
Following an OHL investigation, Branch suspended Nilsen from "being involved directly or indirectly with hockey operations for the Flint Firebirds for five years effectively immediately."
Flint will also forfeit their first-round pick in Saturday's Priority Selection (third overall) and Nilsen was fined $250,000.
The hefty suspension, which Brant wrote was "in accordance with the OHL constitution," is seen by many as a step to induce Nilsen into selling the franchise.
If Nilsen does not adhere to the latest sanctions, the OHL may claw back the franchise.
"If it is determined by the League that Rolf Nilsen has violated this Order, the League may order Rolf Nilsen to sell one hundred per cent of the ownership interest of the Flint Firebirds," Branch wrote. "Furthermore, Rolf Nilsen may after three years apply for reinstatement to participate in hockey operations of the Flint Firebirds."
Nilsen, a deep-pocketed Norwegian businessman who made his fortune manufacturing watertight doors for the shipping industry, purchased the Plymouth Whalers franchise last year for a reported $8 million from Carolina Hurricanes owner Peter Karmanos Jr. and move them north to Flint. Nilsen allegedly fired his coaching staff in November because of a lack of playing time for his son, Hakon Nilsen.
A litigious and expensive tug-of-war may be on the horizon.
Wednesday's sanctions hinge on an agreement Nilsen signed with the OHL on Nov. 11, 2015 - when players protested the abrupt firing of the coaching staff the first time - that Branch contended Nilsen violated "on several occasions." The OHL's investigation was led by the law firm of Lax O'Sullivan Lisus Gottlieb LLP.
Last month, Nilsen hired high profile Windsor-based defence attorney Patrick Ducharme, perhaps gearing up for a potential legal battle. Ducharme, a former NHL player agent, could not be reached for comment on Wednesday after normal business hours.
A message left for Nilsen at his business was not immediately returned. Nilsen also owns the team's home rink, the 4,000-seat Dort Federal Credit Union Event Center.
The OHL will continue to operate the Firebirds franchise, as they have done since mid-February when Branch first suspended Nilsen indefinitely. OHL senior director of hockey development Joe Birch will remain as the team's director of hockey operations and help appoint a general manager, head coach and additional hockey operations staff.
"The OHL must strive at all times to meet our objectives of providing our players with the support, programs, and tools to ensure they have the best possible experience to grow as people and as players," Branch wrote in the statement.
Whether the latest sanctions are enough to sway Saturday's draft picks - and the returning players from last year's roster - to report to Flint remains to be seen.
"What person in their right mind would send their son or client there?" one veteran agent asked last month.
With Flint forfeiting its first-round pick, they will have one less player to convince.
Contact Frank Seravalli on Twitter: @frank_seravalli