Wings' Nyquist offered in-person hearing
Gustav Nyquist has been offered an in-person hearing with the NHL's Department of Player Safety for catching Minnesota Wild forward Jared Spurgeon with a vicious, retaliatory high-stick on Sunday. The date and time of the hearing are to be determined.
Frank Seravalli, TSN Senior Hockey Reporter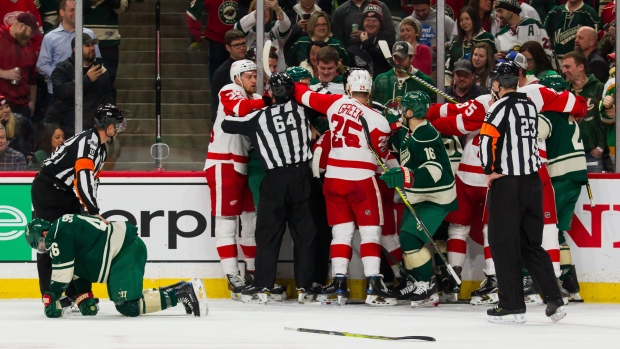 (Updated Feb. 12, 2017 8:24pm et)
No on-ice incident in 2017 has warranted suspension from the NHL, but that will soon change thanks to Gustav Nyquist.
The Detroit Red Wings forward is facing a hefty ban after he directed vicious, retaliatory high-stick at the face of Minnesota Wild defenceman Jared Spurgeon with apparent intent to injure on Sunday afternoon.
Hours later, the NHL's Department of Player Safety offered Nyquist the option to state his case during an in-person hearing at a date and time to be determined this week, giving the league the ability to suspend him for six or more games.
With five minutes to play in Sunday's first period, Spurgeon bumped Nyquist along the boards, which caused Nyquist to fall to his knees.
Nyquist then turned around and pitchforked his stick upward toward Spurgeon's face, clipping him, while his blade nearly got caught under Spurgeon's visor. Nyquist was assessed a four-minute, double minor penalty on the play, but remained in the game.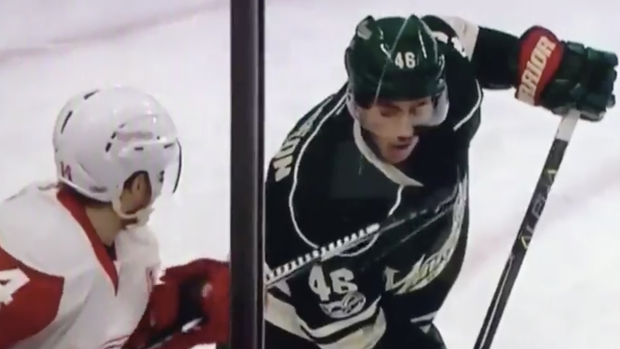 The result was one of the uglier, flagrant high-sticking fouls in recent years. Spurgeon luckily escaped serious harm on the play. He received three or four stitches to close the wound, according to the Minneapolis Star-Tribune, and missed just 2:34 of action.
"Two inches closer, the guy could have speared his eye out," Wild coach Bruce Boudreau told reporters.
The Wild went on to win the game, 6-3, stretching their record to 26-4-3 since Dec. 2.
Nyquist, 27, has never been suspended or assessed a major penalty in his career. He was fined $2,000 for diving on Dec. 29, 2014, but that does not make him a "repeat offender" in the eyes of the Department of Player Safety.
"I had no intention of doing that," Nyquist told reporters post-game. "My stick gets caught. It looks bad, but I'm happy he's OK."
Wild goaltender Devan Dubnyk told reporters he didn't think Nyquist was the type of player to intentionally try to injure Spurgeon, "but anyone watching the game" knows he did.
Call it a moment of temporary insanity. Nyquist seemed to express regret right after the incident, on the way to the box, but that won't change the likely penalty.
Boudreau was incensed on the bench, arguing for a major penalty to be called.
A major penalty for high-sticking does not exist in the NHL rule book. However, Nyquist could - and should - have been assessed a match penalty on the play for a high-stick which "attempts to or deliberately injures an opponent while carrying or holding any part of his stick above the shoulders of the opponent," according to Rule 60.4.
The Wild are no stranger to vicious high-sticks from years past. Blackhawks defenceman Duncan Keith was suspended six games, including one Stanley Cup playoff game, for a one-handed high-stick on Wild forward Charlie Coyle on March 29, 2016 - one that seemed to pale in comparison to Nyquist's blow on Sunday. Keith sacrificed $148,883.35 in salary for that stick swing.
"I'm sure the league will do something," Spurgeon told reporters. "I'm just happy (the high-stick) wasn't higher."
Contact Frank Seravalli on Twitter: @frank_seravalli