Off-Season Watch: Kessel, Pens headed for a split?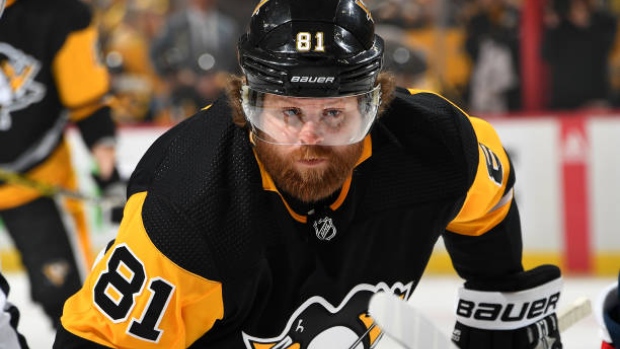 Each day through the NHL draft on June 22 and up until free agency on July 1, TSN.ca breaks down the latest news and rumours around the NHL.
On the Way Out?
Phil Kessel is coming off a career-year in which he posted 34 goals and 92 points, but 105.9 FM Pittsburgh's Mark Madden reports it may have been his last with the Penguins.
According to Madden, the Penguins are going to attempt to move Kessel this off-season and the 30-year-old is "OK with that."
Kessel won the Stanley Cup with the Penguins in each of his first two years with the team after being traded from the Toronto Maple Leafs in July 2016. He fell just shy of a point-per-game pace in his first two postseasons with the club – 25 points in 49 games – but had only one goal to go along with eight points in 12 playoff games this year.
Madden reports, however, that there is an "underlying dissatisfaction" between Kessel and Penguins head coach Mike Sullivan. Madden said Kessel's displeasure stems from the fact he hasn't consistently played on a line with Evgeni Malkin, and instead has bounced up and down the Penguins lineup.
Ron Cook of the Pittsburgh Post-Gazette wrote earlier this week that he expects Penguins general manager Jim Rutherford "to seriously look into trading" Kessel this summer due to a declining relationship with Sullivan. He blamed Kessel's desire to keep his iron man streak (currently at 692 games) alive in the regular season for his slump in the postseason, and said he believes Kessel hurt the team by not resting ahead of the playoffs.
With $1.2 million of his salary retained by the Maple Leafs, Kessel carries a $6.8 million cap hit for each of the next four seasons. He also owns a modified no-trade list, in which he can submit eight approved destinations.
The 2006 first-round pick of the Boston Bruins will turn 31 in October.
---

Going Back?
Tomas Plekanec spent 14 seasons with the Montreal Canadiens before being traded to the Toronto Maple Leafs in February and the 35-year-old pending unrestricted free agent said Thursday he's hoping to return to the Habs.
"We discussed that possibility [returning to Montreal] when I got traded in February and that's where it's at," Plekanec told TSN Radio Montreal 690. "And as I said before, I'd love to come back to Montreal. That's my priority and Marc [Bergevin] said they'd like to have me back."
Plekanec scored six goals and posted 24 points in 60 games with the Canadiens last season before being moved for a second-round pick and two prospects. He had just two assists in 17 regular season games upon joining the Maple Leafs, struggling to adjust to his fourth-line role. He moved up the lineup in the team's first-round playoff series against the Boston Bruins and finished with two goals and four points in seven games.
Plekanec first joined the Canadiens as a third-round draft pick in 2001 and said Thursday he'd like to finish his career with the team.
"I'd like to play one more year back home, in my hometown," he said.
---

Watching the Wings
The Detroit Red Wings missed the playoffs this season for a second straight year and have stated a need to put more younger players in the lineup.
With that in mind, Helene St. James of The Detroit Free Press was asked in a recent mailbag whether veteran defenceman Mike Green would be re-signed, or if the team will simply elect to fill his spot with a prospect.
St. James expects the Red Wings to sit down with the pending unrestricted free agent in June, but notes "there's a wariness" from the Wings because Green is coming off season-ending neck surgery. She notes that Green was first among Red Wings defencemen with a .50 points per game average, while above Niklas Kronwall (.34) and Trevor Daley (.21), who ranked second and third, and the Red Wings don't have an obvious replacement for those points.
After a strong first season in the AHL, St. James wonders if 2016 second-round pick Filip Hronek may be able to crack the lineup for the Red Wings. The 20-year-old had 11 goals and 39 points with the Grand Rapid Griffins this season.
St. James also considers 2016 first-round pick Dennis Cholowski as an option after he averaged .96 points per game in the WHL this season.
At forward, St. James writes 2017 first-round pick Michael Rasmussen is expected to keep for a roster spot, while 23-year-old Tyler Bertuzzi is expected to play his first full season in the NHL.
The Red Wings are projected to have $17.3 million in cap space this off-season, per CapFriendly, with Dylan Larkin, Andreas Athanasiou, Bertuzzi, Martin Frk and Anthony Mantha all up for new deals as restricted free agents.
---

Keeping Options Open
The Carolina Hurricanes have already stated that the team will not ice the tandem of Scott Darling and Cam Ward again next season, but, as Chip Alexander of the Raleigh News & Obeserver writes, it's unclear exactly what the team plans to do. Ward is set to become an unrestricted free agent this season after 13 seasons with the Hurricanes.
"We're talking to teams and looking at the market and seeing what's out there," Hurricanes general manager Don Waddell told Alexander. "We're going to turn over every stone to see what's available. You can't make a change for the sake of making a change."
Darling still has three years and $12.45 million remaining on the contract former Hurricanes general manager Ron Francis signed him to last summer. Alexander notes the team is unlikely to be able to a find a trade partner without retaining salary and doubts owner Tom Dundon is willing to do that. Waddell, however, stopped well short of guaranteeing Darling's return next season.
"As of now, yes," Waddell said when asked if Darling would be on the roster in October.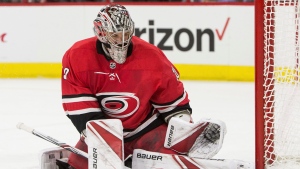 That would appear to spell the end of Ward's time in Carolina, but Waddell declined to commit to that, either.
"I don't want to close any doors yet," Waddell said. "I want to keep all my options. We don't have to make a decision yet. We have some time on this."
Ward finished with a 23-14-4 record and a .906 save percentage. His legacy with the Hurricanes dates back to winning the Conn Smythe Trophy en route to backstopping the Hurricanes to the Stanley Cup as a rookie in 2006.
"Cam would very much like to stay, as everyone knows," Ward's agent, Rick Curran, told Alexander. "But given the current situation, recognizing they've already made a commitment not to having the same goaltending duo, I guess our options are limited."
Darling posted a career-worst .888 save percentage and finished the season with a 13-21-7 record.
---