Off-Season Watch: Sen-tre of speculation
Track the latest news and rumours around the NHL with TSN.ca's Off-Season Watch. In Wednesday's roundup, whether the Senators could use trade offers against Erik Karlsson, the asking price for Jeff Skinner, and the likelihood of Mike Hoffman being moved.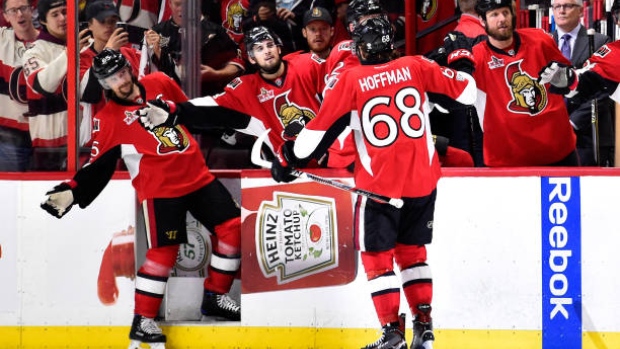 Each day through the NHL Draft on June 22 and up until free agency on July 1, TSN.ca breaks down the latest news and rumours around the NHL.

The Advantage of Trade Offers?
Ottawa Senators defenceman Erik Karlsson was ranked No. 1 on TSN Hockey's off-season Trade Bait board on Wednesday and speculation continues to grow about his future with the team.
With a year left on his current contract, the Senators have been adament that they will try to re-sign Karlsson to an extension this summer, but as TSN Hockey Insider Darren Dreger said Wednesday, it's unclear if the feeling is mutual.
"I think (Senators general manager Pierre Dorion is) going to exhaust every opportunity - everything he can - to sign, to extend Erik Karlsson," Dreger told TSN Radio 1200 in Ottawa.
"But again, I've always been consistent with this, and more from a player's perspective - what's the rush? I mean, you're going into the final year of your contract. There's no reason to think that Erik Karlsson isn't going to have a better year than the one that he had. And if that's the case, then he can control and write his own ticket, no question about that.
"So there is some urgency from Ottawa's standpoint. You've got to get to a place where you feel like there's just no negotiation. If Erik Karlsson comes in and he wants $12 million a year - I'm not suggesting that he will, but if he did - maybe that's just flat-out too much money for Eugene Melnyk and the Ottawa Senators to chew on. And if Newport Sports makes it clear that there really isn't going to be a negotiation - it is what it is - then by position of general manager, you've got to listen to the multitude of interest that will be expressed."
Dreger argued that the Senators may be able to leverage a strong trade offer against Karlsson in contract negotiations, but, if that doesn't work, it may be in the team's best interest to accept the offer on the table.
"And you're right, (the Trade Bait board) is going to fuel the speculation moving forward. And of course general managers will take note of that and they will call Pierre Dorion," Dreger continued. "And I would be shocked - shocked - if a team or teams don't make him a trade offer that actually makes him stop and go, 'All right, well I better give the agent a call here because the deal that we have on the table right now is a deal that makes organizational sense. But what makes most sense is us sticking with Erik Karlsson and getting him signed long term.'
"That's how you put a little bit of pressure on the player. And if the player doesn't back off his willingness to be patient and wait, well then you've got a decision to make as the general manager of the Ottawa Senators – do you move on it at that point."
TSN Senior Hockey Reporter Frank Seravalli wrote Wednesday that 'the hot rumour' has been a trade that involves Nashville Predators defenceman P.K. Subban moving to Ottawa for Karlsson.
---

Cost for the Cane
TSN Hockey Insider Pierre LeBrun said Wednesday he believes winger Jeff Skinner will be the first Hurricanes player to be traded in an off-season that figures to include plenty of moves in Carolina.
LeBrun reports Skinner has drawn interest from roughly a dozen teams who are interested in the 26-year-old.
Skinner scored 24 goals and posted 49 points last season, he's topped the 20-goal mark in each of the past three seasons and is a two-time 30-goal scorer, meaning he won't come cheap.
According to LeBrun, the ask from the Hurricanes is a first-round pick and a prospect for Skinner, who has one year left on his contract at a $5.725 million cap hit.
He sits at No. 4 on the TSN Trade Bait Board.

---

On the Way Out?
Ottawa Senators winger Mike Hoffman was consistenlty featured on the Trade Bait board leading up to the trade deadline, but ulitmately remained with the team.
This summer, however, it appears Hoffman's time with the Senators will come to an end. The left-winger debuted on the off-season trade bait board at No. 3 and TSN Hockey Insider Darren Dreger expects him to be moved.
"No question it's more likely that Mike Hoffman is traded by the Ottawa Senators at the draft later this month in Dallas," Dreger said Wednesday on Insider Trading. "There's a strong market for him and there's been a strong market for him, but it's much stronger now that there's more flexibility.
"I know that Pierre Dorion, Senators general manager, is considering some offers, but none are quite good enough yet. Multiple pieces have to be included - it's expected that the pot will sweeten, but I believe that it's more likely than not that Hoffman is dealt."
Hoffman, 28, scored 22 goals and posted 56 points in 82 games this past season. He signed for two more seasons at a cap hit of $5.19 million and owns a 10-team no-trade clause.
---