OHL's Firebirds fire coach Gruden, again
Frank Seravalli, TSN Senior Hockey Reporter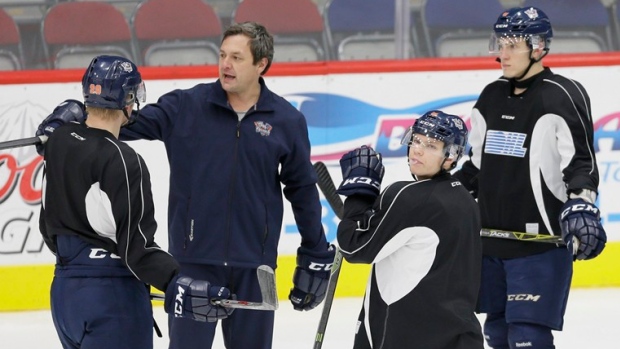 The Ontario Hockey League's Flint Firebirds fired coaches John Gruden and Dave Karpa on Wednesday for the second time this season.
That is not a misprint. Both coaches were first fired by team owner Rolf Nilsen on Nov. 8 immediately following a win over the Oshawa Generals because his son, Hakon, did not receive enough playing time.
Flint's entire roster, including Nilsen's son, revolted against the decision and threw their jerseys down in protest before walking out.
Gruden and Karpa were then reinstated the next day - with new three-year contracts - after Nilsen met with OHL commissioner David Branch.
"It has come to the league's attention that the Flint Firebirds ownership has once again made significant changes to their coaching staff. This change, the manner in which it occurred and the way it was communicated to the players and to the league is of great concern," the OHL said in a statement Wednesday. "We have been in contact with the team captain and it is our intention to meet and communicate with all players and families in short order. The players and their playing experience is of the utmost importance to the league and we will continue to work to ensure that they are treated with respect.
"It is the league's intention to immediately review the actions of the Flint Firebirds before we determine the next steps we will take to address this situation."
A request for comment from Nilsen, Firebirds president Costa Papista, and VP of hockey operations Terry Christensen was not immediately returned.
Flint players conducted their own practice on Wednesday afternoon at the Dort Federal Credit Union Event Center. The Firebirds said in a brief statement on their website that director of hockey operations Sergei Kharin will take over as interim coach.
In the wake of November's turmoil, three of the five NHL prospects on the Firebirds' roster made their way out of town. Multiple players requested trades through their agents.
Carolina Hurricanes draft picks Josh Wesley and Alex Nedeljkovic were traded to Niagara in December. Wesley, a defenceman, is the son of former Hurricane Glen Wesley. Nedeljkovic backstopped Team USA to a bronze medal in the World Junior Championship last month.
New Jersey Devils third-round pick Connor Chatham was also moved to Windsor last month.
Other players who stayed, like promising Detroit Red Wings third-round pick Vili Saarijarvi, are now mired in a three-ring circus. Leading scorer Will Bitten, who has 51 points in 52 games, is a 17-year-old forward eligible for June's draft. Bitten's production has suffered with the weakening of Flint's roster; he began the year with 23 points in 17 games.
"It seems like [Flint ownership] is lost on the fact they have abrogated their responsibility to young players, their careers, and their futures," Saarijarvi's agent, Jay Grossman, said in a message on Wednesday.
The fledgling Firebirds, new to the OHL this season, are 16-31-4-2 on the season and sit in ninth place in the OHL's Western Conference. The franchise spent the last 18 years in Plymouth, Mich., as the Plymouth Whalers before owner Peter Karmanos Jr. reportedly sold the team to Nilsen for $8 million (U.S.) with the intent to move them north to Flint.
The purchase and relocation of the Firebirds was approved by the OHL on Feb. 2, 2015.
Gruden, an up-and-coming American coach, left a promising job to jump to the OHL. Gruden, 45, was most recently the head coach of the Under-17 team in the U.S. National Development Program. Karpa, 44, played for the Quebec Nordiques, Anaheim Mighty Ducks, Carolina Hurricanes and New York Rangers.
According to sources, Gruden expressed concerns about potential family conflicts during his hiring process, but was given assurances by Nilsen that he would not meddle.
Even Nilsen's son revolted against his father's decision. According to sources, Hakon could be heard making phone calls to his father, saying "What the (bleep) are you doing?" and "You can't do this!" when Gruden and Karpa were fired in November.
Nilsen then called his impulsive decision an "irresponsible mistake" in a short statement that was issued when both coaches were reinstated. Three months ago, the new three-year contracts for Gruden and Karpa were seen as a pact that the meddling was over.
Frank Seravalli can be reached at frank.seravalli@bellmedia.ca.