Oilers ship LW Perron to Penguins for 2015 first-round pick, C Klinkhammer
The Edmonton Oilers have traded left winger David Perron to the Pittsburgh Penguins for a first-round draft pick in 2015 and centre Rob Kilnkhammer. Through 38 games this season, Perron has five goals and 14 assists.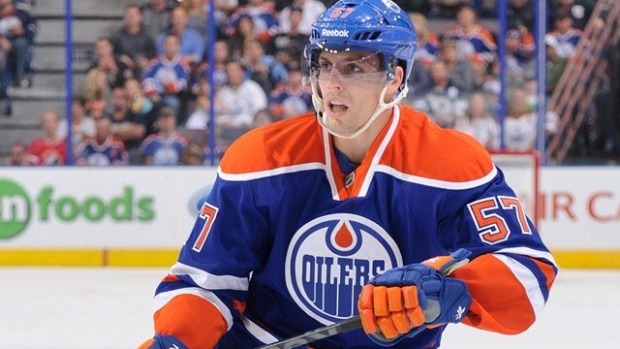 In the first step of what could be a long rebuilding process, the Edmonton Oilers traded left-winger David Perron to the Pittsburgh Penguins on Friday for a 2015 first-round draft pick and centre Rob Klinkhammer.
Perron wasn't the last-place Oilers' biggest problem in a season that has gone even worse than expected. What the 26-year-old represented was the best chance for general manager Craig MacTavish to acquire assets for the near future.
Edmonton is already a strong contender in the Connor McDavid sweepstakes. If the Penguins win the Metropolitan Division or reach the Stanley Cup final, the pick the Oilers are getting will be late in the first round, so it could be used in a future trade.
Klinkhammer is a depth centre who began the season with the Arizona Coyotes before being dealt to Pittsburgh for defensive prospect Philip Samuelsson. The Lethbridge, Alta., native has four goals and two assists in 29 games this year and 39 points in 139 career NHL games.
The 28-year-old has a salary-cap hit of US$625,000 and is set to be an unrestricted free agent this summer.
Klinkhammer may not be a long-term solution, but his addition is expected to allow the Oilers to send 19-year-old Leon Draisaitl back to junior. The team recalled centre Anton Lander from Oklahoma City of the AHL, and he's replacing Draisaitl in the lineup for Friday night's game at Colorado.
Interim coach Todd Nelson called sitting Draisaitl a "management decision" but declined to go any further. He could be back with the Prince Albert Raiders of the Western Hockey League before playing enough games to accrue a season toward NHL free agency.
One of the Oilers' biggest issues has been the lack of a No. 2 centre behind Ryan Nugent-Hopkins. They recently acquired Derek Roy from the Nashville Predators in exchange for Mark Arcobello.
In getting a first-round pick for Perron, who's signed through 2015-'16 at a salary-cap hit of $3.81 million, the Oilers made good use of a player who was capable of producing but not turning the franchise around.
"After a few years (in the NHL) you just want to win," Perron told reporters in Denver. "Obviously it's not going to happen this year here in Edmonton, and it's nice to get that kind of opportunity in Pittsburgh."
The 26-year-old had five goals and 15 assists in 38 games this season.
The Sherbrooke, Que., native has 117 goals and 157 assists in 456 career games with the Oilers and St. Louis Blues. He goes from a team stuck in the Western Conference basement to one that is a perennial playoff contender.
Perron fills an immediate need given that the Penguins have been besieged by injuries and are missing top-six wingers Pascal Dupuis and Patric Hornqvist.
Perron could play on the wing in Pittsburgh with either Sidney Crosby or Evgeni Malkin.
"It's a new chapter for me, and I get a chance to hopefully go really deep in the playoffs," Perron said. "There's not many better opportunities to go to."
Entering Friday's games, the Penguins (23-9-5) were just one point behind first-place Tampa Bay in the Eastern Conference.
The Oilers are facing questions about the future despite a young core that includes Taylor Hall, Jordan Eberle and Nugent-Hopkins. Perron said he was happy to be going to a contender but the competitive forward also said it's difficult leaving, even amid the losing.
"It's always hard leaving a place when you're emotionally involved no matter how tough the situation was here," Perron said. "Even if the Oilers are struggling right now, they'll find a way out eventually and they'll be a top team in the league. Looks like I won't be a part of it."
Later Friday, the Oilers assigned forward Steve Pinizzotto to Oklahoma City and took forward Benoit Pouliot off the injured reserve list. Nelson said Pouliot coming back and Perron going out wasn't a seamless transition but would help ease the dropoff.