Habs add character in Petry, Flynn, Mitchell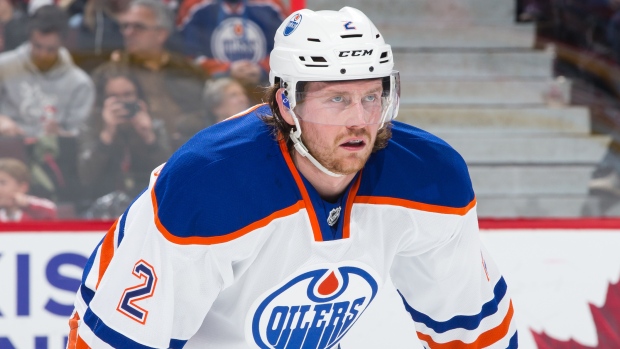 Edmonton Oilers defenceman Jeff Petry highlighted an eventful NHL Trade Deadline Day that saw the Montreal Canadiens add a trio of bodies.
The Canadiens got Petry in exchange for a second- and conditional fifth-round pick in the 2015 NHL Draft.
Montreal also landed centre Torrey Mitchell from the Buffalo Sabres for a prospect and a draft pick and acquired centre Brian Flynn from the Sabres for a 2016 fifth-round draft choice.
Petry has four goals and 11 assists in 59 games this season with the Oilers.
The American blueliner has spent his entire five-year career with Oilers after being selected in the second round (45th overall) of the 2006 NHL Entry Draft.
The 27-year-old signed a one-year deal with the Oilers prior to the season worth $3.075 million and is slated to become an unrestricted free agent at season's end.
He has scored 17 goals and 57 assists in 295 career games with the Oilers.
The conditional fifth-round draft pick could wind up being as high as a third-rounder, depending on the Canadiens' playoff performance. If the Canadiens win one round, the pick becomes a fourth-rounder. If they make the Eastern Conference Final, the pick becomes a third-rounder.
Should the pick remain a fifth-rounder, it will be the Colorado Avalanche's selection that goes to the Oilers. The Canadiens previously acquired the pick in the deal that sent Daniel Briere to the Avalanche.
The 30-year-old Mitchell has scored six goals and seven assists in 51 games with the Sabres this season.
He is currently in the final year of a three-year deal worth an average annual value of $1.9 million and is eligible to become an unrestricted free agent at season's end.
Originally selected in the fourth round (126th overall) of the 2004 NHL Entry Draft by the San Jose Sharks, Mitchell has scored 42 goals and 62 assists in 443 career games with the Sharks, Sabres and Minnesota Wild.
Flynn, 26, is in the second year of a two-year deal at a cap hit of $638,000. He's a restricted free agent at season's end.
In 54 games this season, the Lynnfield, Massachusetts native has five goals and 12 assists.
Earlier on Monday, the Habs acquired defenceman Jeff Petry from the Edmonton Oilers