Olympic hopefuls ready for 2018 Canadian Tire National Skating Championships on CTV/TSN
Coverage begins with the Women's Short and Ice Dance Short Programs airing Friday, Jan. 12 at 3 p.m. ET on TSN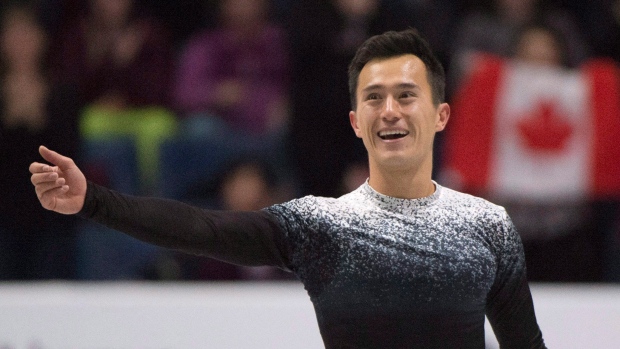 TORONTO (January 8, 2018) – The nation's best compete at the 2018 CANADIAN TIRE NATIONAL SKATING CHAMPIONSHIPS, airing Jan. 12-13 on CTV and TSN. From Vancouver's Doug Mitchell Thunderbird Sports Centre, Canada's skating stars look to book their ticket to PyeongChang as coverage begins Friday, Jan. 12 at 3 p.m. ET on TSN with the Women's Short Program and Ice Dance Short Program (click here or see below for CTV and TSN's complete broadcast schedule).
Broadcasting legend Brian Williams once again hosts CTV and TSN's coverage of the CANADIAN TIRE NATIONAL SKATING CHAMPIONSHIPS, bringing his unparalleled experience covering the Olympic Winter Games and Canadian and World Figure Skating Championships. Williams is joined by Rod Black, the voice of figure skating in Canada, in the broadcast booth alongside analyst Tracy Wilson, a seven-time Canadian Ice Dance champion and Olympic bronze medallist. Reporting from rinkside and backstage is SPORTSCENTRE's Sara Orlesky, who covered figure skating events at the Vancouver 2010 Olympic Winter Games, and every Skate Canada International and Canadian National event since 2011.
The 2018 CANADIAN TIRE NATIONAL SKATING CHAMPIONSHIPS are headlined by a full slate of Olympic hopefuls including 2010 Olympic Winter Games gold medallists and Sochi 2014 silver medallists Tessa Virtue and Scott Moir competing in the Ice Dance; six-time Canadian champions Meagan Duhamel and Eric Radford, looking to capture their seventh consecutive national Pairs title; nine-time Canadian men's champion, three-time world champion, and 2014 Sochi silver medallist Patrick Chan; and defending women's champion and World silver medallist Kaetlyn Osmond.
Live streaming and on-demand viewing of the 2018 CANADIAN TIRE NATIONAL SKATING CHAMPIONSHIPS is available on the CTV GO app and to subscribers via TSN.ca/Live and the TSN GO app. French-language coverage of the event is available on RDS.
Broadcast Schedule
CTV's and TSN's 2017 CANADIAN TIRE NATIONAL SKATING CHAMPIONSHIPS schedule is as follows*:
Friday, Jan. 12
Women's Short Program and Ice Dance Short Program – 3 p.m. ET on TSN4 and TSN5
Men's Short Program and Pairs Short Program – 8:30 p.m. ET on TSN4 and TSN5
Saturday, Jan. 13
Women's Free Skate and Ice Dance Free Skate – 2 p.m. ET on CTV Two**, TSN4, and TSN5
Pairs Free Skate and Men's Free Skate – 7:30 p.m. ET on TSN2 and CTV Two**
* Schedule subject to change