On Ekman-Larsson and the Maple Leafs
TSN Hockey Insider Bob McKenzie works his way through all the possible angles of a rumoured deal between the Arizona Coyotes and Toronto Maple Leafs.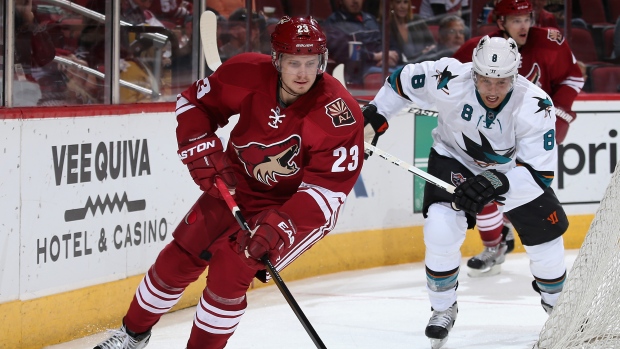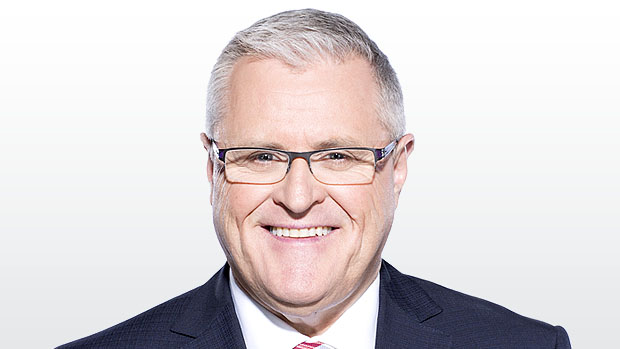 It's not so much the elephant in the room as it is the OEL in the ACC.
Oliver Ekman-Larsson and the Arizona Coyotes played the Maple Leafs in Toronto on Monday, which meant there was a pretty good chance someone suggested the 26-year-old defenceman should or could walk down the hall at the Air Canada Centre before game time and switch teams.
It wouldn't be the first time the idea has been publicly broached by pundits and fans alike; it likely won't be the last time either.
The funny thing is, outside of some creative thinking by those who believe OEL to the Leafs makes a lot of common sense for both teams, there doesn't appear, at this moment anyway, to be any real basis in fact to it.
Yet here we are talking about Ekman-Larsson to Toronto. What gives?
I was asked about it on TSN 1050 last Wednesday. It was a fair question too, given the Coyotes were 2-15-3 at the time — this was before they beat Montreal and Ottawa and then the Maple Leafs to cobble together a three-game winning streak.
But I was mostly dismissive of it for the same reasons I have been in the past.
That is:
- Ekman-Larsson is the centrepiece of the Coyote team and even though he is scheduled to become an unrestricted free agent at the end of next season — thereby eligible to be extended this summer — he has been mostly positive about the prospect of re-upping in Arizona.
- In spite of the Leafs' seeming "need" for a top-pairing blueliner, there has been little evidence to suggest the Leafs have been burning up the phone lines with an eye towards giving up one of their young offensive stars to get one.
I never gave it much thought beyond that - until late Saturday night/early Sunday morning, when someone merely cautioned me that there could be something to it, that I shouldn't be so quick to so be dismissive, that an OEL-to-Toronto-for-William-Nylander balloon was out there floating in the rumoursphere.
Huh. Interesting.
That's when you start to let your imagination run wild a bit.
You start to wonder about a lot of things:
- There's been considerable talk in the early going that new Coyotes' head coach Rick Tocchet and team leader Ekman-Larsson haven't exactly hit it off, although having to wait 21 games to get the team's first regulation win might strain any coach-player relationship.
- Ekman-Larsson, like a lot of Coyote players this season, has not played well at all.
- As seemingly committed as Ekman-Larsson has been in his public comments about staying in Arizona for the long haul, he did tell my TSN colleague Pierre LeBrun, in an interview for The Athletic this past week, that the uncertainty over the arena situation in Arizona is a factor of sorts and he'll need some clarity on that before making any long-term commitment.
- If the Coyotes are going to be as bad this season as their 4-15-3 start would suggest, can a 26-year-old top-pairing defenceman really be as committed and happy as he says he is on a last-place team that was supposed to take a big step forward this season?
- Is it possible there's been a seismic philosophical shift within the Leaf hierarchy as it relates to building a contender on the backs of their three young offensive stars - Auston Matthews, Mitch Marner and William Nylander? Because, make no mistake, that has been the guiding principle of the (Brendan) Shanaplan.
- Look at that on Saturday night in Montreal: Isn't that Mitch Marner playing alongside Auston Matthews, which almost never happens? What about Josh Leivo's curious one-year contract extension last week? Is that noteworthy beyond the obvious?
Even for those of us who do this for a living, it's tempting/way too easy to get a little swept up in dreaming in technicolour sometimes. Alas, the job is to try to drill down on what's real and what's imagined.
So here we go:
- As of Sunday night, my best information is that the Leafs and Coyotes haven't had a single conversation regarding Ekman-Larsson. (By the way, I hate reporting what's not happening with such great certainty because, well, what if they were to have a conversation today?).
- If, and this is a rather large IF, Arizona were to trade OEL to Toronto for, as rumoured, William Nylander, I don't believe Arizona, and many other teams, probably including even the Leafs themselves, view Nylander as an NHL centre. And if you're the Coyotes, you don't contemplate moving a top-pairing D man for a winger. They would want and need a centre in return.
- I don't believe the Leafs have, at this point in time anyway, altered their core principle that they can build a Cup contender, both from a hockey and a salary cap perspective, with the three kids (Matthews, Marner and Nylander) up front.
This latter point may irritate many Leaf fans who envision giving up one of them for a stud defenceman, but (certainly for now anyway), the Leafs believe more in the concept of perhaps not having a true No. 1 D but trying to have five Top 4 D, if that makes any sense. Maybe that's simply a forced choice, because trading for a true No. 1 defenceman is near impossible.
In any case, this long-and-winding exercise to contemplate a scenario, and then refute it, more or less got me back to where I started from last Wednesday, though I wouldn't necessarily call the process fruitless.
It did reinforce to me two things: 1. I don't believe the Coyotes are at all interested in trading Oliver Ekman-Larsson; 2. I don't believe the Leafs are at all interested in trading any of their Big 3 kids up front.
Perhaps at some point in time, down the road, one or both these things could or maybe even will be subject change.
But I'm betting it won't be prior to puck drop tonight.