Orpik's late goal lifts Capitals over Devils
Brooks Orpik scored his second goal of the season with 3:58 left and the Washington Capitals rallied to beat the New Jersey Devils 4-3 on Saturday night, becoming the first NHL team with 90 points this season.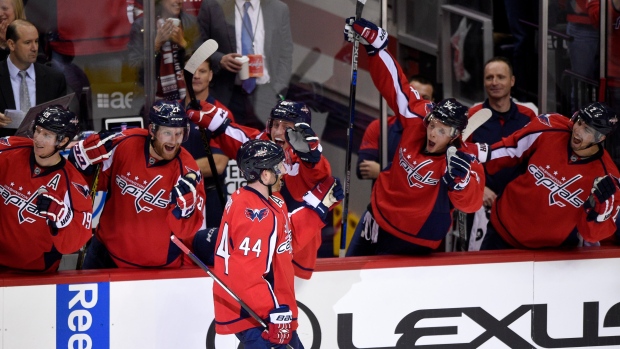 WASHINGTON - The Washington Capitals have had plenty of feel-good moments while racing to the top of the NHL standings. Coach Barry Trotz thought Brooks Orpik's goal Saturday night was one of the best.
In his third game since ending a three-month absence because of a lower-body injury, Orpik scored his second goal this season with 3:58 left to lift the Capitals over the New Jersey Devils 4-3 and make Washington the first team with 90 points.
"If we could've gone out to the blue line to hug Brooks, we all would've," Trotz said. "They all respect how hard he works. He's one of the glue guys in that whole room."
Washington's T.J. Oshie tied the game with 6:05 left in his 500th NHL game, with Orpik providing the assist.
Alex Ovechkin scored his league-leading 38th goal and had an assist, and Evgeny Kuznetsov also had a goal and an assist for the Capitals.
"Obviously the team's been going pretty well all year," said Orpik, who missed 40 games from mid-December to mid-February. "I've been watching a lot of it so, it's a lot more fun being a contributor here the last three games."
Washington's Braden Holtby made 21 saves in his league-leading 37th win and his team's eighth win in nine games.
New Jersey's Cory Schneider made 28 stops in his second start in as many days, but the Devils lost their third straight to remain a point behind Pittsburgh for the final Eastern Conference playoff spot.
Reid Boucher had two assists before his goal put New Jersey ahead 3-2 midway through the third period. His linemates Kyle Palmieri and Travis Zajac each had one goal and one assist for the Devils, who have scored three goals only twice in their last nine games, losing both.
"We had to keep pace with them, and we just failed to do that," Boucher said. "Very disappointing. We definitely felt like we should've gotten points out of that game."
New Jersey was heading toward a crucial victory before Oshie tied it on one of the more fortuitous goals of his career. After crashing the net, he reached back to pull a loose puck toward the net. It then pinged off the skates of two Devils, caroming off Seth Helgeson across the crease before John Merrill's blade guided it across the goal line.
It was the second hard-luck goal for the Devils in two nights — they lost 1-0 to the New York Islanders on Friday night after Casey Cizikas accidentally banked in a goal off his pants.
"There's nothing to be frustrated about," Devils coach John Hynes said. "We've got to be better than what we were."
Orpik scored a more orthodox winner, taking Kuznetsov's feed from behind the goal line and guiding a wrister from the left side through bodies and over Schneider's right shoulder.
"There was so much traffic in front I was just trying to put it on net," Orpik said. "I knew Schneider probably couldn't see it either because I couldn't see much of the net. ... I think it was either Oshie or Ovi started celebrating so I knew it was in."
NOTES: Ovechkin's goal was the 513th of his career, tying him for 37th career with Jeremy Roenick. ... Capitals RW Jay Beagle (hand) practiced for the first time since suffering his injury in December. He's missed 21 games. ... The Devils scored multiple even-strength goals for the second time in three games after going eight games without two or more. ... The Capitals have scored multiple even-strength goals in 13 consecutive games. ... RW Tuomo Ruutu played for the first time since Jan. 26, while RW Bobby Farnham was scratched.