Ovechkin scores 25th; Capitals beat Bruins
Alexander Ovechkin scored his 25th goal of the season as the Washington Capitals beat the Boston Bruins 5-3 on Wednesday night. Ovechkin passed Ron Francis for 27th on the all-time goal scoring list.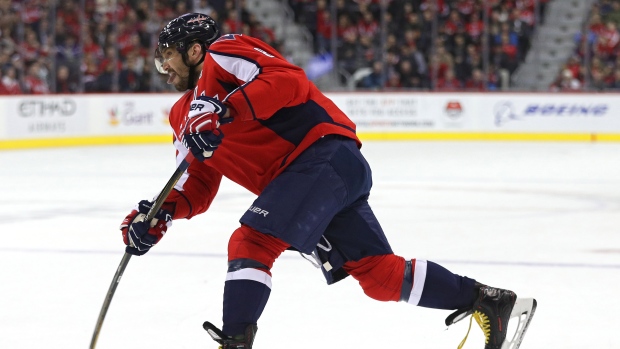 WASHINGTON — Something about facing the Boston Bruins brings out the best in the Washington Capitals.
Nicklas Backstrom had three points, Braden Holtby made 30 saves and Alex Ovechkin continued to climb the NHL's goal-scoring charts as league-leading Washington won its eighth consecutive game against Boston, 5-3 on Wednesday night.
Snapping the Bruins' winning streak at three, Holtby improved to 11-2-0 in his career against them.
"We seem to play good against them," said Holtby, who stopped 15 of 16 shots he faced in the third period to preserve the victory. "They're a fun team to play against. I like teams that play hard, play hard in front of the net. It's an enjoyable game to play."
It was an enjoyable offensive game for the Capitals' top line of Ovechkin, Backstrom and T.J. Oshie. Backstrom had a goal and assisted on a goal by each of his linemates as Ovechkin passed Ron Francis for 27th on the all-time goals list and passed Wayne Gretzky for power-play goals with the 205th of his career.
Ovechkin's 25th goal of the season has him second in the league, three shy of longtime rival Sidney Crosby of the Pittsburgh Penguins. Ovechkin also tied Hockey Hall of Famer Joe Sakic for 14th in power-play goals.
"It's nice to be in this company," Ovechkin said. "Obviously, passing those players means a lot, so I'm pretty happy."
A big reason Ovechkin is amid that exclusive company is Backstrom, his centre for a majority of the past decade. Backstrom now has 34 assists in 30 regular-season games against Boston and drove the top line's success a night after coach Barry Trotz said his top players lost the matchup with John Tavares and the New York Islanders.
"I was real happy with their response," Trotz said. "That's what leadership does. All those three guys are leaders on our hockey team, and they can lead by example."
Bruins leaders Patrice Bergeron and Brad Marchand did that in a losing effort, though in different ways. Marchand scored two power-play goals to give him six in his past four games, while Bergeron tried to gut it out after taking a slap shot from Matt Niskanen to the right leg early in the third period.
Bergeron came back to play two more shifts before leaving the game for good. Coach Claude Julien said Thursday update on Bergeron will "hopefully better than worse."
Goaltender Tuukka Rask, who allowed five goals on 22 shots while playing on consecutive nights, said he popped his groin late in the game but called it "nothing major."
Marchand became the first Bruins player to put up three two-goal games out of four since Hall of Famer and current team president Cam Neely in 1992. Marchand, who has been criticized for a recent spate of trips and slew foots, assisted on David Krejci's third-period goal and has nine points in his past four games, but him providing the only offence was a weak point for Boston.
"Some guys have to step up and give us some offence here," Julien said. "Our power play's good, it's scoring goals, but 5-on-5 we definitely have to be better."
No problem there for the Capitals, who also got even-strength goals from Brett Connolly and Evgeny Kuznetsov in a complete showing.
"It seemed like all four lines and the D and Holts, we were all kind of going together," said Oshie, who scored his 19th goal of the season on a breakaway created by Backstrom 3:06 in. "Everyone was playing fast."
NOTES: Starting for the second consecutive night, Rask allowed five goals on 22 shots. ... Capitals RW Justin Williams missed the game with an undisclosed lower-body injury and is considered day-to-day. ... Referee Garrett Rank took puck to the face when a shot by Ovechkin banked off the glass and went down to the ice for a few seconds. Rank got up, laughed it off and didn't miss a shift.
UP NEXT
Bruins: Host the Toronto Maple Leafs on Saturday night.
Capitals: Visit the Montreal Canadiens on Saturday in a matchup of the Eastern Conference divisional leaders.
___
Follow Hockey Writer Stephen Whyno on Twitter at http://www.twitter.com/SWhyno .