Panik, Maple Leafs make it back-to-back wins over Red Wings
Richard Panik's highlight-reel goal, backed by a solid showing by Jonathan Bernier in goal, lifted the Toronto Maple Leafs to a 4-1 win over the Detroit Red Wings on Saturday night. James van Riemsdyk, Morgan Rielly and Nazem Kadri also scored for Toronto, which beat the Wings 2-1 in a shootout Wednesday in Detroit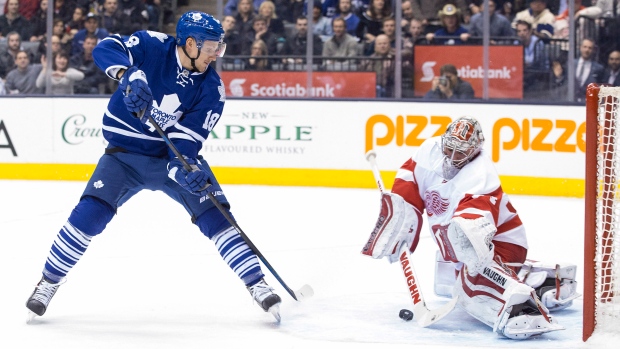 TORONTO - Despite seeing less than nine minutes of ice time Saturday, Toronto fourth-liner Richard Panik was just an assist short of a Gordie Howe hat trick.
Panik notched the winner with a second-period highlight-reel goal and then pounded away at Detroit defenceman Brendan Smith in the dying minutes of the Leafs' 4-1 win over the Detroit Red Wings.
Goalie Jonathan Bernier made 27 saves as the Leafs recorded back-to-back victories over the Wings. Toronto won 2-1 in a shootout Wednesday in Detroit in a game that saw the Leafs outshot 42-19. On Saturday, Toronto outshot Detroit 41-28.
Toronto coach Randy Carlyle said the Leafs showed a far better work ethic than in Detroit.
"We were more energetic," he said.
That included Panik, whose goal coming off the bench gave Toronto a 2-1 lead at 17:50 of the second period. Defenceman Korbinian Holzer found Panik all alone with a long pass after a Detroit turnover in the Toronto end and the 23-year-old Slovak beat Petr Mrazek between the legs with a gorgeous breakaway move.
"I'm just trying my best every shift," said Panik. "It doesn't matter if I play five minutes, I'm just focusing on the next shift. Now it's going in the net so I'm really happy and glad about it. Hopefully it will just keep going this way."
Panik now has a career-high six goals for the season, one more than he potted in 50 games last season in Tampa.
"In the minutes he's played, he's always been unbelievable," said Holzer. "You should watch him in practice, he's got some really, really high skill. He's got some nice moves and he showed them on the goal."
"He can even throw it," added Holzer, referring to the fight — Panik's first in the NHL.
Carlyle said there is a big up-side to Panik.
"That's the great thing about guys like Richard. You know that there is more there," said Carlyle. "Because he's in this (fourth-line) situation right now doesn't mean he's going to stay there. At any given time in the game you can feel comfortable, that you can move that player up if things aren't going the way you like higher in our lineup.
"He's an interchangeable part and he's a dangerous player."
James van Riemsdyk, Morgan Rielly and Nazem Kadri, with an empty-netter at 16:46 of the third period, also scored for Toronto before a crowd of 19,063 at the Air Canada Centre.
"That's a pretty good team we beat so I think we're very happy with it," said Rielly.
Bernier, who made his 10th start in 11 games, called it the Leafs' best game of the season.
Niklas Kronwall scored for Detroit, which lost despite scoring first, dominating the faceoff circle by a 42-17 margin and getting a fine performance from backup goalie Mrazek.
"They were a little stronger than us over 60 minutes," said Detroit captain Henrik Zetterberg. "There were too many times when we had the puck under control then they have the puck and it's in our net. We've got to be more poised and take care of the puck a little bit better."
Toronto has little time to get ready for the next challenge — the Stanley Cup champion Los Angeles Kings in a rare 5 p.m. ET start Sunday. The Kings arrived early in Toronto and had the luxury of an advance practice while the Leafs played a game.
Carlyle said the Leafs' view of the weekend was they were playing six periods.
Toronto (17-9-3) has now won four straight and is 8-1-1 since a 9-2 home loss to Nashville on Nov. 18. During that time they have outscored their opposition 41-23.
Carlyle points to that Nashville drubbing as a turning point.
"That's changed our group ... They made a conscious effort that they were going to change things from that point on," he said.
Detroit (17-7-7) has lost three straight, a streak that includes shootout defeats to the Leafs and the visiting Florida Panthers (3-2 on Friday in Detroit).
The Leafs, who had been off since their victory Wednesday, win the season series with the Wings with a 3-1-1 record.
Mrazek made his fourth start of the season — his first career outing against Toronto — as the Wings rested Jimmy Howard after playing Friday. Mrazek, a 22-year-old former Ottawa 67 playing his 15th NHL game, is filling in for the injured Jonas Gustavsson.
James Reimer had been expected to start for Toronto after excelling Wednesday in Detroit but he tweaked his groin in practice.
Detroit went ahead at 15:27 of the first period on a Kronwall one-timer from the blue-line with van Riemsdyk off for holding. Kronwall's fifth of the season was helped by traffic in front of Bernier.
Toronto answered on the power play at 16:27 with a Phil Kessel snap shot that went in off van Riemsdyk in front of the goal for his 12th off the season.
Mrazek made a spectacular save in the second period, flat on his back after stopping a Dion Phaneuf slapshot midway through the period with the Leafs on the power play. The rebound went to Cody Franson and somehow Mrazek got a piece of his body or equipment to the shot to redirect the puck off the post and away.
Toronto, who came into the game with a league-leading 40 goals in the second period, outshot Detroit 20-5 in the second period.
Rielly used his speed to make it 3-1 at 1:42 of the third period, racing down the wing before beating Mrazek to the glove side for his fourth of the season.
"I felt good but they have the two points and we don't have anything, so that's more important than how many saves and how I played today," Mrazek said.
NOTES: The Maple Leafs have six straight victories over Original Six opponents for the first time since October-December 2003.
___
Follow @NeilMDavidson on Twitter