Panthers re-sign Jagr to one-year deal
TSN.ca Staff with notes from Frank Seravalli, TSN.ca Staff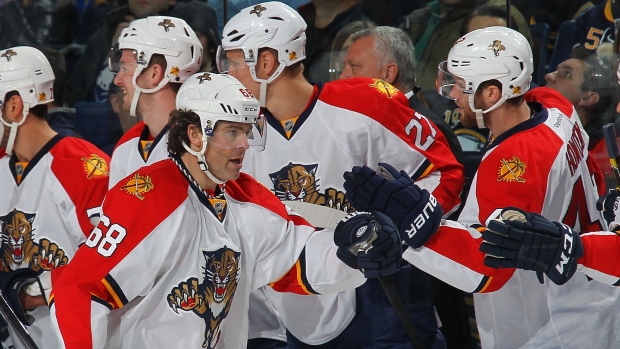 Jaromir Jagr is returning to the Florida Panthers.
The team announced on Thursday that they have signed the 44-year-old to a one-year deal.
According to TSN Senior Hockey Reporter Frank Seravalli, Jagr's deal is for $4 million with an additional $1.515 million in +35 performance bonuses. Jagr will earn an extra $300,000 each for playing 10, 20, 30, 40, and 45 games, with the remaining $15,000 on the table for trophies.
Jagr has been with the Panthers the past year and a half after the team acquired him at the Trade Deadline two seasons ago.
The 44-year-old had 27 goals and 66 points in 79 games for the Panthers last year.
"Jaromir is a Hall of Fame player and had an excellent season playing alongside Aleksander Barkov and Jonathan Huberdeau," Panthers GM Dale Tallon said. "His track record speaks for itself, ranking third all-time in points and goals. He has been a great fit with our organization and we are excited to have him back for next season."
"Jaromir has had a tremendous influence on our younger players and has been a key offensive contributor on our team," Panthers head coach Gerard Gallant said. "We are happy to have him back as we look to build off this year's playoff appearance."
Jagr has now earned $136,250,000 in NHL contracts, according to GeneralFanager.com.