Patrick, Hischier in tight race for No. 1 in TSN draft ranking
Swiss centre's dynamic play has helped him close the gap on Brandon Wheat Kings pivot in what is shaping up to be a photo finish, TSN Hockey Insider Bob McKenzie writes.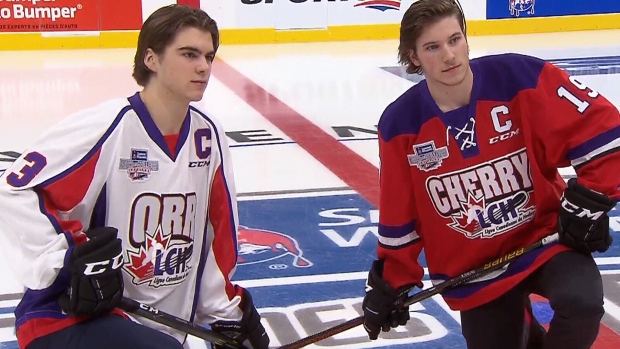 By Bob McKenzie, TSN Hockey Insider
Folks, we have ourselves a horse race for No. 1 in the 2017 NHL draft.
And it looks like it's shaping up as a photo finish.
It's Nico versus Nolan, the most legitimate draft battle for No. 1 we've seen since Taylor (Hall) versus Tyler (Seguin) in 2010. It is, of course, also a massive victory for alliteration.
Brandon Wheat King centre Nolan Patrick is No. 1 on TSN's Top 15 rankings, Draft Lottery edition, but only by the slimmest of margins over Swiss centre Nico Hischier of the Halifax Moosehead.
TSN surveys 10 NHL scouts from 10 different teams to get its consensus rankings. There's a preseason ranking in mid-September; a midseason ranking in late January; this ranking ahead of Saturday's NHL draft lottery; and the final ranking in mid-June, just prior to the NHL draft, which is June 23-24 in Chicago.
Patrick was a unanimous 10-out-of-10 No. 1 in the TSN preseason rankings and a decisive eight-out-of-10 No. 1 in TSN's midseason rankings.
For TSN's Draft Lottery edition, five scouts ranked the 6-foot-2, 198-pound Patrick No. 1; five scouts ranked the 6-foot-1, 176-pound Hischier No. 1. The Swiss pivot has closed the gap with his dynamic play, which came at a time when Patrick's injury-riddled season was ended prematurely by an upper-body ailment that wasn't related to the groin/abdominal issues that plagued him for the first half of the season.
In order to break the Nolan-Nico dead heat, TSN decided to survey another 10 scouts representing another 10 teams and – yup, you guessed it – five named Patrick as No. 1 and five put Hischier at No. 1.
Twenty NHL teams; another deadlock.
In order to break the tie, TSN surveyed three more scouts from three more teams. Patrick got two votes for No. 1; Hischier got one.
Advantage, ever so slightly (12-11), goes to Patrick.
Every scout who had Hischier at No. 1 had Patrick at No. 2.
Eleven of the 12 scouts who chose Patrick as No. 1 had Hischier at No. 2. One of the 12, however, had Finnish defenceman Miro Heiskanen at No. 2 and Hischier at No. 3.
Heiskanen, by the way, is No. 4 on TSN's Draft Lottery edition rankings, just behind Windsor Spitfire forward Gabe Vilardi, who is a clear No. 3.
Vilardi isn't currently playing as his Spits were eliminated by the London Knights in the first round of the OHL playoffs. He will be back on the ice at the Memorial Cup in May, as Windsor is the host team.
Vilardi was drafted into the OHL as a smart and skilled centre, but has been playing mostly on the wing for the Spitfires. He was No. 4 on the mid-term rankings.
Minnesota high-school centre Casey Mittelstadt, who also played in the USHL at times this season, rounds out TSN's Top 5 in the same slot he was in on TSN's mid-season list.
Heiskanen is the only "new" member of TSN's Top 5 compared to the mid-season rankings of late January.
The Finnish blueliner has been rocketing up the scouting charts, moving from No. 13 on our list to No. 4, effectively replacing Swedish defenceman Timothy Liljegren, who went from No. 3 at mid-season to No. 12 on the draft lottery rankings list. Heiskanen is the consensus top defenceman available in this draft.
Liljegren missed much of the first half of the season with mononucleosis. While he's still viewed as a prospect with a high offensive ceiling, his spotty play in the second half, combined with Heiskanen greatly elevating his play, resulted in a big swing for both players.
Mississauga Steelhead scoring winger Owen Tippett remained at No. 6 from the January to April on TSN's list. Tippett is still active as his Steelheads won the OHL Eastern Conference title to earn a berth in the OHL final against the winner of the Erie Otters-Owen Sound Attack series.
Cale Makar, a dynamic offensive defenceman from the Alberta Junior Hockey League's Brooks Bandits, jumped from No. 12 to No. 7. Makar is also still playing. His Bandits won the AJHL crown and are in the five-team Western Canada Cup championship tournament that begins this weekend in Penticton.
Tri-City centre Michael Rasmussen had his season end in late February when he broke his wrist – undergoing surgery in early March – but the 6-foot-5 pivot still managed to stay in the Top 10, sitting at No. 8 on the TSN list.
Another player who has shown upward mobility since late January's rankings is Portland Winterhawks slick offensive centre Cody Glass, who moved up from No. 14 to No. 9. He is the third of three prospects who moved from outside the top 10 at mid-season to inside it on the draft lottery list.
Czech forward Martin Necas, who was No. 8 at mid-season, dropped two spots to No. 10.
In addition to Liljegren, the two prospects who fell out of the mid-season Top 10 are:
- Russian forward Klim Kostin, who underwent season-ending shoulder surgery in January. Kostin only slipped two spots, from No. 10 to No. 13, although he's something of a draft wild card.
- Finnish goal-scoring forward Eeli Tolvanen of Sioux City in the USHL, who went from No. 9 to just outside the Top 15. Tolvanen and fellow Finn Kristian Vesalainen, a big winger, competed for the 15th and final spot on TSN's Draft Lottery list, with Vesalainen getting a slight edge from the scouts surveyed.
A pair of Swedish forwards – gifted offensive winger Elias Pettersson at No. 11 and strong two-way centre Lias Andersson at No. 14 (moving up just one spot from mid-season) – round out TSN's Top 15 Draft Lottery rankings.
The Top 15 (Mid-Season Rankings in Parentheses)

1. Nolan Patrick (1)
Centre | Brandon (WHL) | 6-2 3/4 | 198 lbs. | Sept. 19, 1998
2016-17 Statistics
GP

33

G

20

A

26

PTS

46

PIM

36

2. Nico Hischier (2)
Centre | Halifax (QMJHL) | 6-0 3/4 | 176 lbs. | Jan. 4, 1999
2016-17 Statistics
GP

57

G

38

A

48

PTS

86

PIM

24

3. Gabe Vilardi (4)
Centre | Windsor (OHL) | 6-3 | 201 lbs. | Aug 16, 1999
2016-17 Statistics
GP

49

G

29

A

32

PTS

61

PIM

12

4. Miro Heiskanen (13)
D | HIFK (SM Liiga) | 6-0 | 170 lbs. | July 18, 1999
2016-17 Statistics
GP

37

G

5

A

5

PTS

10

PIM

4

5. Casey Mittelstadt (5)
Centre | Eden Prairie (USHS) | 6-0 1/4 | 194 lbs. | Nov. 22, 1998
2016-17 Statistics
GP

30

G

23

A

29

PTS

72

PIM

8

6. Owen Tippett (6)
Right Wing | Mississauga (OHL) | 6-1 1/2 | 202 lbs. | Feb. 16, 1999
2016-17 Statistics
GP

59

G

44

A

31

PTS

75

PIM

36

7. Cale Makar (12)
Defence | Brooks (AJHL) | 5-10 1/4 | 171 lbs. | Oct. 30, 1998
2016-17 Statistics
GP

54

G

24

A

51

PTS

75

PIM

18

8. Michael Rasmussen (7)
Centre/Left Wing | Tri-City (WHL) | 6-5 3/4 | 215 lbs. | Apr. 17, 1999
2016-17 Statistics
GP

50

G

32

A

23

PTS

55

PIM

50

9. Cody Glass (14)
Centre/Right Wing | Portland (WHL) | 6-1 3/4 | 180 lbs. | Apr. 1, 1999
2016-17 Statistics
GP

69

G

32

A

62

PTS

94

PIM

36

10. Martin Necas (8)
Centre | Brno (CZE) | 6-0 3/4 | 176 lbs. | Jan. 15, 1999
2016-17 Statistics
GP

41

G

7

A

8

PTS

15

PIM

6

11. Elias Pettersson (11)
Left Wing | Timra (SWE) | 6-1 1/4 | 156 lbs. | Nov. 12, 1998
2016-17 Statistics
GP

43

G

19

A

22

PTS

41

PIM

14

12. Timothy Liljegren (3)
Defence | Timra (SWE) | 6-0 | 191 lbs. | Apr. 30, 1999
2016-17 Statistics
GP

19

G

1

A

4

PTS

5

PIM

4

13. Klim Kostin (10)
Right Wing | Moscow (KHL) | 6-3 | 196 lbs. | May 5, 1999
2016-17 Statistics

14. Lias Andersson (15)
Centre/Right Wing/Left Wing | HV71 (SHL) | 5-11 1/4 | 198 lbs. | Oct. 13, 1998
2016-17 Statistics
GP

42

G

9

A

10

PTS

19

PIM

18

15. Kristian Vesalainen (19)
Left Wing | Frolunda (SHL) | 6-3 1/4 | 207 lbs. | Jun. 1, 1999
2016-17 Statistics
GP

26

G

1

A

5

PTS

6

PIM

2