Patrick hoping he got 'injuries out of the way early'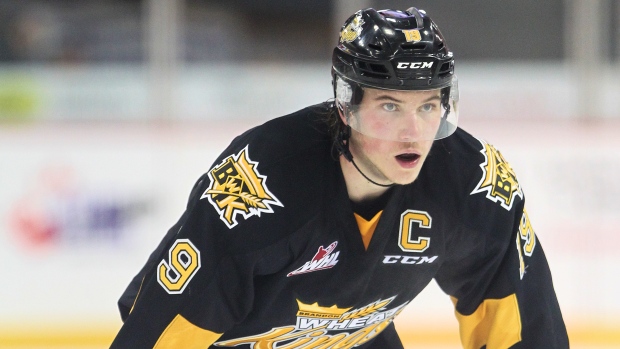 If there's a clear knock on prospect Nolan Patrick, it's his injury history.
The potential first overall pick in next month's draft appeared in only 33 games this season due to upper and lower-body injuries. The Brandon Wheat Kings centre was also unable to appear in the WHL playoffs due to a leg injury. He's broken his collarbone twice and underwent a sports hernia surgery last summer.
In the end, Patrick finished with 20 goals and 46 points on the season, well below his 41 goals and 102 points in 72 games last year. He believes the injuries also took a toll on the games he did play.
"Not nearly as effective as I wanted to be," Patrick told the Philadelphia Courier-Post. "For me coming back I didn't skate for two months just healing. It's tough to get your legs back. Quite a few of the games I wasn't in good enough shape to be as effective as I wanted to be out there. I think in the second half I put together a few good games there. It wasn't the ideal year, but it is what it is."
The Winnipeg native is hoping he's got his injuries out of the way, and can now enjoy a clean bill of health moving forward.
"It's part of the game," Patrick said. "I'm just hoping I got my injuries out of the way early in my career instead of later. It is what it is, but for me being negative about it wasn't gonna help me heal any quicker. I'm confident I can play a whole season without getting injured.
"Last season I played (105) games so I'm confident in my abilities and confident that I'm healthy."
Patrick and Swiss centre Nico Hischier are the consensus top two prospects in the 2017 draft class, which one will be selected first remains to be determined. Patrick is willing to accept that his injury history could drop him out of the top slot.
"If someone doesn't want to take me because of my injuries this year, so be it," Patrick said. "I'll be happy to go anywhere."
The New Jersey Devils will decide between Patrick and Hischier next month, while the Philadelphia Flyers are expected to select whichever player remains on the board at No. 2.
Flyers general manager Ron Hextall told the Courier-Post earlier this month that injuries shouldn't necessarily drop Patrick, or any prospect, on draft boards.
"An injury history on any player you look at whether you're making a trade, free agent, the draft," Hextall said. "And then it comes down to the types of injuries and what precipitated the injuries. Is a player injury prone? Is it bad luck? Was he diagnosed properly? There's so many things that go into it. We'll do our due diligence with (Patrick) and other players as well."
The draft will take place on June 23 in Chicago.