Penguins rout Capitals for sixth straight win
Rookie Tom Kuhnhackl had a goal and two assists on his way to a career-best three points and the Pittsburgh Penguins denied the Washington Capitals a chance to lock up the Metropolitan Division with a dominant 6-2 win on Sunday night.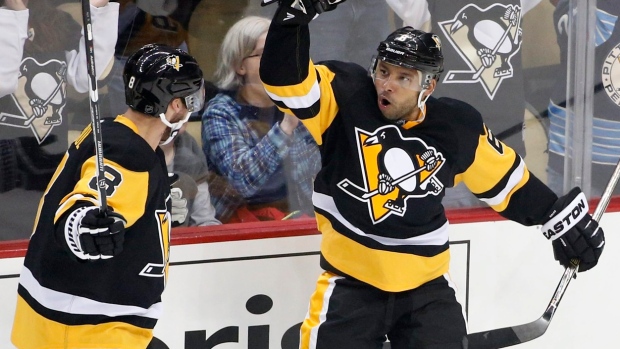 PITTSBURGH, Pa. - The Metropolitan Division race has been over for weeks. The best regular season in the 41-year history of the Washington Capitals has seen to that.
The surging Pittsburgh Penguins, however, did more than delay the inevitable on Sunday night. They served notice Washington's path through the Eastern Conference might not be as easy as it might have looked a month ago.
Rookie Tom Kuhnhackl had a goal and two assists on his way to a career-best three points and the Penguins denied the Capitals a chance to lock up the division title with a dominant 6-2 victory.
Matt Cullen, Trevor Daley, Justin Schultz, Chris Kunitz and Bryan Rust also scored for Pittsburgh. Sidney Crosby picked up two assists to push his scoring streak to 12 games as the Penguins won their sixth straight, five of them without star centre Evgeni Malkin. Marc-Andre Fleury stopped 16 shots to move past the New York Rangers — by virtue of a tiebreaker — and into second place behind Washington in the Metropolitan.
"The start was a little slow the first 5 minutes but after that we really settled in," Crosby said. "Had a lot of jump, a lot of desperation."
The Capitals, not so much. Washington could have clinched the franchise's ninth division crown with two points but instead gave up a season-high six goals. Braden Holtby finished with 21 saves before being pulled in the third. Jason Chimera and Andre Burakovsky scored for the Capitals but Washington collapsed in the third period while suffering their worst loss since a 5-0 setback against San Jose in the second game of the season.
"They were in playoff mode, they wanted it more," Capitals coach Barry Trotz said. "We got exactly what we deserved tonight."
Pittsburgh jumped ahead in the first during an 86-second span in which Kuhnhackl and Daley each beat Holtby with pretty plays. Kuhnhackl deked around the sprawled goaltender 8:33 into the first and Daley kicked a pass from Crosby to his stick before roofing a backhand to the short side over Holtby's glove.
The Capitals, whose resiliency is the primary reason the club is in line for its second-ever President's Trophy, managed to tie it thanks to a little luck. Chimera's 18th of the season came without the benefit of the puck hitting his stick. Or his leg. Or his arm. Instead it clanked off his white helmet and into the Pittsburgh net following a botched clear by Fleury to make it 2-1. Burakovsky evened it at 2 with a breakaway wrist shot over Fleury's glove with 4:48 left in the second.
The momentum didn't last.
It took all of 42 seconds for the Penguins to jump back in front. Kuhnhackl sent Capitals' forward Justin Williams tumbling to the ice, then collected a pass from Cullen and slammed it by Holtby to make it 3-2.
"That's a huge goal," Crosby said. "Who knows what would happen if we don't get a quick one like that right away? I think that just all night we continued to keep playing the same way regardless of what happened."
The Penguins then improved to 33-0-0 when leading after two by burying Washington in the final 20 minutes. Barely 24 hours removed from an impressive win at Philadelphia, Pittsburgh overwhelmed the NHL's best team in the third. Cullen's wrist shot trickled over Holtby's back and into the net to push it to 4-2. Kunitz's one-timer chased Holtby 7:18 into the third and Schultz added his first with the Penguins since arriving in a trade last month.
"We got lucky in tying it up," Holtby said. "Maybe we got a little complacent, thinking that if we keep doing this, it'll go our way without pushing and doing the right things. It bit us and they're a hungry team over there. We have to be more prepared and more realistic in what we're doing."
The Penguins, among the bottom five in the Eastern Conference when Sullivan took over in mid-December, improved to 10-3 in March and are in second-place in the Metropolitan for the first time since the third week of the season.
NOTES: Crosby has 20 points (eight goals, 12 assists) during his current scoring streak, the longest active streak in the NHL. ... Washington D Mike Weber earned a 10-minute misconduct and a 5-minute major for boarding Rust in the third period. ... The Penguins went 1 for 7 on the power play. The Capitals were 0 for 2. ... Pittsburgh D Ben Lovejoy skated during pregame warmups but was held out of the lineup for a 15th straight game with an upper-body injury. ... The Penguins and Rangers are tied with 88 points, but Pittsburgh has won two of three in the season series with one matchup remaining. ... The Penguins host New Jersey on Thursday. ... Washington travels to Ottawa on Tuesday. ... The teams meet again in Washington on April 7.