Perreault accepts new role on Jets' fourth line
Mathieu Perreault dropped down to the fourth line for the Winnipeg Jets for Tuesday's win over the Los Angeles Kings, and the 30-year-old said he's prepared to stay there if it helps his team win.
Perreault began the year on the team's second line with Patrik Laine and Bryan Little, but skated Tuesday at left wing on a line with Jack Roslovic and Kristian Vesalainen.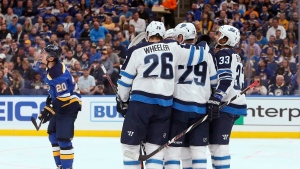 "I think this is the role I'm going to try to be in this year," Perreault told the Winnipeg Sun on Wednesday. "I won't be looking too much at personal production. Playing on that fourth line with two young guys, I'd rather be on a winning team and doing that, helping younger guys, than thinking about my personal production."
A veteran of 499 career NHL games, Perreault posted 17 goals and 39 points in 70 games last season. He had topped the 40-point mark in each of the previous four seasons.
After logging just 7:30 of ice time against the Kings, Perreault said his contributions to the team's success may be different this season.
"Every time I put on an NHL sweater I never take anything for granted," he said. "So for me just to be out there helping the team win a game, that's all I can ask for. As long as we're winning, I'll be totally happy with that.
"Yeah, I've always been a guy that gets points. But now my career has maybe taken a different turn."
Perreault is signed through 2020-21 at a $4.125 million cap hit.