Perry: Ponzinibbio a very powerful opponent, expects first round finish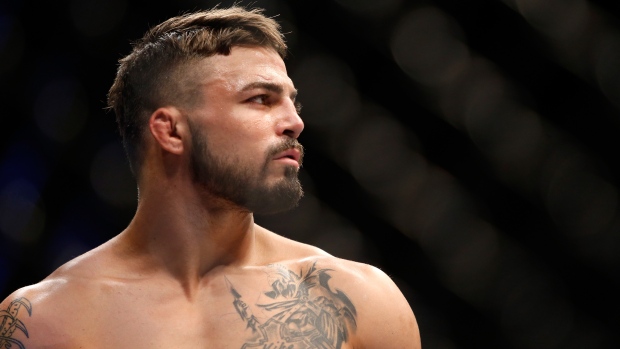 "Platinum" Mike Perry was a guest on this week's edition of the TSN MMA Show and discussed his upcoming fight against Santiago Ponzinibbio, which many believe has the potential to be the fight of the night due to both fighters' frenetic styles.
"I don't think me or Ponzinibbio plan on standing there and getting hit that much," said Perry. "As soon as I hit him, one time, the whole fight's going to change and we're going to be looking at the end of the fight. We're probably looking at a finish on my end here"
The two fighters have a combined nine knockout wins over a total of fourteen fights, six of which came in the first round.
"Fighting dangerous, powerful guys like (Ponzinibbio), we've got to be smart," said Perry. "Last time when I was going to fight Thiago Alves, we had a little heat going and I was saying 'I'm going to go out and get him', I'm saying the same thing about Ponzinibbio, I plan on ending it in the first round."
Perry last fought in September when he defeated promotional newcomer Alex Reyes, who accepted the fight on three days notice.
"I love a good fight and if we're looking at three rounds of war this weekend, if we go three rounds, it will be hell, we will be busted up and I'm down for that," said Perry.
If he's successful, Perry hopes to fight seventh-ranked Darren Till in his hometown of Orlando, Florida at the UFC's next UFC on FOX card in February.
Perry is one of the more unique fighters in the UFC from a promotional standpoint and says that he considered the possibility of fighting twice in one night after his previous win.
"I thought about me and Kumaru Usman back at the Pittsburgh card, we both had a great first round knockout, we both didn't have a scratch on us, I bet he would have loved to sign a contract in the back and we get in there and fight a second time that night," said Perry. "The problem with that is that you don't get to promote that, the fans don't get to buy tickets for that, you'd have to kick everybody out of the stadium and then make them buy tickets to get back in."
Perry faces Ponzinibbio on the main card of UFC Fight Night: Lawler vs. dos Anjos, which airs on Saturday at 8:00 pm et on CTV2 and TSN5 and the preliminary fights begin at 5:00 pm et on TSN5.