Playing for the shootout still makes sense for some teams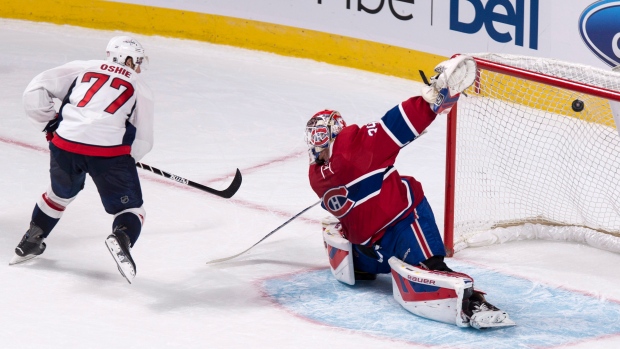 It's impossible to overstate how excited I am for the 3-on-3 overtime format this season. The format was unveiled in preseason, and for the most part, it has been a success. The hockey is exciting and frenetic, and coaches are already toying with styles and structure to optimize performance in hockey's newest wrinkle.
Rest assured, not every coach is ready to watch six skaters trade scoring chance after scoring chance at a blazing pace. For some coaches, there's a very real player personnel question. A coach may think relentless offensive zone cycling strategy is optimal for the format, but he may only have the personnel suited for a counter-attacking scheme. Or the opposite might be true. There are many questions and for now, very few answers.
There's also a game theory element to this new format. Specifically: maybe playing all-out in the 3-on-3 format isn't the best way to go.
Washington head coach Barry Trotz had some quotes that piqued my interest after a recent exhibition game against Montreal. Despite a bevy of talented forwards, Trotz opted for a one-forward, two-defenceman setup against Montreal. The Washington Post did a fantastic job compiling some of Trotz's thoughts on the matter, but what was done on the ice was far more interesting than what was said into the microphone.
Trotz seemed more than okay with settling the game in the shootout format. Why? I think it's very much a player personnel answer. It's a two-door question. Door one: Trotz can trade a flurry of chances with an opponent in a wild 3-on-3 format. Door two: Trotz has the option of keeping things tight and playing for the shootout. Tiebreakers aside, a point collected in overtime is the same as a point collected in the shootout.
It's hard not to connect the dots between Washington's potential preference for the shootout and newly-acquired T.J. Oshie, who has become something of a phenomenon at the format. Oshie's been one of the league's better shootout options for years, but that reputation was really only minted once he put on that ridiculous display against Russia in the Olympic Games.
Oshie isn't the only option Washington has, though. Their shootout lineup is deep and talented, with five skaters posting conversion rates above the league average (about 31 per cent). Since the shootout lasts just under four rounds on average, that's the exact kind of depth you want.
How rare is it to have five above-average skaters in the shootout? Look around the league. Only Pittsburgh and Toronto can really compare here. Note: I'm only looking at skaters with a minimum of 15 attempts.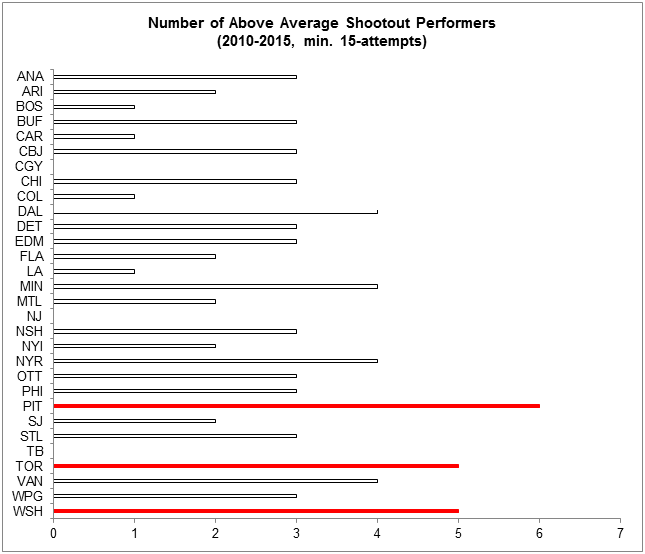 Yes, T.J. Oshie has been excellent in the last five years, scoring on 45.5 percent of his attempts. But the Capitals have options behind him. Evgeny Kuznetsov may actually be better, having scored eight goals on 15 career attempts (53.3 per cent). The only qualified skaters better than Kuznetsov league-wide? Anaheim's Jakob Silfverberg, Toronto's Joffrey Lupul, and Minnesota's Thomas Vanek.
After the lethal Oshie/Kuznetsov duo, Trotz can get creative. Nicklas Backstrom, Justin Williams, and Alex Ovechkin all score on about one of every three attempts – not atop of the leaderboard, but still better than our expected conversion rate.
Pittsburgh and Toronto are very much in the same position here. The Penguins are led by Evgeni Malkin (51.9 per cent) and Sidney Crosby (47.8 per cent), but Chris Kunitz, Matt Cullen, Eric Fehr, and David Perron also grade out well. Toronto has the aforementioned Lupul (55 per cent), with Tyler Bozak (48.1 per cent) and Brad Boyes (46.5 per cent) close behind. P.A. Parenteau and James van Riemsdyk offer quality fourth and fifth options.
So, we have three focus teams here who may be inclined to see things play out in the shootout from a shooter perspective. That's only half of the question, though. Do these teams have competent enough goaltending to make that bet? If their goaltending is suspicious in this format, then betting on the shootout may not be reasonable.
Let's look at their goaltenders over the years in a similar vein. Braden Holtby for Washington, Marc-Andre Fleury for Pittsburgh, and the James Reimer/Jonathan Bernier combination in Toronto. Where do these players sit?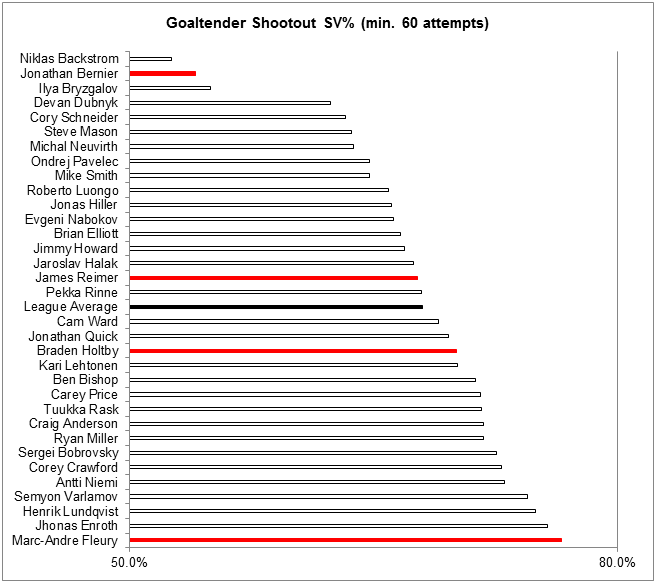 Bernier has been pretty bad in his career here. Reimer's been better, but he's still a cut below the league average. They still may have an advantage in the shootout thanks to their fleet of accurate shooters, but they're probably not the smoking gun team we are looking for.
With Washington and Pittsburgh, I think there may be a story. They have a surplus of skilled shooters who can beat goaltenders with regularity. And they have goaltenders that seem to play reasonably well in the shootout. Holtby is comfortably above the league average. Fleury could very well be the best shootout goaltender in the league – Michael Lopez has made this argument before, and I think he's right on the mark.
Both Washington and Pittsburgh strike me as teams who would thrive in the 3-on-3 format because of their sheer talent, but it's interesting from a strategy perspective to see if they are as incentivized as other organizations to go full throttle there.
The Takeaway
Washington and Pittsburgh are two quality teams with loads of top-end talent. And yet, I can't help but think they're prime candidates for playing things a bit more conservatively in the 3-on-3 format. You can call it gaming the system, but they have a surplus of great shooters and an equally competent goaltender who has excelled historically in the shootout format. For these two teams, it may be in their best interest to minimize 3-on-3 risk, and wait for the shootout format that seems right in their wheelhouse.