Popular curler Savill facing cancer fight
The longtime lead for Glenn Howard has been diagnosed with Hodgkin's Lymphoma and will be undergoing the first in steady wave of chemotherapy treatments in the next few weeks.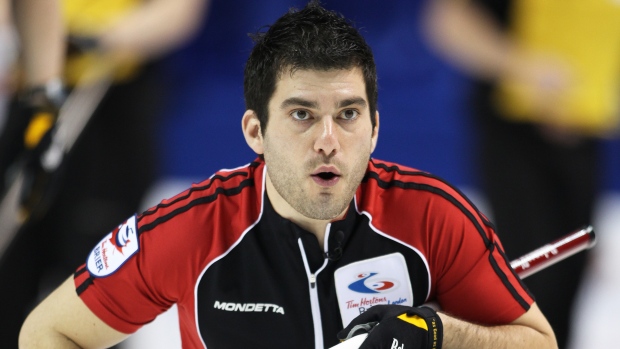 Back in 2014, when Curling Canada announced it was awarding the 2016 Tim Hortons Brier to Ottawa, Craig Savill was determined he was going to be on the ice for it.
The longtime lead for Glenn Howard is an Ottawa resident, and although he'd accomplished a lot in his career, one thing missing from the resume was playing at a Brier in his hometown. And so he circled March 2016 on his calendar and made it his goal.
He was hoping he'd be a part of Howard's rink there, but that team split apart in the summer. So he joined up with Shawn Adams' squad out of Halifax and had taken the first steps towards the Brier, qualifying for the Nova Scotia playdowns.
But that's as far as Savill will go on this journey. Three weeks ago, his goal suddenly changed. His battles against the game's top teams on the ice have taken a back seat to a new opponent.
Cancer.
"I was wearing a T-shirt one day back in August and it felt really tight," said Savill, a two-time Brier and world champion. "I felt my armpit and it was all swollen. Right away I went to my doctor."
After a battery of blood tests, biopsies and CT scans, the 37-year-old was diagnosed with Hodgkin's Lymphoma. In the next few weeks, he won't be slipping on his curling shoes and pushing out from the hack, he'll be undergoing the first in steady wave of chemotherapy treatments. Every other week for six months instead of the Ottawa Curling Club, he'll be at the Ottawa Cancer Centre.
His skip is no longer Shawn Adams, it's oncologist Dr. Richard van der Jagt, a man who the curler praised for his gentle guidance so far.
"I'm such a positive person," Savill said, his voice breaking from the emotion. "I never thought it was going to be anything major. I thought it would just be a virus. Even now, it's hard to say the word...cancer."
The father of kids ages four and two, he said that his wife, Karen has been his biggest support in these early days.
"She told me that she's been there for all my battles in curling and so this is just going to be another battle we're going to win," Savill stated.
"My kids are too young to fully understand what's happening, but they do know that daddy's sick."
So far, the news of his illness has been kept in close circles. His family has rallied behind him, as have his closest friends, Brent Laing and Jennifer Jones.
But there's little doubt that when his news spreads, he will face a deluge of support. There are few curlers more popular than Savill.
His Nova Scotia teammates, Adams, Mark Dacey and Andrew Gibson are examples of that; they've been there for him, although Savill said one of the most difficult tasks he had was telling them to fill his spot on the team for the rest of the year.
While the diagnosis has been confirmed, it won't be until next week that he learns exactly what stage the lymphoma is at. That will determine the strength of the treatment he receives. But no matter what that number ends up being, he's ready to take it on.
"I'm in fight mode," he said, some energy charging up his words. "I'm certainly concerned, but I'm going to keep a positive outlook and get through this.
"I just want to get healthy."