Preds captain Fisher retires at 37
Mike Fisher announced his retirement from the NHL on Thursday in a piece published by the Tennessean. "This is the hardest decision I've ever had to make, but I know I've made the right one. I've decided to retire from the NHL," Fisher wrote. The Canadian scored 18 goals and added 24 assists over 72 games with the Preds in 2016-17.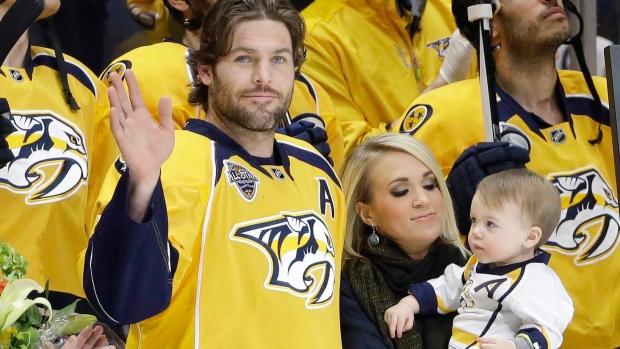 Nashville Predators forward Mike Fisher has retired in what he calls the hardest decision he's had to make, leaving the defending Stanley Cup finalists in need of a new captain.
The 37-year-old Fisher said in a letter to Predators fans that "I know I've made the right one" in opting to retire.
Fisher had 276 goals and 309 assists in 1,088 regular-season games during an NHL career that lasted 17 seasons. He had 23 goals and 28 assists in 134 career playoff games.
He began his career with the Ottawa Senators before getting traded to Nashville in 2011.
Fisher was chosen the Predators' captain in September 2016. He had 18 goals and 24 assists last season as Nashville earned its first Western Conference title. He's also husband to country star Carrie Underwood, and they have a son together.
"I approached this season with the mindset that it could be my last, and now that it's past, I'm looking forward to a future that includes a lot more time with my family," Fisher wrote. "Things change when you have kids and you have a family. They've supported me without question, and now it's my turn to return the favour."
Underwood said in an Instagram post that she was "going to miss watching you play" but added that "Isaiah (their son) and I love you so much and are so excited to be able to have you home a lot more."
The Tennessean first reported Fisher's retirement.
Fisher's last game was Game 6 of the Stanley Cup Finals, a 2-0 loss to Pittsburgh. Fisher noted the Predators saw on TV before the game the crowd of fans in Nashville during the run the franchise made to the Stanley Cup.
"Knowing we were so close to winning it all in June only makes it more difficult to leave it behind, but I do so with hope. Endings are always tough, but I believe when something ends, there are new beginnings, new opportunities and new things to be excited for, too," Fisher wrote.
"I believe that this team, that this city, is going to win a championship, and I'm going to be the biggest fan. No one will be happier than I will be to see it happen, because, these fans, they deserve it."
Forward James Neal, acquired from Nashville by Las Vegas in the June expansion draft, thanked Fisher on Instagram for all he taught him on and off the ice.
"Your leadership and friendship allowed our team to bring an entire city together in our quest for the Stanley Cup... and that will always be one of the greatest memories of my life," Neal said. "Congratulations on an incredible career, but the greatest mark on your resume is the Man you are one of the best examples of hard work, integrity, humility and class. We'll all miss you!!!
The Predators had wanted Fisher back. While waiting for the captain's decision, general manager David Poile made sure to protect the roster by signing centre Nick Bonino away from the Penguins . Poile also signed forward Scott Hartnell for veteran leadership.
Now Nashville will have to pick a new captain for a second straight year. Fisher was named the seventh captain in team history last year after the Predators traded defenceman Shea Weber to Montreal for defenceman P.K. Subban .
Defenceman Roman Josi, who will be going into his seventh season with the franchise, is a top candidate.
___
More AP NHL: https://apnews.com/tag/NHLhockey
Note to readers: Corrects to 134 playoff games in para 3.