Pressure on star Bombers RB Harris vs. Eskimos as CFL season kicks off
Andrew Harris is ready, willing and more than able to carry a heavier load to start the season. You can watch Harris and the Blue Bombers host the Edmonton Eskimos to open the 2018 CFL season tonight at 8pm et/5pm pt across the TSN Network and streaming on TSN.ca or listen on TSN Radio 1290 Winnipeg.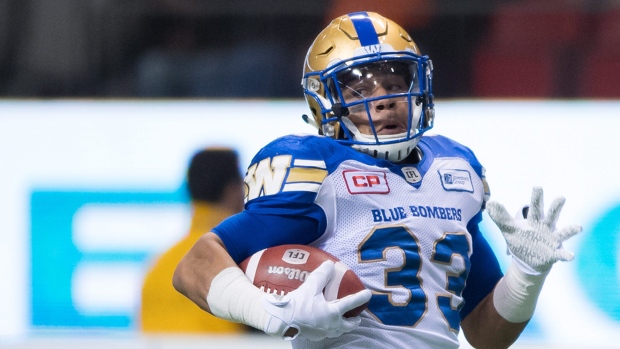 WINNIPEG — Andrew Harris is ready, willing and more than able to carry a heavier load to start the season.
The Winnipeg Blue Bombers veteran running back may have to do that right away as the team opens the CFL regular season Thursday at home against Edmonton with rookie quarterback Chris Streveler at the controls in place of injured starter Matt Nichols.
You can watch the opening game of the 2018 CFL season tonight at 8pm et/5pm pt across the TSN Network and streaming on TSN.ca or listen on TSN Radio 1290 Winnipeg.
"I pride myself on being a four-way back, that being catching the ball, rushing the ball, blocking, being a leader," Harris said after his team's walk-through on Wednesday. "So whichever one of those attributes are things I need to do more of, so be it."
Harris was named the league's most outstanding Canadian last season after rushing 189 times for 1,035 yards and catching 105 passes for 857 yards in 18 games. He had six touchdowns along the ground and one through the air.
Entering his ninth season, he said he's also willing to be a decoy for Streveler, whom he says has displayed confidence since he was named the Week 1 starter on Monday.
Nichols injured his right knee during practice June 6 and will miss four to six weeks.
"He doesn't seem like a 23 year old fresh out of school," Harris said of Streveler, who just graduated from the University of South Dakota. "His attributes, as far as talent, are one of quick decisions, athletic. He can throw the deep ball, he can check it down.
"It's just a matter of how he's going to put it all together when the bullets are flying live and it actually means something."
Last year at South Dakota, the six-foot-one native of Crystal Lake, Ill., passed for 4,134 yards and rushed for another 720 yards in 13 games. He had 43 passing and 11 rushing touchdowns. He was a finalist for the Walter Payton Award, given to the top offensive player in the Football Championship Subdivision, formerly Division I-AA.
"I know a lot of emphasis gets put on the quarterback position, but there's a lot of veteran guys on this team that have been helping me out throughout the week," Streveler said.
"And they just really relay, 'Hey, make plays when they're there and just stay within yourself.' You don't have to do anything too crazy or try to be something that you're not."
One of Streveler's assets is his feet. At a pro day earlier this year, he ran a 4.45-second 40-yard dash.
Edmonton linebacker J.C. Sherritt, back after rupturing his Achilles tendon in the Eskimos' season-opener last year, said Harris is a multi-faceted threat who could team up well with Streveler.
"You throw in Chris and what he can do athletically and it's going to pose some problems and we're ready for that," Sherritt said.
"We know what he can do on his feet. You've got to imagine they're going to factor that into their offensive scheme, what they're going to do. Whenever you play a wild card like that, it brings a challenge."
The Eskimos have already been dinged with more injuries. Seven players are on the six-game injured list, holes that are being filled by two rookies in the secondary.
Streveler wasn't viewing that as a big break.
"They have great guys in the secondary that I've been watching on film and guys have been talking about all week," Streveler said. "This is professional football and everyone is a good player."
Streveler is the first rookie pivot right out of college to start a Week 1 game in the CFL since Anthony Calvillo in 1994 with the Las Vegas Posse.
Eskimos veteran quarterback Mike Reilly, last season's CFL most outstanding player, wasn't familiar with Streveler other than what he's seen from pre-season film.
"He'd probably put me to shame in a 40-yard dash," Reilly said with a smile. "So he'll lean on that athleticism, I'm sure, which is helpful when you haven't played a lot of football.
"But that's going to be our defence's job, is to try to make him as uncomfortable as possible, and there's ways to do that. But it's not going to come down to him winning or losing a game. It's going to be the best team that goes out there and plays."
EDMONTON (0-0) AT WINNIPEG (0-0)
HISTORIC START — The season-opener between Winnipeg and Edmonton will be the earliest regular-season game in CFL history. The previous was a June 15, 2004, match between Saskatchewan and Toronto.
HIGH IQ — Streveler has a kinesiology degree from the University of Minnesota, a masters degree in sports management from the U of South Dakota and is five credits away from finishing a masters in interdisciplinary studies.
CLOSE CALLS — In 15 games between the Bombers and Eskimos since 2008, eight have been decided in the last three minutes. Five of the last six have been won by nine points or less.