Quenneville seeking balance with Blackhawks' forwards
Chicago coach splitting familiar line combinations as young players continue to push for positions on the roster, Bob McKenzie writes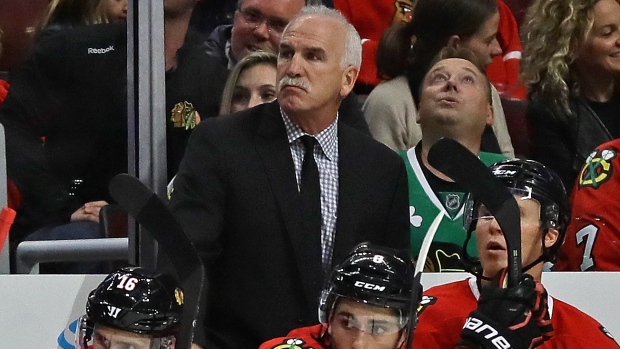 There are going to be some new faces in Chicago this season — maybe a bunch of them — but the Blackhawks could also be giving some old faces a new look.
This comes with the usual qualifier at this time of year — there's still nine more days until the NHL regular season opens, plenty of time for head coach Joel Quenneville to change his mind, depending on what he sees in the final week of training camp — but each of Chicago's top three lines may get a facelift, as in breaking up the Jonathan Toews-Marian Hossa and Patrick Kane-Artemi Panarin combos.
With a lot of the Hawks' new, young players pushing for positions, balance is going to be the operative word for Quenneville.
So, for now anyway, it's quite likely that Panarin, last year's Calder Trophy winner, will skate on Toews' left side and Hossa will drop down with two-way utility pivot Marcus Kruger to form two-thirds of a potentially high-end, two-way checking line.
That would leave Kane with centre Artem Anisimov and, of course, without Panarin on their left side, a trio that was deadly last season.
So if this pans out, and until further notice this is apparently the plan, Quenneville would be going with set pairs on the first three lines: Toews-Panarin, Anisimov-Kane and Kruger-Hossa.
The thinking is that putting Panarin on Toews' left side will give the captain a much more dynamic offensive presence and the Hawks will get an overall offensive boost, the supposition being that as much magic as Kane had with Panarin, Kane is dynamic enough to drive any line almost singlehandedly. Hossa will stabilize and provide added dimension to a third line with Kruger.
How Panarin and Kane fare while split up will obviously dictate how long and/or successful this initiative may be, but who fills the holes on each of the Hawks' top three lines will also be critical.
Richard Panik, the 25-year-old winger who played well at times last season when he was alongside Toews, may be the natural fit with Panarin and Toews.
The left winger with Anisimov and Kane will likely come from whichever youngster steps up in the final week of training camp. There are no fewer than five legitimate candidates.
Two who have really jumped out so far in camp are 21-year-old Tyler Motte, who signed with Chicago last spring to forgo his final year at the University of Michigan, and underage junior, 19-year-old Alexandre Fortin, who was signed as an unrestricted free agent a week ago.
One would think the likelihood of Fortin going back to Rouyn-Noranda in the Quebec League is extremely high, but the Hawks will give arguably their biggest surprise of the summer a real long, hard look this week because he's been that good.
Fortin wasn't taken in either of the 2015 or 2016 NHL drafts. Chicago invited him to their summer prospects camp, where he was noticeable. Then he played well for the Hawks at the Traverse City rookie tournament and came to main camp, where the Hawks had seen enough and signed him to a three-year entry-level contract.
If this kids turns out to be a player, either now or down the road, it seems like such a Chicago (GM Stan Bowman) thing to do — take a two-time draft reject and turn him into a player.
Based on a stellar camp thus far, it's difficult to see Motte not being on the Hawks' opening-day roster. He could be a good fit on the left side with Anisimov and Kane, but he could be a perfect or better fit on the left side with Kruger and Hossa. Motte has speed, smarts, offensive ability (32 goals in 38 games last season at Michigan) but also has defensive awareness and responsibility. One would think he'd have to have a bad final week of camp in order to play himself out of a roster spot.
If Motte were to skate with Kruger and Hossa on the third line, the left-wing candidates alongside Anisimov and Kane include Fortin, 22-year-old, second-year pro Vinnie Hinostroza, 22-year-old, third-year pro Ryan Hartman and 20-year-old, first-year pro and 2014 first-round pick Nick Schmaltz, who left the University of North Dakota after his sophomore season. Schmaltz likely has more offensive upside than the others, but he may be better suited to play centre, and could take more time to adjust to the pro game.
In any case, lots of fresh faces in Chicago this season and some potentially fresh looks for the returning players.