Indiana Pacers' Bennedict Mathurin returns to Montreal North, pays visit to local high school
Students at Montreal North's École Secondaire Henri-Bourassa were spoiled with a visit from local basketball player turned NBA star, Bennedict Mathurin.
Esteban Vargas, TSN.ca Staff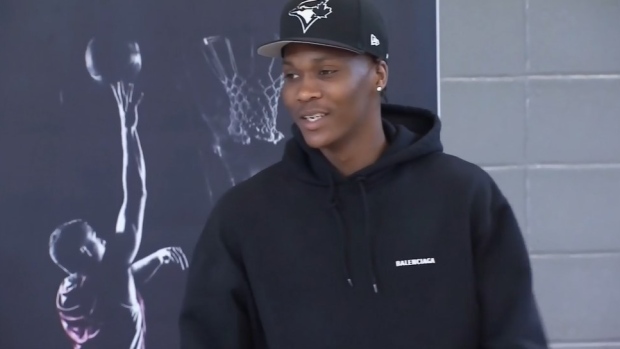 At this time of year, students at Montreal North's École Secondaire Henri-Bourassa are usually focused on final exams and kicking off their summer plans.
However on Tuesday, attention turned towards a very special guest: NBA player Bennedict Mathurin.
Fresh off his first season with the Indiana Pacers, Mathurin, who grew up in Montreal North, thought it important to make time to meet with local youth and also warn of the dangers of vaping.
"Our main goal is to motivate the kids to stay off the street and stay focused in school," he told reporters. "Vaping is not the right thing. It affects the lungs."
Students were more than thrilled to be able to spend time with the NBA star.
One student excitedly told our colleagues at RDS, "it's a dream come true! I've always wanted to meet an NBA star. I'm so happy."
Another student continued, "I find this very cool and inspiring. You don't see a Montrealer make it into the NBA every day."
Mathurin, who was the Pacers' first pick during the last draft explained, "it's part of my job to really motivate youth. Just because I'm playing in the NBA, it shouldn't mean that people can't talk to me."
His sister Jennifer was also on hand. "It's really important for him and I'm proud that he's on a good path. He's always been a good guy and he's becoming better."
Jennifer and Bennedict both grew up not too far from École Secondaire Henri-Bourassa and admit that the area has dealt with its share of violence and negative attention.
"Having grown up in Montreal North, I understand what it's like living with challenges," Mathurin sympathized. "It's really great for students to have access to a gym like this one and coaches and staff who show [students] love."
Asked about his next season in the NBA, Mathurin says he intends on working on his defensive strategy.
With files from RDS' Alex Antonacci