Radulov: 'I wanted to stay' with Canadiens
"I loved it in Montreal and I wanted to stay," Radulov said Tuesday morning, per the Montreal Gazette.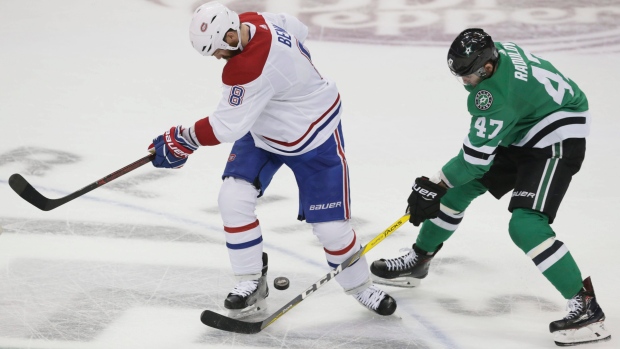 Dallas Stars forward Alexander Radulov posted an assist on Tuesday night in a 3-1 win over his former team, the Montreal Canadiens.
Radulov now owns seven goals and 20 points in 21 games in his first season with the Stars. He joined the team on a five-year, $31.25 million deal in July.
Canadiens general manager Marc Bergevin said before the season the Canadiens matched the offer the Stars, but Radulov elected to go south.
"I loved it in Montreal and I wanted to stay," Radulov said Tuesday morning, per the Montreal Gazette. "We were negotiating for a month and a half and we tried to get it done before the free agency, but it didn't happen. Dallas made an offer and I took it. That's basically it.
"When I was talking to Montreal, I really wanted to stay and I thought we could get it done (but) you can't always get what you want. But I'm happy here and we have a good group of guys and we have a good coaching staff."
Radulov scored 18 goals and posted 54 points in 76 games for the Canadiens last season after spending the previous four years in the KHL.
Stars head coach Ken Hitchcock said Tuesday the team signed Radulov with a focus on his leadership. Producing at just under a point-a-game pace this season has just been a bonus.
"We didn't bring him in for points," Hitchcock said. "I don't know if it will be 54 like last year or 64. He plays a North American game and we felt very strongly that we needed a guy who plays a North American game to influence the rest of the group.
"He's 30 years old and this is the first time he's been part of the leadership group (in the NHL) but he was a leader with the Russian Olympic team, a captain at the world championships, so we felt he had leadership skills and the way he played, the grind game, that is the North American game. He loves that. It's greasy and effective, and that's the way we're built, but it's not an easy game. He played that way without prodding. It became an easier sell for me."
Radulov has six more points this season than Canadiens leading scorer Brendan Gallagher.